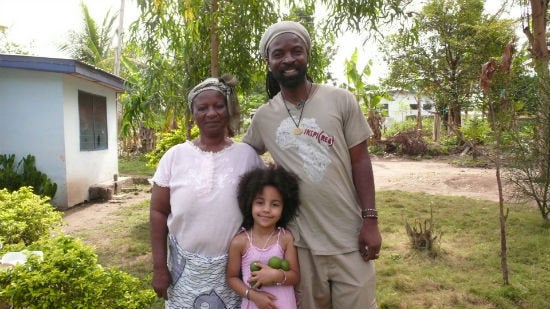 This post is part of the Global Mom Relay. Every time you share this blog, $5 will go to women and girls around the world. Scroll to the bottom to find out more.
During this period of the Global Mom Relay, I have been spending time with my dear mother in my native village of Bunbon Nayili in Northern Ghana, West Africa. This is a very emotional time for my family as my father, Koyatu Dawuni's funeral just took place, seven years after his passing. He was the Chief of Bunbon Nayili, so traditionally these funerals take a long time to prepare for. In addition, extenuating cultural circumstances due to the complexities of the chieftaincy system delayed the event. My senior brother, Robert Dawuni, was also just sworn in as the new Chief of this budding community on March 26, 2013.
My mother Asibi Dawuni, former Queen Mother of Bunbon has been the bedrock of all the celebration and intensity of our many cultural traditions in this one-week event. She has constantly provided direction and guidance to my family, all our people and me.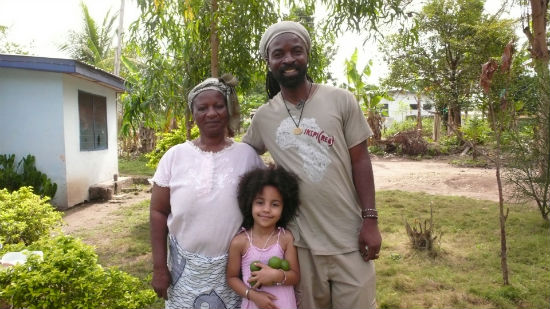 Rocky Dawuni with his mother Asibi Dawuni and daughter Safiyah Dawuni. Photo credit: Cary Sullivan
My song "Extraordinary Woman" celebrates this spirit of womanhood, as demonstrated by all women like my mother who are the enduring foundation of communities, societies and by extension all of humanity.
"Extraordinary Woman"
Words and music by Rocky Dawuni
Rocky Dawuni Music BMI
You are the one who make me smile
You make me see what's pure and true
Yes you are Extraordinary Woman
You are the one who brings me joy to cast my every lingering doubt that you are Extraordinary Woman
Your love is healing when I need it that good good feeling with a meaning you all you do in ordinary ways
Woman your sweetness brings me happiness like the rain to
Truly we are meant to be together cause everything feels so right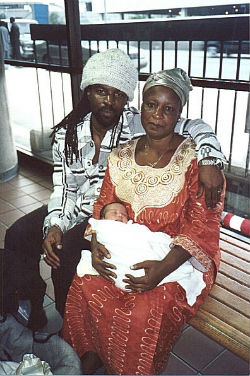 When I first saw you in the crowd sweet emotions swept right through soul
Yes you are extraordinary woman
You are the light when all goes dark
To love you is my only goal
Yes you are extraordinary Woman
I wanna love you if you want me I wanna love you if you need me
We do all we do in ordinary world
Woman -- express your deepest desire and I'll confess my deepest urge
Could you could you could you be the queen of my ordinary castle and I promise to be a worthy King
Extraordinary woman, extra-ordinary woman! Ordinary ways....
Each time you share this Global Mom Relay piece on Facebook, Twitter, or Email, or donate $5 or more through clicking on the above graphic, a $5 donation (up to $62,500 per week or $125,000 every two weeks) will be donated by Johnson & Johnson and the Bill & Melinda Gates Foundation to the Global Alliance for Clean Cookstoves. Join us by sharing it forward and unlock the potential for women and children around the globe. For more information, visitwww.unfoundation.org/globalmomrelay. The United Nations Foundation, Johnson & Johnson, BabyCenter, The Huffington Post, and the Bill & Melinda Gates Foundation created the Global Mom Relay, a first-of-its-kind virtual relay with a goal of improving the lives of women and children around the globe.
Calling all HuffPost superfans!
Sign up for membership to become a founding member and help shape HuffPost's next chapter