The Rocky Horror Picture Show was originally a 1975 musical comedy horror film that became a cult favorite, and was a parody tribute to the science fiction and horror B movies of the 40s and 50s. It was recently remade as a TV movie, premiering on October 20, complete with its legendary rock/pop songs.
Hedwig, a musical about a fictional rock and roll band led by a gender queer East German singer, is being presented at Hollywood's Pantages Theater from November 1-27. The musical, which has its own campy glam rock underpinnings, is described as being "dense with plot -- it has Eugene O'Neill's sense of history -- wrapped up in a Rocky Horror show package."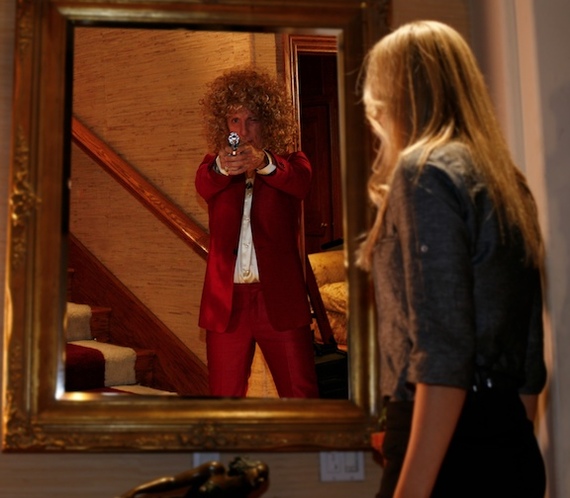 Mirror, Mirror - King as Spector and Lee as Clarkson - photo by Jimmy Steinfeldt
I Think I Shot Her: The Phil Spector Incident, which was held up from national distribution because of litigation and threats, is finally now set up for wider distribution. The film stars musician/actor Solomon King in that glorious Spector fright wig and was directed by veteran adult film director Roy Karch -- that's right, by someone who was used to delivering a shoot in three days, and who's filmed hundreds of movies for the adult movie industry.
Solomon King, the critically acclaimed music artist known for his rebellious attitude, stays true to form in providing an original rocking music score that avoids all the clichés one would expect from a film about Phil Spector. The same unconventional approach was followed in looking for an Ed Wood-like director, as King quips:

We wanted someone who could bring a camp approach to show Spector's spectacular descent from the heights of super stardom to a crash landing in the final tragedy of Lana Clarkson's death. Unfortunately, Ed Wood wasn't available, so we got Roy Karch, instead!

The result is an eye-opening, wild ride into that last dark night of sicko sex games, culminating in, "I think I shot her!"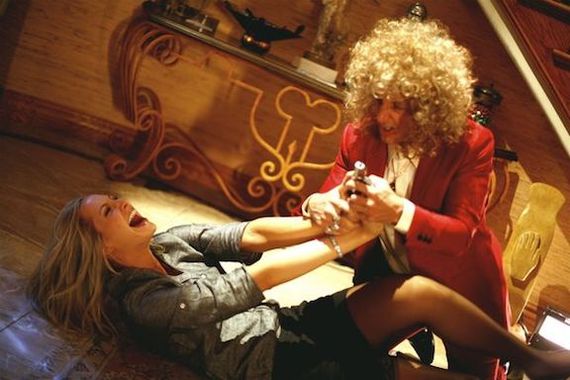 "I think I shot her!" - photo by Jimmy Steinfeldt
I know, right, you want to scream and pull your hair out!
King, a Grammy Awards entrant nominee who has worked with a who's who of blues greats, was fascinated by James Trivers' script about Spector and Clarkson's dance with death.
But little did he know about the long process it would take to get this movie made and released, including: getting a very scary phone call at three in the morning warning him that he shouldn't make the movie; and, getting a very public "cease and desist" order that led to a court appearance to prevent digital distribution of his film.
Coincidentally, King was there at the House of Blues after playing a gig on the Sunset Strip that fateful night in 2003 when Spector cajoled Clarkson into his white stretch limo. King admits, "I might've been the last person to see Lana Clarkson alive besides Phil and the chauffeur."
Read on, as you cannot make this sh*t up
Additionally, King, in a previous incarnation as young songwriter/musician Jeff Laine, had previously met Spector. King recalls that eventful almost deadly encounter:
In 1974, I was recording my first demo at A&M Studios on La Brea when Spector was working with John Lennon. I saw Lennon, who was taller than I thought, slouching against the wall, listening to a friend. Between them was Spector, looking small even in an orange jump suit and his platform heels. I might add that night he was donning a realistic looking hairpiece. I kept on walking by, but saw Spector, perhaps in a drug-fueled rage, pull out his shiny chrome pistol. 'You watch this,' he yelled pulling the trigger. Instantly there was a deafening blast. My head felt like a wah-wah effect. The corridor smelled of gunpowder. Dust from the ceiling spilled onto to the floor. Phil that maniac could have killed me way back then. When I later got that warning phone call at three in the morning, I was thinking, He really wants to kill me now!
Even director Quentin Tarantino, who admits his inspiration comes from B movies, couldn't make up Spector or King's real-life stories -- it's campy B movie heaven!
As for the casting of the Hollywood wannabe that Clarkson was, King's team chose Monica Lee, a young actress fresh off the bus from Michigan, looking to make her mark in Hollywood.
Karch put an advert in a free Hollywood periodical and eager Lee responded. And, King as Spector came dressed in character to rehearsal. He recalls:

The wig? It was hot! But it and the five thousand-dollar designer suit helped get me into character. We chose a young and fresh 'Lana' to create a dichotomy between her and older 'Phil.' When Lana does her demo song scene for Spector, Monica gave a superb comic performance when she sings. And like most girls who come here with a demo in hand, her vocals weren't good. But that's what we wanted -- a fresh wannabe, hoping she can step up from the donut shop to making her dream come true.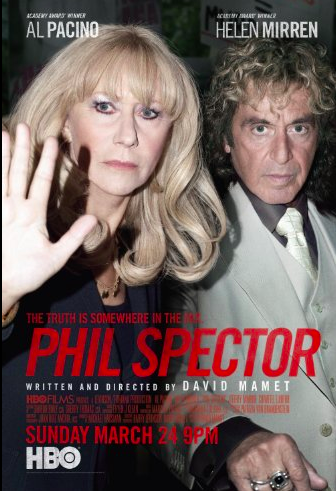 HBO's own movie doesn't serve up what may've happened on that fateful night like Phil Spector Incident - photo courtesy HBO
Not to be confused with HBO's own Phil Spector movie, one online reviewer calls the Phil Spector Incident a "gem" adding, "The Al Pacino, Helen Mirren, HBO flick focuses on the legal machinations of the first trial, you don't get to experience what happened that night in the mansion...This small indie movie delves right into the heart of why this crime is so resonant. It not only tells us about Spector and Clarkson, it tell us about ourselves and the culture that forged these two individuals and why they play out their desperate and depraved 'dance of the veils.'"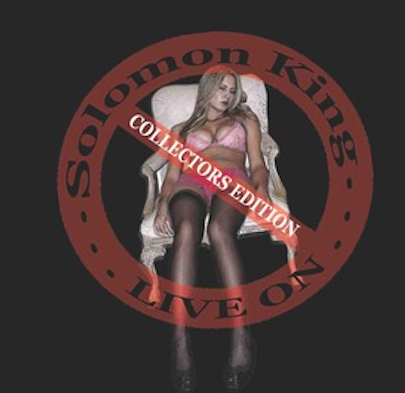 When this journalist accompanied Solomon King dressed in full Spector regalia to a recent American Film Market, attendees stared eyes wide open. Some asked for his autograph, another gave him her demo tape -- even though the real Phil Spector is in jail! Spector's reputation and his fright wig continues to precede him.
REAL LIFE. REAL NEWS. REAL VOICES.
Help us tell more of the stories that matter from voices that too often remain unheard.