We still keep an eye out for falcons, the kind that drop from the summits of skyscrapers with the cantankerous force of urban legend, those odd shadows endowing our city's rush of gravel with mountain-like austerity. Their swooping forms carry our aspirations. They fly over us ready to drop our hopes onto the concrete pavements before making a meal of them. At other times, theirs are the dark wings tenuously giving birth to our flights of fancy.
No falcons today, that was clear. Still we make due, imbuing our everyday language with the absences we suffer. Our terms reflect the very wilderness we so desperately lack: lone wolf, concrete jungle, bear market - magical devices with which to compensate for our city's lack of nature. We long for the stuff of ballads, the stuff of hackneyed John Denver songs; we long for that Rocky Mountain High.
Despite the appeal of 'communing' or 'being at one' with nature, there is this to be reckoned with: my wife and child - two city girls who care little for braving the elements. Though I am fond of traveling in their company, they were neither particularly fond of Jack London nor are they inspired by hearing the phrase 'roughing it'. Nevertheless, I long to show them those 'cathedral mountains' and 'clear waters' that are capable of transforming existence into something beyond our own lives. I want them to witness serenity, not as a welcome afterthought to an arduous task but as a perpetually undisturbed void in all its breathy jutting form.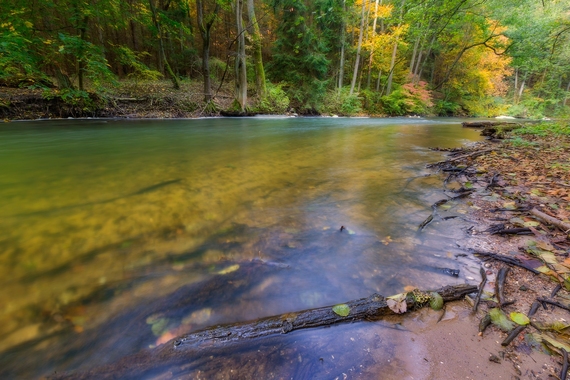 Bachelors Gulch, Beaver Creek: no it's not an innuendo but the name of genuine locations in close proximity; still, it does manage to be a most romantic family-oriented destination. The fact that the words romantic and family-oriented do not succumb to an oxymoron, can be attributed to the area's emphasis on coupling impeccable service with a laid-back feel. One local specialty, offered by the centrally located Ritz Carlton, is a loan-a-Lab-for-a-hike program, the innovation being that kids get to walk off into the sunset with a trained Labrador retriever. Unlike the search and rescue St. Bernards of Switzerland, their Colorado counterparts are part of a canine prevention package. As for the Four-star Ritz property, although it is reminiscent in architecture and layout to Valmorel's Club Med resort as well as to a number of other palatial Swiss mountain hotel compounds, the hotel is not nearly as charming as it is pricey. The one part of the establishment that does warrant mention, however, is their restaurant - a culinary adventure of fine local ingredients that will have most consider the merits of the 'go west young man' adage.
Since Beaver Creek's renowned skiing slopes are off-season, the Rockies allow one the opportunity to indulge in a cornucopia of budding forestry. Oddly resplendent flowers angle themselves along our hiking path while bemused raccoons follow till we board a raft headed down a crystal-clear stream. Soon, a parade of butterflies arrives specifically to taunt my daughter with all the various colors she doesn't as of yet possess in her wardrobe. In acknowledgement of their preening, my daughter veers our mutual horse onto one of the most highly rated Golf courses in America. Thankfully, we stop in time and she settles for tennis instead of forcing me to rent a bicycle and driving us off the steep end of a cliff.
Cattle ranchers, failed farmers, an area for scrawny sheep during the Great Depression... this part of the Rockies had seen its share of hardships, things going from bad to worse until one fine day there was simply no one left. Everyone had abandoned the land and allowed it to revert to the beautifully uninhabitable terrain it was always meant to be. Standing amidst the unconquered mountains that mankind had retreated from, I think of home. But the word now feels peculiar and remote. And so, my exhausted wife and child by my side, I sit silently under "the shadow of starlight softer than a lullaby." Not a tune emerges between us, yet something continues to soar directly overhead - something familiar yet godlike, essential yet remote, something like a melody dangling from a perpetually soft wind.
Rory Winston is a published author/poet/playwright/TV comedy writer/columnist who serves as the Feature & Art Editor for the NY Resident Magazine, and blogs for See.place on The Huffington Post.