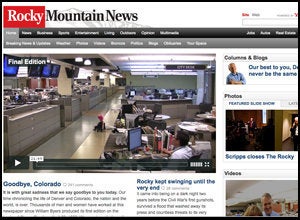 The website of the Rocky Mountain News, the Scripps paper that closed on Friday after it was unable to attract a buyer, experienced a surge in web traffic in its final days.
On Thursday, February 26 — when it was announced the Rocky would fold the next day — RockyMountainNews.com saw 250,000 unique visitors, well above its 12-month average of approximately 90,000 uniques a day, according to Jim Nolan, a spokesman for the Denver Newspaper Agency.
On Friday, February 27, with the website full of goodbye messages and a poignant "Final Edition" video, the website recorded 278,000 unique visitors.
Of course, there was a surge in pageviews as well. Whereas the site's 12-month daily average was around 383,000, it served 1,130,797 pageviews on Thursday and 1,286,756 pageviews on Friday.
The Denver Newspaper Agency could not confirm whether the unique visitor and pageview totals represented record highs for RockyMountainNews.com.
The staffers' "Final Edition" video is embedded below, and it is presently still available on the home page of RockyMountainNews.com.
Related
Popular in the Community