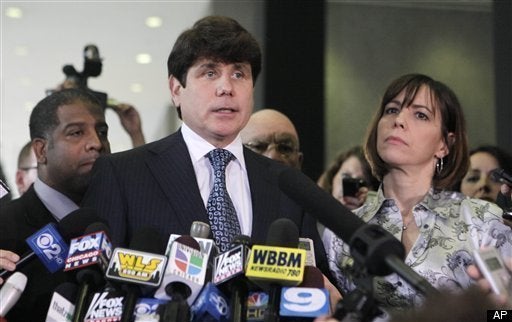 Former Illinois Governor Rod Blagojevich continued his "I'm-vindicated" media tour on Sunday, less than a week after a federal grand jury found him guilty of making false statements but failed to reach a verdict on 23 other counts.
In an appearance on Fox News, the Illinois Democrat insisted that there was a political future for him ahead, even with a re-trial looming, public support virtually non-existent, and general agreement (even among the jurors) that he tried to sell Barack Obama's vacated Senate seat to the highest bidder.
"[I]f you're asking me, do I believe there is a potential political comeback in the future? When I'm vindicated in this case, absolutely I do," Blagojevich said. "Because people will see that I was willing all by myself almost ... to fight the power of the federal government and correct this imbalance. There is something very dangerous in America today where you can have prosecutors with that power."
"I'm not ruling myself out," he added, "because I will be vindicated in this case."
The former governor was not in studio but instead conducted his interview via a live feed from Chicago. The night before he had gone to a Comic Con convention where he was signing autographs and pictures for $50 and $80 a pop respectively. The money is needed to replenish the funds he had to throw at his first defense.
Dreams of a political renaissance have compelled Blagojevich to compare himself to another pol who rose from the dead: Winston Churchill. On Sunday, however, he chose to downplay his similarities to the revered British premiere, telling Fox News: "I don't smoke cigars, [drink] scotch, and I think I can run faster than him."

Calling all HuffPost superfans!
Sign up for membership to become a founding member and help shape HuffPost's next chapter