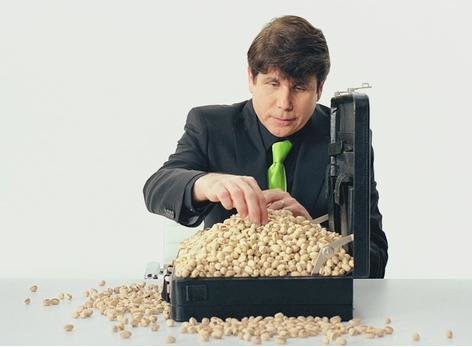 After he was convicted on one count of lying to the FBI, former Illinois Governor Rod Blagojevich became less of a fixture in local news coverage.
Perhaps it was burn out from the seemingly never ending trial. Perhaps Blagojevich wanted to take a break from the cameras. In any case, he is back.
Blagojevich, who spent nearly all of his money paying for his trial, has been hired to promote Wonderful Pistachios. Roll International Corp., which hired Blago for the spot, said they were looking for a "buzz factor" when they chose the ex governor, the Chicago Tribune reports.
"The contents in the suitcase are like the accusations against me--they're nuts," Blagojevich said in a press release. "I'd been eating these pistachios and enjoying them well before they asked me to do a commercial."
The company has also hired Levi Johnston, Wee Man of the Jackass crew and Snooki from "Jersey Shore" to promote their nuts.
WATCH Blago's new commercial here:

Popular in the Community