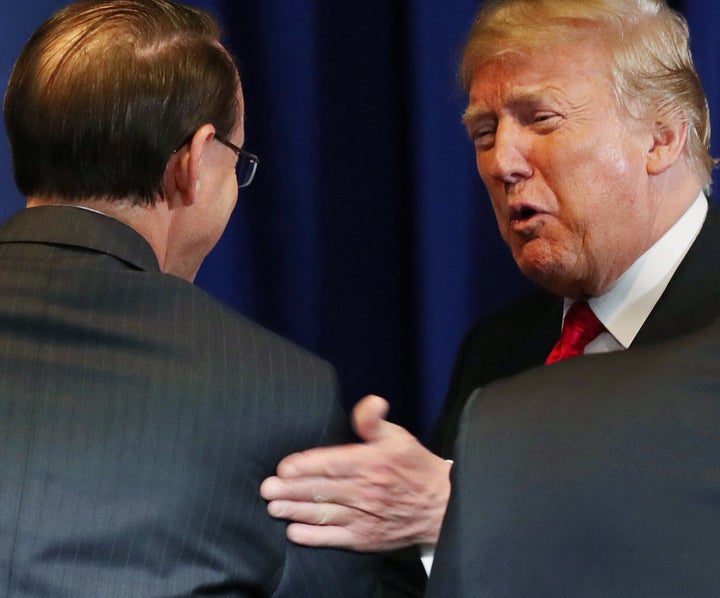 Rosenstein is the key figure standing between Trump and an independent investigation that could reveal whether the president colluded with Russia to swing the 2016 election in his favor. Trump had long floated the idea of firing Mueller but has apparently been convinced by his aides that such a move would backfire. Instead, he has considered an only slightly subtler approach: firing Rosenstein, who oversees the Mueller probe, and replacing him with a political ally who would get rid of the special counsel. The only thing missing from this plan was a pretext for firing Rosenstein. Now Trump may have it.
The New York Times reported Friday that Rosenstein last year suggested secretly recording conversations with Trump and invoking the 25th Amendment to remove the president from office on the grounds that he is unfit to serve. The Washington Post later also reported the story. Both articles rely heavily on people who weren't in the room, many of whom disagree on the tone of Rosenstein's remarks about recording Trump and whether he even mentioned the 25th Amendment.
Rosenstein said in a statement Friday that the Times story is "factually incorrect" and that he saw no reason to invoke the 25th Amendment. He later told Politico: "I never pursued or authorized recording the President and any suggestion that I have ever advocated for the removal of the President is absolutely false."
One source who was in the room for a May 16, 2017, meeting said in a statement to HuffPost that Rosenstein was being sarcastic when he suggested law enforcement officials wear a wire while talking to Trump, echoing similar defenses of Rosenstein quoted in the Times and the Post.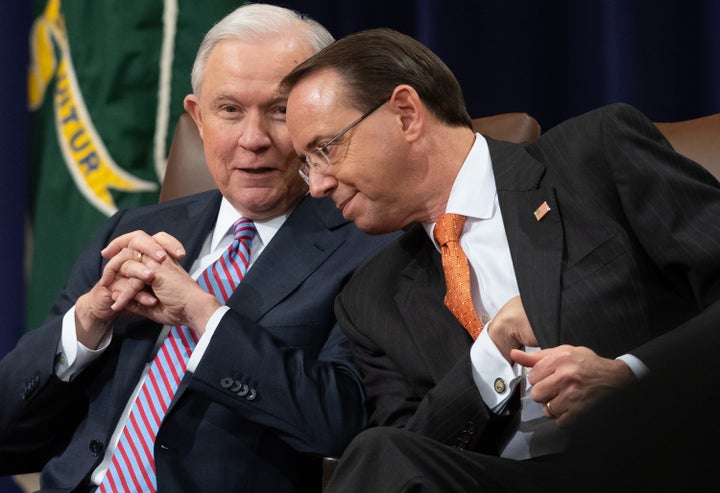 It is possible that Rosenstein's words were taken out of context, a former Justice Department official who has worked with Rosenstein but wasn't present during the meeting told HuffPost. Rosenstein has an affinity for "dad jokes," the former official said, and sometimes cracks jokes to ease tension during stressful conversations. The meetings in question happened during a particularly stressful time: a week after Comey was fired and the day before Rosenstein named Mueller as special counsel.
The former official doubted Rosenstein would bring up the 25th Amendment, if only because of how difficult it would be to carry out. "Anyone who has spent two minutes Googling the 25th Amendment knows that it's a near impossible task, and Rod Rosenstein is not the kind of person to throw out harebrained schemes to people that he's only recently been working with," Rosenstein's former colleague added.
But other sources in the room briefed on the remarks were under the impression that Rosenstein was being serious and that spinning the comments as a joke is part of an effort to save Rosenstein's job.
Both articles cite memos written at the time by Andrew McCabe, then the acting FBI director, in which he noted Rosenstein discussing the 25th Amendment and wearing a wire. Michael Bromwich, McCabe's lawyer, did not deny the description of the memos, but he said McCabe didn't leak the documents. McCabe gave the memos to Mueller's office more than a year ago, according to Bromwich, and a set of the memos remained at the FBI office until McCabe was fired in January.
Despite efforts to downplay the seriousness of Rosenstein's private comments, it is almost inevitable that Trump will view this as an opportunity to fire the deputy attorney general and replace him with a political loyalist.  
Trump appointed Rosenstein as deputy attorney general in April 2017. Rosenstein, a lifelong Republican, was an establishment choice to take over the critical No. 2 position running the day-to-day operations of the Justice Department. He and Attorney General Jeff Sessions barely knew one another, and Trump didn't know Rosenstein at all.
In one of Rosenstein's first moves as deputy attorney general, he volunteered to write a memo criticizing then-FBI Director James Comey's handling of the investigation into Hillary Clinton's use of a private email server after Trump told Rosenstein he wanted to fire Comey. Trump pointed to Rosenstein's memo as the justification for firing Comey — even though he later admitted he fired the FBI director in an attempt to shut down the bureau's investigation into possible collusion between the Trump campaign and Russia.
It never made much sense that Rosenstein wrote the Comey memo. Even if he was horrified by Comey's handling of the Clinton investigation, even the most politically unsavvy of people could predict how Trump would use such a document. According to the Times, Rosenstein didn't see it coming. He felt used and sounded "frantic, nervous, upset and emotionally dis-regulated," the Times reported earlier this year. Trump blaming Rosenstein for Comey's ouster was what prompted Rosenstein to discuss recording the president and the 25th Amendment, according to Friday's article in the Times.
Trump turned on Rosenstein after the deputy attorney general appointed a special counsel to oversee the Trump-Russia probe a little more than a week after Comey's firing. Rosenstein appointed Mueller on May 17, 2017, the day after a meeting in which he reportedly discussed recording Trump.  
Since then, Trump has been desperate to get rid of Mueller, whose special counsel team has secured several guilty pleas from former Trump advisers and turned some of them into cooperating witnesses.
Rosenstein has become an easy target for Trump and his allies, who have twisted his words before. In July, House Republicans threatened Rosenstein with impeachment and even accused him of threatening a staffer (though the actual story, unsurprisingly, wasn't as nefarious as they'd claimed). Eventually Rosenstein appeared to tire of the attacks. In a May speech, he announced that the Justice Department "is not going to get extorted" — a remark that appeared to be aimed at House Republicans.
Because the Times did not disclose whether its key sources are close to the White House, it's unclear whether the story might stem from an effort to discredit Rosenstein — and, by extension, the entire Justice Department and the special counsel investigation. But, regardless of the context, Rosenstein's private comments could finally provide Trump the excuse he's been looking for to get rid of an investigation that has been gradually snaring some of his closest allies.
Calling all HuffPost superfans!
Sign up for membership to become a founding member and help shape HuffPost's next chapter