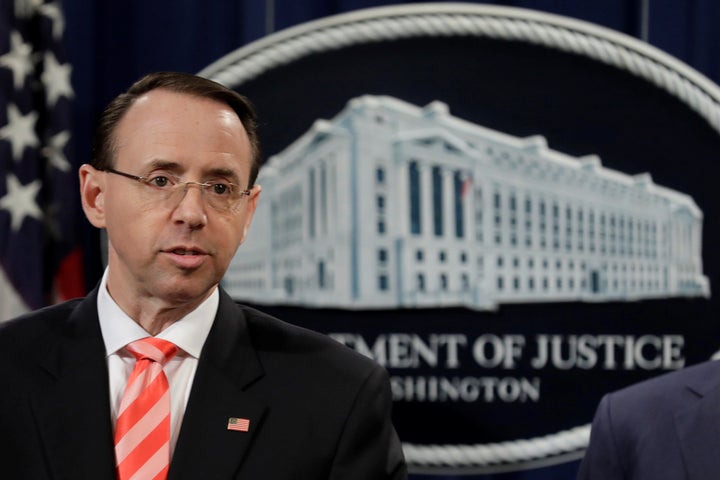 WASHINGTON ― Deputy Attorney General Rod Rosenstein, who has come under withering criticism from President Donald Trump, said Tuesday he doesn't believe there's "any threat to the rule of law in America today" and praised Trump for issuing a proclamation commemorating Law Day and the separation of powers.
Rosenstein, at an event at the Newseum in Washington on Tuesday, said the Department of Justice is independent of "inappropriate political considerations" but not independent of the executive branch. He said decisions about individual prosecutions "have to be made without regard to politics."
He said there is "no doubt" that the Justice Department is both complying with the rule of law and following the administration's priorities. He declined to discuss his private interactions with Trump, who has regularly criticized Rosenstein publicly.
"I do not talk publicly about my communications with the president," Rosenstein said, noting that there are DOJ rules about what is inappropriate to discuss with the White House. "I can assure you that we are faithful for those rules."
Because Attorney General Jeff Sessions has recused himself from inquiries concerning Russian interference in the 2016 presidential election, Rosenstein oversees Robert Mueller's special counsel investigation into the matter and any involvement of the Trump campaign.
At the event, Rosenstein spoke generally about how a special counsel operates, saying that a special counsel is "accountable" to the attorney general.
Asked whether the Justice Department was reconsidering its position that the president of the United States may not be charged, replied only that the department had taken that position.
"I just don't have anything more to say about it," Rosenstein said.
On Monday, The Washington Post and other news organizations reported that a group of Republican members of the House drafted articles of impeachment against him. A member of the executive branch other than the president has not been impeached since 1876.
Rosenstein commented on the draft, joking that the Hill "can't even resist leaking their own drafts." But he said the DOJ's work would not be affected by threats.
"I can tell you that there have been people who have been making threats privately and publicly against me for quite some time," he said. "I think they should understand by now that the Department of Justice is not going to get extorted. We're going to do what's required by the rule of law, and any kind of threats that anybody makes are not going to affect the way we do our job."
Trump has described Rosenstein ― a longtime Republican he nominated ― as a Democrat and said Rosenstein is out to get him. Rosenstein wrote a memo that the White House pointed to as justification for firing FBI Director James Comey, in which Rosenstein critiqued Comey's handling of the investigation into then–Democratic presidential candidate Hillary Clinton.
Ryan Reilly is HuffPost's senior justice reporter, covering the Justice Department, federal law enforcement, criminal justice and legal affairs. Have a tip? Reach him at ryan.reilly@huffpost.com or on Signal at 202-527-9261.
Popular in the Community