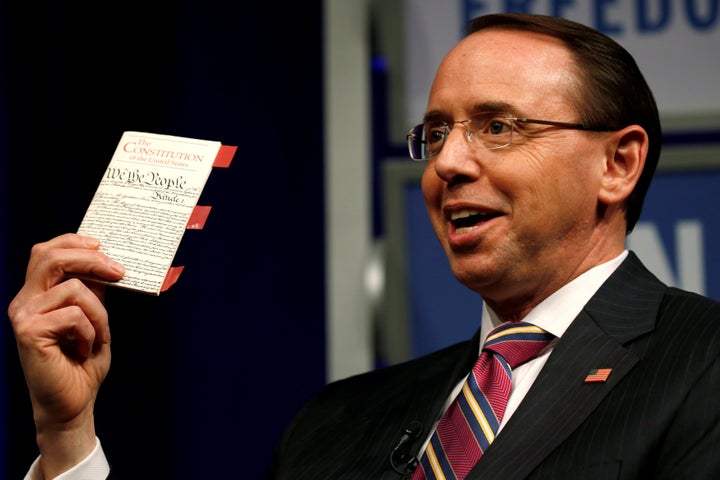 WASHINGTON ― If Deputy Attorney General Rod Rosenstein is a closet liberal bent on taking down a Republican president, he's been playing a long game.
A few days before the presidential election of 1984, the future deputy attorney general was upset over an editorial in The Daily Pennsylvanian that expressed dismay that then-President Ronald Reagan was polling better at Penn than the nation's other premier universities. Rosenstein, in a letter to the editor, called the piece "disgraceful" and wrote that it was "illogical and immoral" to suggest the poll results reflected poorly on the university.
"Perhaps if you took a step back from the Ivy Tower in which you and perhaps students at the more 'elite' schools appear to be, you would recognize and respect the appeal Reagan has to the average American," Rosenstein wrote. "I am proud to know that the opinions of students at our University are most representative of the nation as a whole."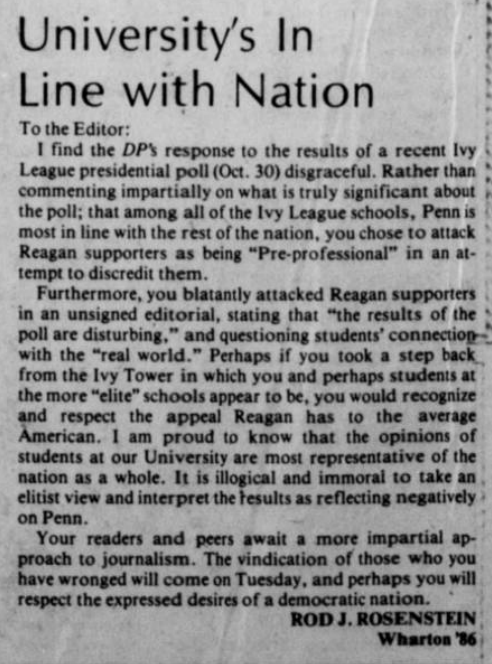 Rosenstein ― the man President Donald Trump nominated to become the No. 2 official at the Justice Department ― is a Republican. He's been honored by Harvard Law School's Federalist Society. As a member of Kenneth Starr's Whitewater team, he investigated the Clintons (and even sat in on an interview with Hillary Clinton). Former President George W. Bush tried to make him a federal appeals court judge.
But that'd be tough to know if you watched Fox News most nights, or scrolled through the president's Twitter feed. A group of Republicans in the House of Representatives have even drafted articles of impeachment against Rosenstein. Trump, who previously implied Rosenstein was a Democrat, tweeted Wednesday that he might "have no choice but to use the powers granted to the Presidency and get involved!" ― implying that he could fire Rosenstein and perhaps shut down the special counsel investigation he oversees that has already taken down a number of Trump associates.
For those who have known Rosenstein well, the notion that the longtime Republican law enforcement official is a closet liberal bent on taking down the president is tough to digest.
"He's not some sneaky Democrat," says Megan Brown, a former official in the Justice Department during the George W. Bush administration who worked closely with Rosenstein. "We're in sort of a silly season on this, but he's not some sort of Democrat in Republican's clothes with some agenda."
"He's not some sneaky Democrat. We're in sort of a silly season on this, but he's not some sort of Democrat in Republican's clothes with some agenda."
The president's favorite cable news channel's continuous attacks on Rosenstein ― including the suggestion that Rosenstein committed crimes and should be jailed ― have made things pretty awkward for DOJ's second-in-command. Until this week, his public comments were pretty much limited to making jokes about how much he hates D.C. or how he thought being deputy attorney general would be a relatively low-profile gig.
That changed after a group of House Republicans drafted potential articles of impeachment against Rosenstein. At an event on Tuesday, he suggested it was cowardly for the lawmakers not to put their names on a document they leaked, and said it illustrated the differences between how politicians and the Justice Department operate.
"I can tell you that there are people who have been making threats privately and publicly against me for quite some time, and I think they should understand by now that the Department of Justice is not going to be extorted," Rosenstein said. "We're going to do what's required by the rule of law, and any kind of threats that anybody makes are not going to affect the way we do our job. We have a responsibility. We take an oath."
Rosenstein said that disputes with Congress over Justice Department documents ― the ostensible reason some Republicans are targeting Rosenstein ― needed to be worked out on a "case-by-case" basis. Republicans have requested sensitive documents, and DOJ said it would not provide one that laid out the scope of Robert Mueller's special counsel investigation.
"Everybody always thinks that the current moment is an unprecedented moment, but it really isn't. These incidents do flare up from time to time, and ultimately, they're resolved," Rosenstein said.
"If we were to just open our doors to allow Congress to come and rummage through the files, that would be a serious infringement on the separation of powers," he added.
Although Rosenstein's also come under direct criticism from Trump, he has had nothing but positive things to say about the Trump administration's agenda. On Tuesday, he said that Trump had appointed a leadership team at the Department of Justice that "respects the rule of law" and praised him for signing a staff-written Law Day proclamation that noted the importance of the separation of powers and the rule of law.
By Wednesday morning, Trump was promoting a book by Fox News commentator Gregg Jarrett, who has called the FBI "America's secret police" and the special counsel "illegitimate and corrupt."
Trump praised Jarrett ― who has also made repeated assertions that Rosenstein violated the law and threatened members of Congress ― as "brilliant." The president also declared Jarrett's forthcoming book, titled The Russia Hoax - The Illicit Scheme to Clear Hillary Clinton and Frame Donald Trump, a "MUST READ."
Ryan Reilly is HuffPost's senior justice reporter, covering the Justice Department, federal law enforcement, criminal justice and legal affairs. Have a tip? Reach him at ryan.reilly@huffpost.com or on Signal at 202-527-9261.
Popular in the Community