WASHINGTON ― Deputy Attorney General Rod Rosenstein has worked for the Justice Department for 27 years, so it's no surprise he cares deeply about DOJ's reputation.
In a May 9 memo, Rosenstein laid out a justification for firing former FBI Director James Comey, arguing that when public trust in the Justice Department or its agencies is damaged, officials should take action to restore it. He condemned Comey's public disclosures about the investigation into former Secretary of State Hillary Clinton in July 2016 and then again just before the November presidential election. The memo said it broke with DOJ protocol and undermined public trust in the department.
Notably, while his scathing report was used in President Donald Trump's formal letter dismissing Comey, Rosenstein's memo never directly recommended firing the FBI director.
The president's Tuesday dismissal of Comey, who was leading an FBI investigation into whether Trump's presidential campaign colluded with the Russian government to interfere in the 2016 presidential election, has raised concerns about impartiality. At first, administration officials emphasized that the president fired the FBI director because of Rosenstein's recommendation, not the Russia probe. Later, they said that Trump began seriously considering firing Comey last week, after the director testified before Congress, focusing largely on the Russia investigation.
After Attorney General Jeff Sessions recused himself from the investigation in March, Rosenstein was confirmed to the Justice Department's No. 2 position and is now in charge of the Russia probe. But Rosenstein's role in Comey's firing will raise questions with the public about whether he can independently oversee an investigation into campaign of President Trump, the man who nominated him.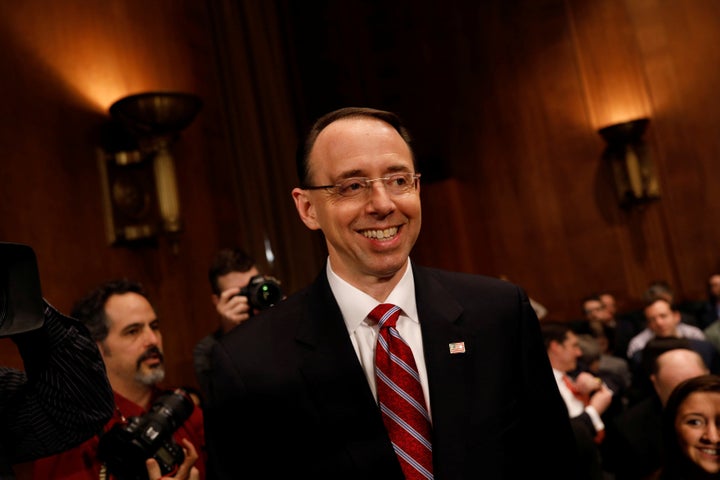 Congress has the power to appoint special prosecutors. But Rosenstein could also simply appoint one himself.
Rosenstein would not commit to appointing a special counsel on the Russia matter at his confirmation hearing in March, but said he would be willing to appoint one "whenever I determine that it's appropriate based upon the policies and procedures of the Justice Department."
The law says that Rosenstein can appoint a special counsel if he determines a criminal investigation is warranted and he finds there's either a conflict of interest, or that appointing a special counsel "would be in the public interest."
Rosenstein, in his memo titled "Restoring Public Confidence in the FBI," wrote that the FBI could not "regain public and congressional trust" when the director was unwilling to admit his mistakes and that the bureau's "reputation and credibility have suffered substantial damage, and it has affected the entire Department of Justice."
He added it was "deeply troubling to many Department employees and veterans, legislators and citizens."
"A White House spokeswoman called Rosenstein as "independent as it comes" and said officials "don't think it's necessary" to appoint a special prosecutor."
Rosenstein's view of Comey's actions shouldn't come as a total shock ― he had dropped a hint about his disagreement with the FBI chief's approach to the Clinton investigation under questioning from Sen. Sheldon Whitehouse (D-R.I.) during his confirmation hearing in March.
"We need to refrain from disparaging people unless it's necessary and justified in a case," Rosenstein said at the time. "So if we charge somebody with a crime, and it's appropriate to introduce evidence in court against them, we do it. If we don't charge them with a crime, we have a responsibility not to disparage their character."
If there was any doubt about Rosenstein's view of Comey's actions, his memo eliminated them ― he called Comey's conduct "a textbook example of what federal prosecutors and agents are taught not to do."
Now with the controversial dismissal, Rosenstein will have to make a decision if his involvement in Comey's firing creates a public perception that he can't be left in charge of overseeing the Russia probe.
The White House is eager to move past the Russia issue and does not support the appointment of a special counsel. Sarah Huckabee Sanders, the deputy White House press secretary, said Wednesday that Rosenstein is "as independent as it comes" and said White House officials "don't think it's necessary" to appoint a special prosecutor.
The last time Rosenstein spoke about the special counsel issue in March, he said he didn't see a specific reason he couldn't oversee such an investigation. But his involvement in Comey's firing this week, and the resulting public scrutiny, may change his point of view.
"If it's America against Russia or America against any other country," said Rosenstein, "I think everyone in this room knows which side I'm on."
A Justice Department official told HuffPost that, as of Wednesday, nothing had changed about Rosenstein's belief he could independently oversee the investigation.
Sarah Isgur Flores, the top spokesperson at the Justice Department, denied reports that Rosenstein threatened to resign following the publicity surrounding his memo. "Didn't happen," she wrote on Thursday.
This article has been updated on May 11 to include Thursday comments from Justice Department spokesperson Sarah Isgur Flores and additional information on the administration's explanations for the firing.
Before You Go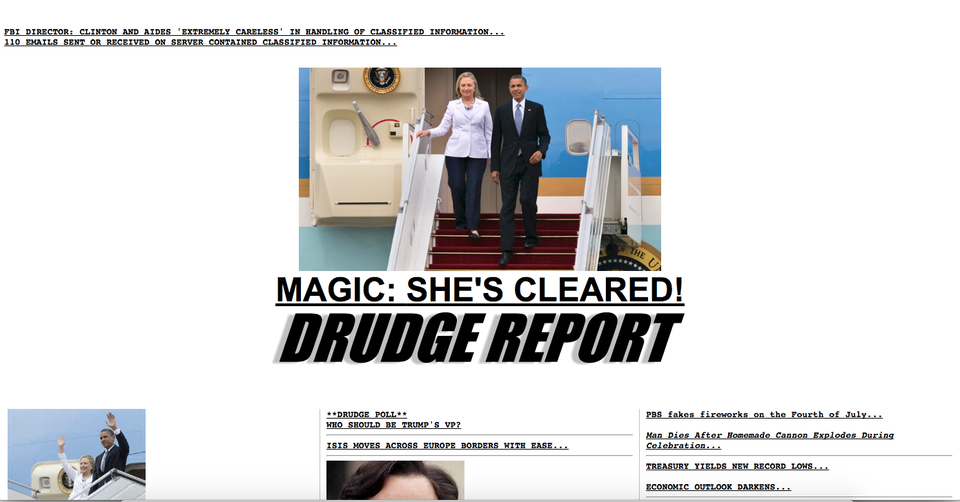 Media Roundup: FBI Recommends No Charges For Clinton
Popular in the Community