WASHINGTON ― Deputy Attorney General Rod Rosenstein already knew the president was going to fire FBI Director James Comey before he wrote a memo recommending the director's termination, senators said he told them in a private briefing Thursday.
But the deputy attorney general refused to explain why he wrote the damning recommendation, knowing that Comey's head was already on the chopping block, senators said.
"He did acknowledge that he learned Comey would be removed prior to him writing his memo," Sen. Claire McCaskill (D-Mo.) told reporters after the briefing. "He knew that Comey was going to be removed prior to writing his memo."
The all-senators meeting with Rosenstein left lawmakers with few new answers about why President Donald Trump fired Comey, and failed to clarify any of the circumstances leading up to his dismissal. Most Republicans who were willing to speak after session said it was reassuring, but many Democrats were fuming ― especially at Rosenstein's refusal to answer questions about his memo.
"I'm not at all reassured. I think it's deeply disturbing," said Sen. Jeff Merkley (D-Ore.) "We learned nothing, except the things that were designed to make himself look good."
Trump himself likely inspired further frustration, confusion and questions by saying in a news conference with the Colombian president Thursday afternoon that Rosenstein acted on his own.
"I also got very, very strong recommendation, as you know, from the deputy attorney general, Rod Rosenstein," Trump said. He argued that he expected Democrats would support him because Comey was doing a bad job, and that Rosenstein had a similar opinion.
"That was a poor, poor performance. So poor, in fact, that I believe ― and you'd have to ask him, because I don't like to speak for other people ― but I believe that's why the deputy attorney general went out and wrote his very, very strong letter," Trump said.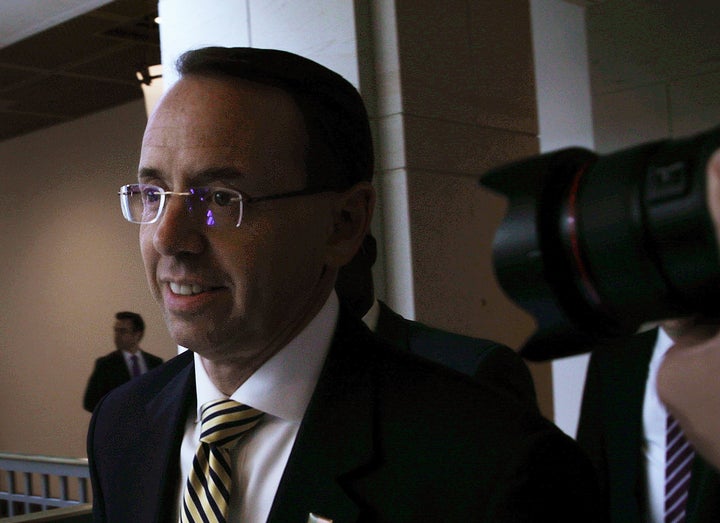 When Trump fired Comey on May 9, the White House justified it in part on Rosenstein's memo, written that day. But Rosenstein acknowledged to the senators that Trump declared on May 8 that he was going to fire the FBI boss, and Rosenstein knew it when he wrote his justification.
That detail, and Rosenstein's refusal to elaborate on the circumstances of why he backed the president, alarmed Democrats.
"He has either no understanding that his memo was used as a cover-up, or he doesn't want to take any accountability for it," Merkley said.
While Republicans were more complimentary of Rosenstein, they acknowledged that he did not provide much information.
"I accept that for the integrity of the investigation, his kind of by-the-book seems the best way to go. There's a lot at stake here," said Sen. Bill Cassidy (R-La.), adding that Rosenstein refused to answer questions that probed motives, or who ordered what when. "He kind of rope-a-doped."
Senators said Rosenstein deferred on almost anything substantive to Robert Mueller, the former FBI director who Rosenstein named this week to be the special counsel probing all things related to Trump, Russia and Russia's interference with the 2016 presidential campaign.
Most Democrats said they trust Mueller to handle the case. But some also thought Rosenstein's reticence brought home the fact that a major investigation could go all the way to the top.
"As it became clear how little he was willing to talk about, it also became clear how broad this investigation that Mueller is about to undertake actually is," Sen. Chris Murphy (D-Conn.) said. "To that extent it was a very sobering briefing."
Amanda Terkel contributed reporting.
Calling all HuffPost superfans!
Sign up for membership to become a founding member and help shape HuffPost's next chapter
BEFORE YOU GO