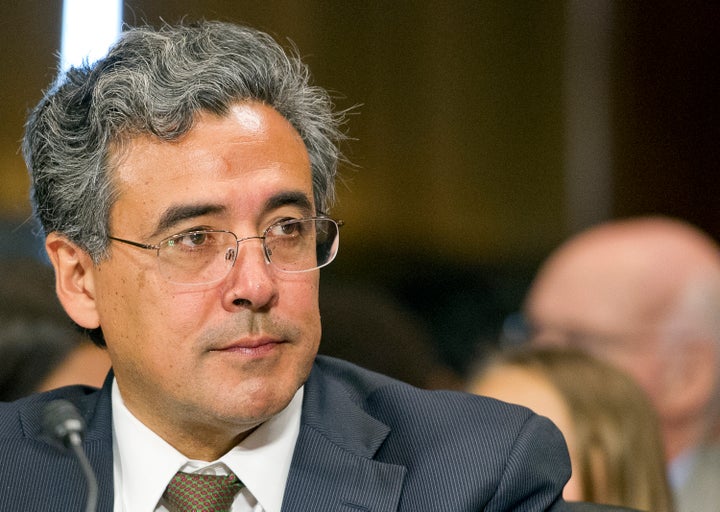 WASHINGTON ― If President Donald Trump fires Deputy Attorney General Rod Rosenstein during their highly anticipated meeting on Thursday, Robert Mueller's special counsel investigation into Russian interference in the 2016 election could end up being overseen by a conservative attorney with a broad view on executive power and privilege. And it could determine when ― or if ― Mueller's anticipated report on any conspiracy between the Trump campaign and Russia sees the light of day.
Rosenstein ― a longtime Republican whom Trump nominated to the critical No. 2 position at the Justice Department before he then accused him of being a secret Democrat ― has been in Trump's crosshairs for a while. But the pressure intensified last week after The New York Times revealed comments Rosenstein made in May 2017 ― shortly after Trump fired FBI Director James Comey ― about secretly recording Trump and invoking the 25th Amendment's process for removing the president. Rosenstein has responded that the comments were in jest.
By the time Rosenstein was en route to the White House on Monday morning, he was expecting to be fired, a source familiar with his thinking told HuffPost at the time. Instead, the White House announced that Trump and Rosenstein would meet on Thursday to discuss the recent revelations and, presumably, his future.
Yet by Tuesday evening, the Wall Street Journal and Washington Post were reporting that Rosenstein might stick around, at least until after the midterm elections. But whether Rosenstein leaves this week or in November, his departure will affect the Russia investigation.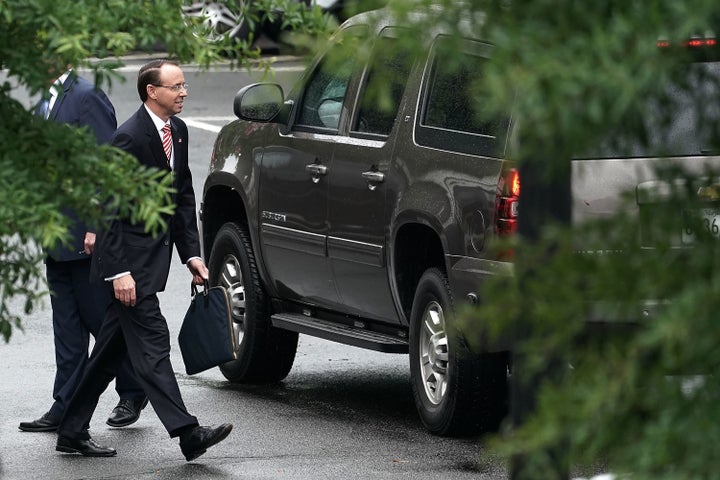 At the moment, Solicitor General Noel Francisco is the next Senate-confirmed Justice Department official in line to supervise the Russia probe. A draft of a statement from Attorney General Jeff Sessions, obtained by Axios, indicated that Francisco would, in fact, take over oversight of the investigation, which Sessions in the draft statement said he hoped would come to an "expeditious resolution… consistent with the rule of law."
Francisco is currently serving in the same position as Robert Bork, who carried out President Richard Nixon's order to fire Watergate prosecutor Archibald Cox. It's not entirely clear how Francisco would react if Trump were to pressure him to shut down the Mueller investigation in his new capacity.
And it's unclear to what extent Francisco would be committed to informing the public of Mueller's findings.
The Mueller probe probably won't result in criminal charges against the president. What's more likely is that Mueller's team will compile a final report on its findings, which would then be delivered to Rosenstein or his replacement. Rosenstein, or Francisco, could choose to keep that final full report from the public.
Whoever is acting attorney general for the purposes of the Mueller probe would be the one with the ability to "determine that public release of these reports would be in the public interest, to the extent that release would comply with applicable legal restrictions." They'd also have to determine what kind of report to send to members of both the House and Senate judiciary committees when the Mueller investigation concluded.
Francisco's role in the Bush-era U.S. attorneys' scandal is illustrative. Back in 2007, when Congress was investigating the dismissal of nine of the nation's top federal prosecutors for political reasons, Francisco argued against both special counsels and congressional oversight into firing decisions he believed were protected by executive power. He argued at the time that U.S. attorneys were "political appointees who may be removed by the president for any reason — good or bad — or for no reason at all."
Mueller's team has asked a lot of questions about the firing of FBI Director James Comey and whether it was done for improper reasons. The cover story ― provided by Rosenstein and initially put forth by the White House ― was that Comey had mistreated Trump's presidential rival Hillary Clinton during the 2016 campaign. It didn't seem like a plausible explanation at the time, and Trump soon revealed that he was thinking about the Russia probe when he made the decision.
FBI directors, although typically given a 10-year term, are in a similar appointment situation as U.S. attorneys. So Francisco's views on the president's ability to fire political appointees could be relevant to the Mueller probe. He might limit Mueller's lines of inquiry into Comey's firing if he sees it as within the president's powers.
And if he doesn't want the public to see Mueller's final report, he'll likely fight hard to keep it secret.
Ryan Reilly is HuffPost's senior justice reporter covering the Justice Department, federal law enforcement, criminal justice and legal affairs. Have a tip? Reach him at ryan.reilly@huffpost.com or on Signal at 202-527-9261.
Popular in the Community