WASHINGTON ― Several Senate Democrats on Tuesday backed a longtime federal prosecutor nominated by President Donald Trump to fill the No. 2 position in the Justice Department, where he'd oversee the federal investigation into connections between the Trump campaign and the Russian government. 
Rod Rosenstein, currently the top federal prosecutor in Maryland, told the Senate Judiciary Committee on Tuesday morning he is open to appointing a special counsel to investigate Russian interference with the 2016 presidential election if necessary. 
"I'm willing to appoint a special counsel ... whenever I determine that it's appropriate based upon the policies and procedures of the Justice Department," Rosenstein told the committee.
However, he didn't commit to appointing a special counsel and said, at this point, he didn't see a specific reason he couldn't oversee such an investigation.
If confirmed, Rosenstein would become deputy attorney general, a crucial role just under Attorney General Jeff Sessions. Last week, Sessions recused himself from any investigations connected to Trump's presidential campaign, meaning the probe of connections between Trump associates and Russian officials would fall to Rosenstein.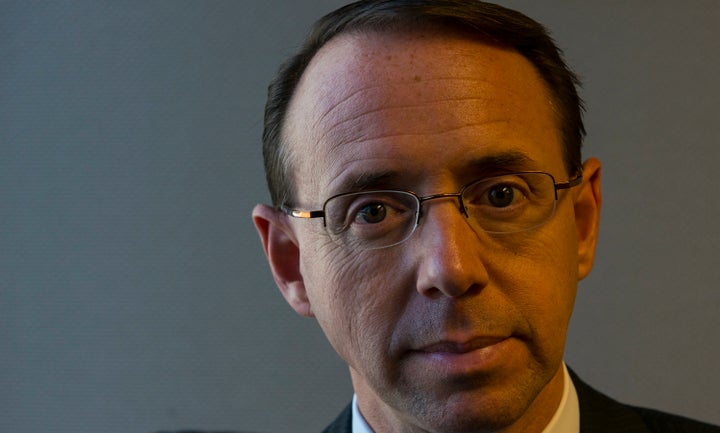 Rosenstein, 52, is a Harvard Law graduate who served as U.S. attorney in Maryland under Presidents George W. Bush and Barack Obama. Rosenstein would replace former Deputy Attorney General Sally Yates, who was fired by Trump while serving as acting attorney general because she refused to defend Trump's travel ban.
At this point, Rosenstein's confirmation as deputy attorney general seems like a pretty sure thing. He was introduced to the Senate Judiciary Committee by two Maryland Democrats, Sens. Benjamin Cardin and Chris Van Hollen. Cardin said he was "confident" of Rosenstein's judgment, and Van Hollen said Rosenstein would uphold the public trust.
Still, many Democrats had questions for Rosenstein about how he'd handle the ongoing Russia investigation. Saying political affiliation was "irrelevant" to his work, Rosenstein told the committee that he would ensure there were independent prosecutors conducting any investigation, including the Russia probe.
"I know this is the issue du jour on Capitol Hill, but I anticipate that if I were the deputy attorney general, we'd have a lot of matters coming to the Department over time, and I would approach them all the same way," Rosenstein said. "I would evaluate the facts and the law, consider the applicable regulations, consult with career professionals in the Department, and then exercise my best judgment if I were acting attorney general or provide my best advice to the attorney general if he were not recused about what I believe is the right course of action."
Rosenstein, who said he had not had any conversations with Sessions about the Russia issue, said he is not yet in a position to decide whether a special prosecutor is necessary. But Rosenstein said he'd be willing to appoint a special counsel if necessary, based on the procedures at the Justice Department. 
"If it's America against Russia or America against any other country, I think everyone in this room knows which side I'm on," Rosenstein said during the hearing.
Sen. Dianne Feinstein (D-Calif.), the ranking member of the Senate Judiciary Committee, said she believes a special prosecutor is necessary. "There is a real danger, I believe, that the Department of Justice could become politicized," Feinstein said. 
But Sen. Chuck Grassley (R-Iowa), who chairs the Senate Judiciary Committee, said Tuesday it is "far too soon to tell at this time" whether a special counsel is necessary. 
BEFORE YOU GO
PHOTO GALLERY
Trump's First 100 Days