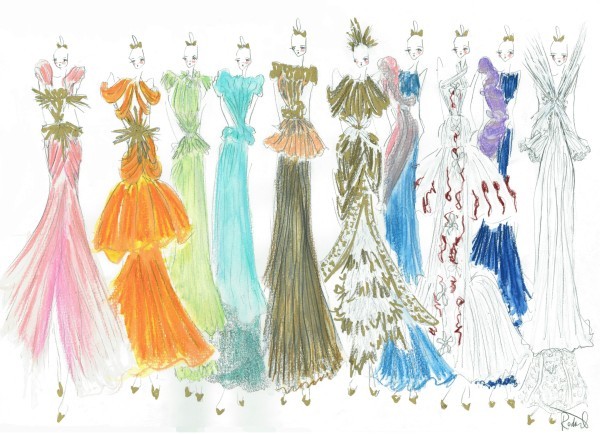 Kate Mulleavy Sketch, 2011. Gift of Rodarte.
What do Renaissance frescoes have in common with Rodarte's Kate and Laura Mulleavy? Plenty, actually. Inspired by the masterpieces found in the monastery of San Marco by Fra Angelico in Florence, the designers created a small collection of gowns to pay homage to their love of art history, which are now on display in Los Angeles at LACMA.
Curator Sharon Takeda believes that their previous study of art history has contributed to their success in fashion: "This kind of background grounds them and gives them a base for their inspiration. They continue to be affected by imagery and photography and are great admirers of contemporary art. I think that kind of background might help them stand apart, as they didn't take the standard root of going to fashion school. In some ways, that different path might be an asset in helping them find their creative voice."
Takeda was excited to have the opportunity to include their work amongst the museum's existing collection: "It truly fits within the context of our Italian Renaissance gallery. Even though there isn't a Fra Angelico piece in the gallery, the paintings in that gallery are all of the colors of Rodarte's gowns." The pieces, which are light tangerine, orange, pink, gold, aqua and lime, are consistent with the designer's signature aesthetic: unusual use of mixed materials for an undone, feminine look.
Although the Mulleavy's were inspired by their Italian adventure, they are Los Angeles girls at heart. Takeda admits: "These were the first pieces by Rodarte that we have acquired for our permanent collection. I thought it was just great, we have been watching their work for a while as they are a Los Angeles brand with an international reputation. When they were working on the pieces, the were very excited so they contacted our director. They felt like it was one of the most handmade, impressive collections yet."
Take a peek in our gallery in our gallery below for a preview of the exhibit: