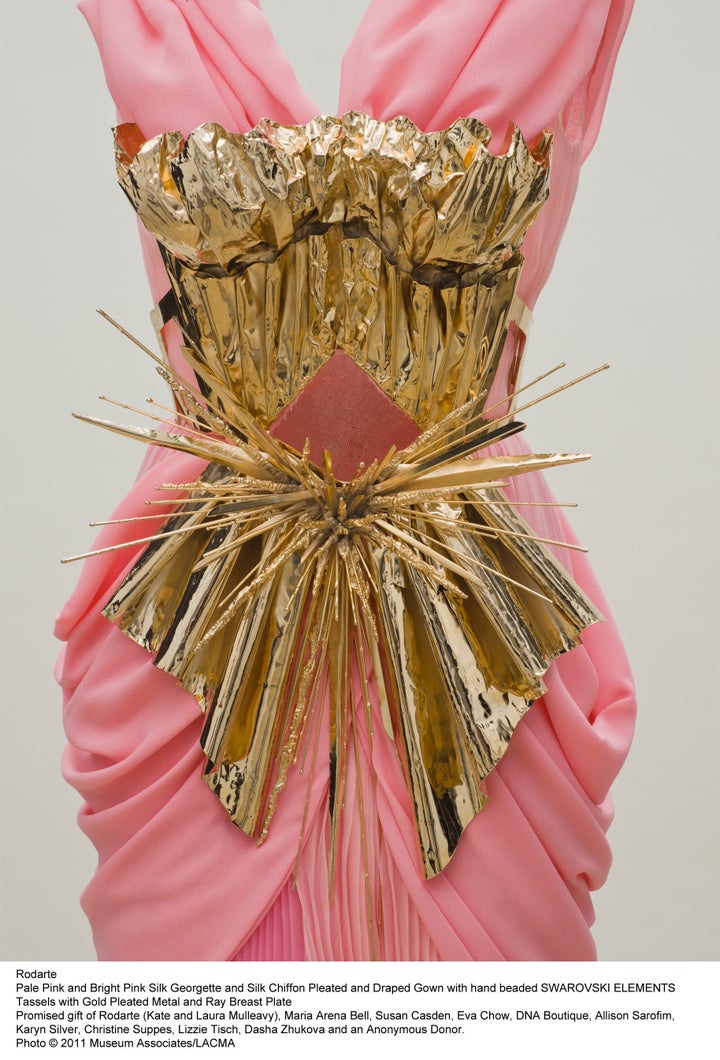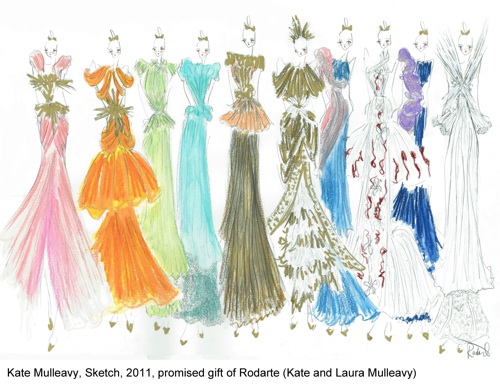 Last week, I attended the press preview for the exhibition Rodarte: Fra Angelico Collection at the Los Angeles County Museum of Art (LACMA). This intimate affair was attended by about a dozen members of the press and consisted of a conversation between Kate and Laura Mulleavy, the LA-based sisters behind the fashion design label Rodarte, and Sharon S. Takeda, LACMA's senior curator and head of the costume and textiles department. Following this talk, Kate, Laura and I had a quick chat and they were kind enough to answer a few of my questions. But first, a few words on the exquisite exhibition!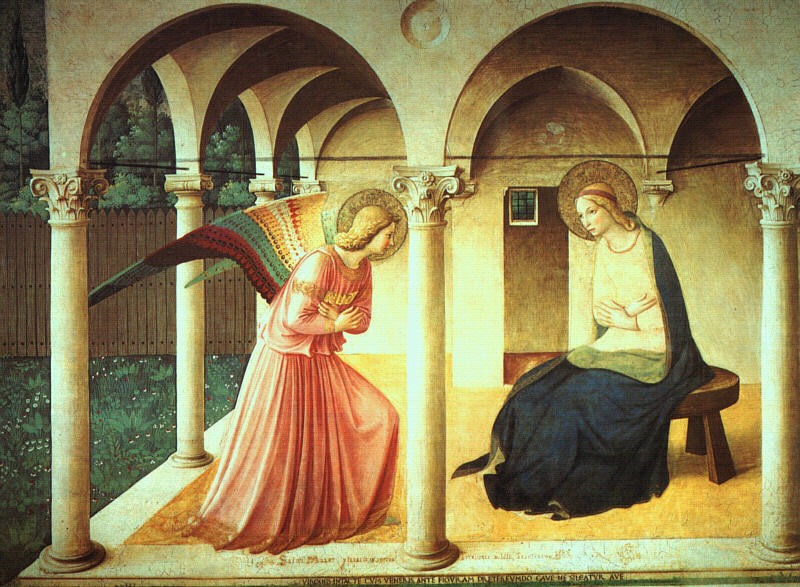 Fra Angelico, Annunication, c1438-1445, Florence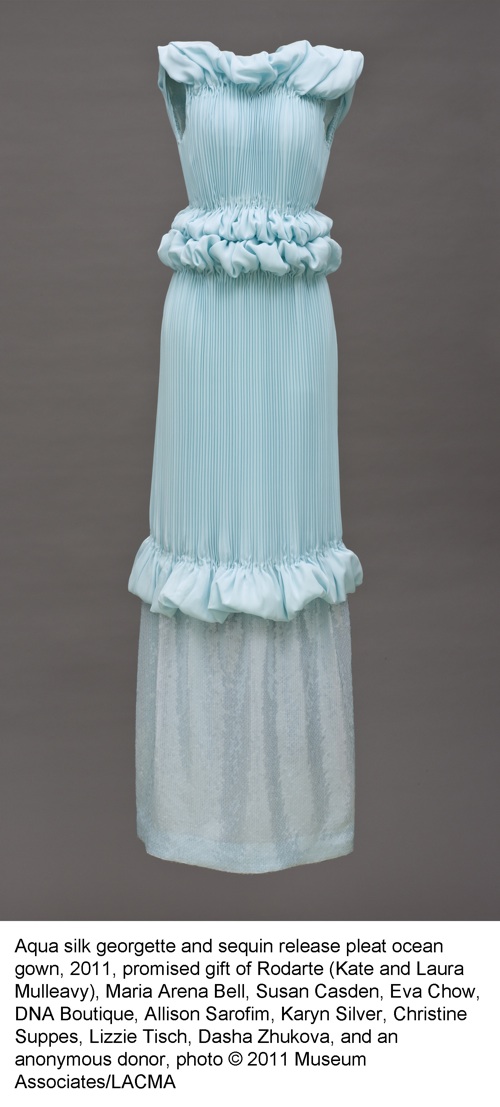 Pitti Immagine invited the Mulleavy sisters to create work for a solo exhibition in Florence during the company's fashion fair. The sisters visited Florence for the first time to prepare for the project. They recount bursting into tears upon viewing Renaissance treasures which they had only seen in books, prompting their guide to tell them she had never before seen such a reaction from American tourists. This emotional and inspiring trip resulted in the creation of a 10-dress couture collection, which the designers have gifted to LACMA, the first of their work to enter the museum's permanent holdings. Currently, nine of the 10 dresses are on view in LACMA's Italian Renaissance gallery. This collection is inspired by Fra Angelico's delicate frescoes in the Museo di San Marco (previously a monastery) and by Bernini's dramatic sculpture, "Ecstasy of St. Theresa." The delicate pastel-hued dresses look like they might float into the atmosphere except for two, which display bold and grounding star burst designs. (The pink gown with the science fiction-like gold armature is an exceptional work of art of such beauty that it nearly brought me to tears!)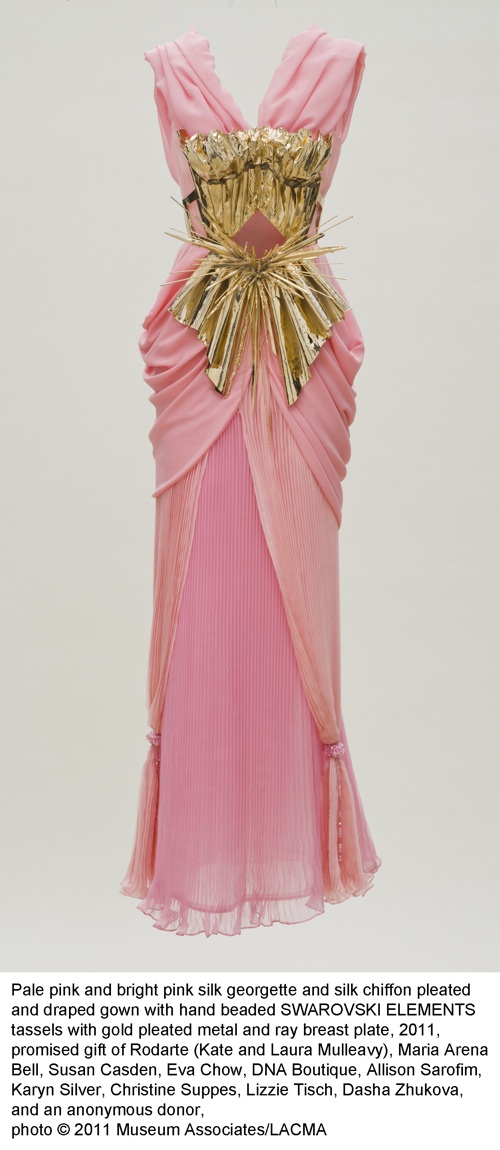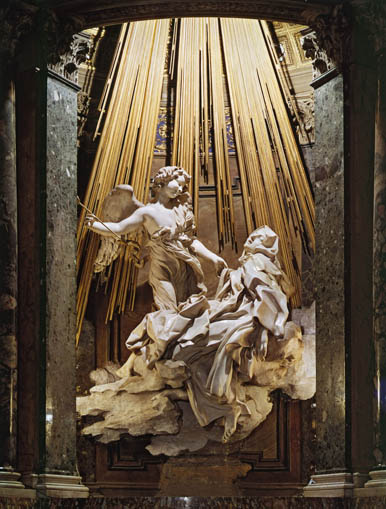 Giovanni Lorenzo Bernini, "The Ecstasy of St. Theresa," 1648-1652, Rome
Neither of the sisters have degrees in fashion design (both studied at UC Berkeley, Kate majored in art history and Laura in English literature), which was a source of insecurity for them as they took their initial steps as fashion designers. But their diverse studies inform their approach and provide them with an infinitely wider bank of source material than if their intellectual experiences been limited to the world of fashion. A great example is their approach to this particular project. Traveling to Florence and imagining Donatello and Michelangelo living and working here would be enough to make any artist put down their pencil and give up. Instead, Laura and Kate broke down their project and began with a venue. They did not choose a gilded museum, a sumptuous garden or pristine gallery but an abandoned storefront in Florence. This space, with its sequence of small rooms, made them think of the monastic cells in the nearby Museo di San Marco. "Instead of approaching the art in huge art historical terms, we looked at the San Marco frescoes as a space in which people slept, a very personal space," explains Kate Mulleavy. After this visit, the Mulleavy sisters hopped on a plane back to LA and began work on the collection.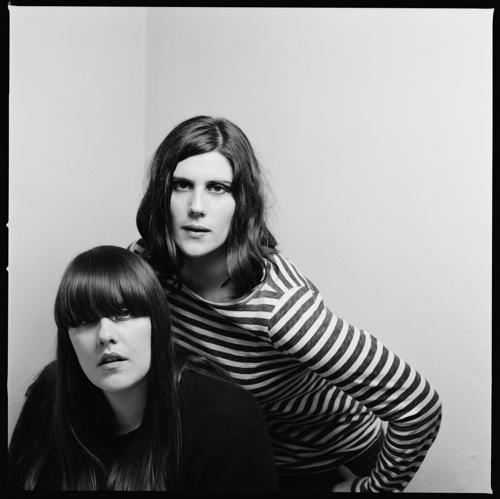 Kate and Laura Mulleavy, photo by Autumn de Wilde
Yasmine Mohseni: How do you start a collection? What is the first step?
Laura and Kate Mulleavy: We sketch together, we start with nothing and the visual comes. We sketch in black and white, color comes in right before the piece is made. What's important is telling the story. This collection is about transcendence, which makes it hard to communicate a narrative.
Which artists do you find yourself coming back to as inspiration in your work?
Kate Mulleavy: Bernini is probably one of my favorites artists ever. I also love John Baldessari and Chris Burden.
Laura Mulleavy: John Baldessari for his choice of color -- of not using much color. There's a simplicity of things you know [in his art]. Art is an emotional and visual process and it's a great starting point in telling a story."
Is there a specific work of art in art history which you're drawn to?
Kate Mulleavy: "The Ecstasy of St. Theresa" is my favorite work of art.
Laura Mulleavy: Van Gogh's portrait of his mother at the Norton Simon Museum inspired our last collection. [The painting] is down the street from where we live, we've seen it a million times and of a sudden we saw it differently: the acid green and abstraction [of it].
More photos of the exhibition are available here and, later this week, I'll update it with more photos of my visit.
REAL LIFE. REAL NEWS. REAL VOICES.
Help us tell more of the stories that matter from voices that too often remain unheard.