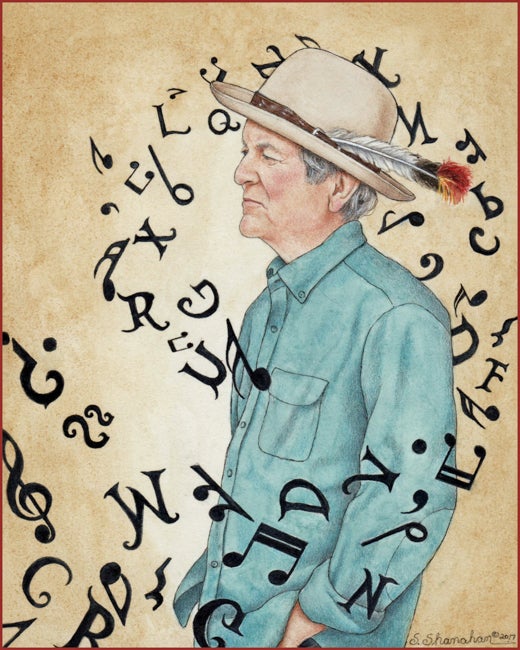 Porch Light People: Individuals who are fully themselves. They are not influenced by "shoulds" from the culture or other people. They instead live from their inner light.
"I'll bet that when you're dying, you're not going to think about the money you made. You're going to think about your art." - Guy Clark
I've chosen musician and author, Rodney Crowell, to feature in this Porch Light Profile. He is known primarily for his work as a country music singer/songwriter. His songs have been recorded by Keith Urban, Bob Seger, The Oak Ridge Boys, Waylon Jennings, Emmylou Harris, Rosanne Cash and Johnny Cash. His acclaimed memoir, Chinaberry Sidewalks, is the follow-up to his 2001 semi-autobiographical album, The Houston Kid, recounting his hardscrabble Texas youth. On March 31st, his new album, Close Ties, will be available on iTunes.
Rodney had a rough childhood. He didn't realize until some years later that he had been traumatized by his upbringing. His dad was a hardcore alcoholic who wasn't opposed to hitting his mother on occasion. She, on the other hand, was a member of a Pentecostal church that bordered on the fanatical. In 1965, at age 15, he moved to a town 30 miles from his home to join a rock and roll band. His leaving was met with no resistance from his parents. Rodney can't even remember them saying, "Good luck." Since that time, Rodney has supported himself through his music. He has never even considered doing anything else. "I've been pulled to it since day one. Music was the catnip, and I was just one of those cartoon cats floating in the air, following the sounds."
By 1972, Rodney had made his way to Nashville. He fell in with a group of songwriters who mentored each other. At the helm was Guy Clark. He gave Rodney a book of Welshman Dylan Thomas' poetry to study. He wanted to make clear that what they were doing was making art. Rodney poured over it and came to the realization that songwriting wasn't just something you do. It's an expression of your deeper, entire self.
Throughout the 1980's and 1990's, Rodney continued to pay the bills with his music and songwriting. When he had five number-one hits off of his 1998 album, Diamonds and Dirt, it seemed he had arrived. The only problem was that he had strayed from the songs that rang true to him. Instead, he was writing music for the masses. "The 90s weren't my finest years artistically. I wrote some good songs in there, but in terms of my vision of getting the paint on the canvas, that was not my best time. I didn't like the fact that I had fallen into mediocrity," Rodney said. That's when he made the decision that, for better or worse, he was only going to put out what came from within.
In 2001, no longer under contract, Rodney began work on his masterpiece, The Houston Kid. He made it with the cash he had on hand, even bouncing a couple of checks in the process. He stuck to his decision to be true to himself. "I had to fund that record on my own because I wanted to make the exact music I wanted to make. When I was doing something on someone else's dime, I was inclined to try to anticipate what they wanted. I knew that wasn't what an artist was supposed to do. In funding my own music, I found my voice."
"Oh Rodney, I get it. You don't want to be rich. You play to the A students." - T- Bone Burnett
In his newest album, Close Ties, Rodney continues creating from his center, writing about the relationships he holds dear. It's timeless appeal makes it one of his best works yet. Some of the songs are so personal he knows they aren't destined to be covered by other artists. He is fine with that, though. "I've earned the right to do exactly what I want and the people who are meant to find it will."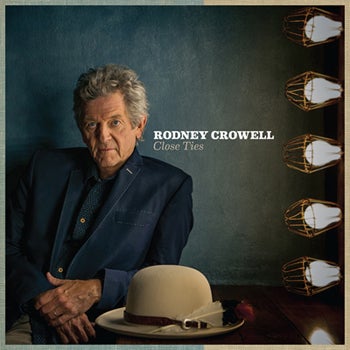 Today Rodney Crowell is a man who lives with no regrets. He's following his calling, and has never looked back after making the decision to choose art over celebrity.
"I have an unwavering faith that I'm doing exactly what I'm supposed to do. I don't think I can create anything of lasting value unless it comes from the heart. I've had this knowing all along, even when I lost a handle on how to do it. As a young man, I craved fame. I was trying to fix holes in my soul that were there from childhood. Now fame would be a detriment to my sensibilities. These days all I need is a following large enough to sustain the artistic process."
At 66, Rodney knows that time is precious. He has made a conscious effort to spend it with the people he loves. And with the rest of his time he makes art.
Rodney first came to my attention in the early 1980's when I heard his album, But What Will the Neighbors Think I was immediately hooked. After seeing a magazine photo of his wife Rosanne Cash with their darling little girls, I sent him a letter with some pictures of my paintings, asking if he would want to commission me to do a portrait of his daughters. I about fainted when he replied that he was interested in my offer. Nothing ever came of it but just that he took the time to answer made me believe in my gift a bit more. Not long after that, I was busy raising babies and lost track of his music.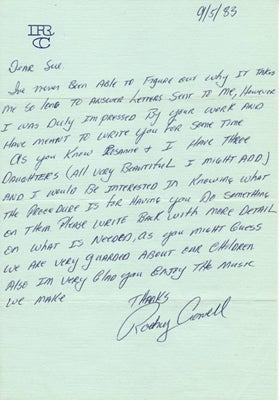 Rodney didn't resurface again in my life until 2001 when he introduced his masterpiece, The Houston Kid. My sister and I caught his show in Chicago and were awestruck by it. I had to tell him how wonderful his new album and performance where. The next day I emailed Rodney's management asking for an address where he could be reached. Would you believe the following morning there was an email in my inbox from Rodney himself? The subject line read, "Re: At your service." We struck up a friendship and talked about collaborating on a children's book for awhile. Since that time, I've kept tabs on his career and purchased every recording he has put out since The Houston Kid.
The face of Rodney in my watercolor is based on a compilation of photos of him performing. I took the hat he is wearing from the cover of Close Ties. My son, Brian, donned a blue shirt so I could snap an iPhone photo from which to work. The musical notes and letters pouring from his heart and wrapping around him came to me long before I interviewed him. I can think of no better way to describe who he is.
Related
Popular in the Community