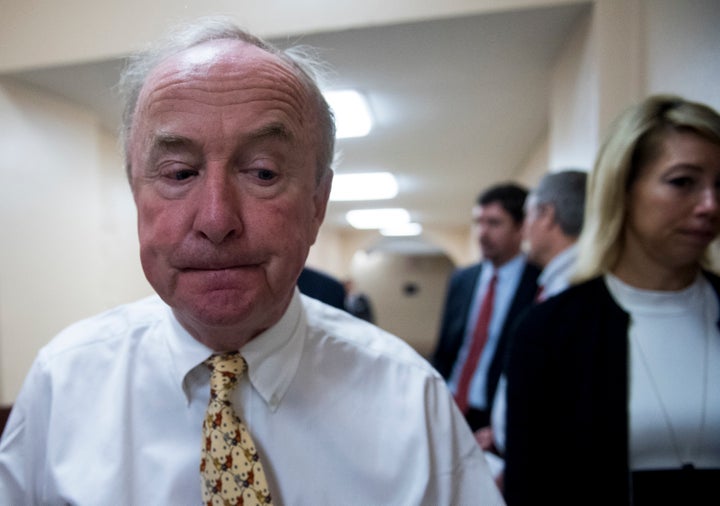 WASHINGTON ― Rep. Rodney Frelinghuysen, a 12-term Republican from New Jersey and chairman of the most sought-after committee in Congress ― the Appropriations Committee ― announced Monday that he would not run for re-election.
Frelinghuysen's announcement was a bit of surprise, considering he could still serve as the top Republican on the powerful Appropriations Committee for another four years under House GOP rules. But faced with the prospect of a tough race ― Hillary Clinton lost to Donald Trump in that district by only 1 point in 2016 ― as well as internal discussions about removing Frelinghuysen as chairman after he voted against the party's tax bill, the 71-year-old GOP moderate decided to call it quits.
"I have worked in a bipartisan manner, not just in times of crisis but always, because I believe it best serves my constituents, my state and our country," Frelinghuysen said in a long statement that called on others to take up public service. "My father reminded me often that we are temporary stewards of the public trust. I have sincerely endeavored to earn that trust every day and I thank my constituents and my home state of New Jersey for the honor to serve and I will continue to do so to the best of my abilities through the end of my term."
Frelinghuysen is political royalty in New Jersey, as his father also represented the state in Congress for more than 20 years. The two are also descendants of Frederick Frelinghuysen, who served as a delegate to the Continental Congress.
But as well-known as he was in New Jersey, Rodney Frelinghuysen would have been battling a difficult political climate. Frelinghuysen was a key vote for the GOP Obamacare repeal in the House, though he initially helped sink the first repeal attempt when he came out against it, and he was unable to significantly change the GOP tax bill, which would raise taxes on a number of his constituents by scaling back deductions on state and local taxes.
Frelinghuysen's decision is yet another bad electoral sign for Republicans, as there are now twice as many open seats currently held by Republicans as there are by Democrats. The announcement already prompted the Cook Political Report to change its rating of the district on Monday from "Lean Republican" to "Toss Up."
Frelinghuysen's retirement could also set off a race for the top spot on the Appropriations Committee, the panel that controls how much money the government spends. The two front-runners are Reps. Robert Aderholt (R-Ala.) and Kay Granger (R-Texas), though other Republicans could also vie for the spot.
REAL LIFE. REAL NEWS. REAL VOICES.
Help us tell more of the stories that matter from voices that too often remain unheard.