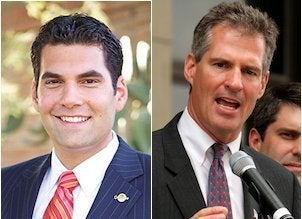 The broader political world has relatively little clue right now about who Rodney Glassman is. But as the Arizona Democratic Senate candidate made the rounds in D.C. this past week -- discussing his candidacy with members of Congress, wooing labor unions for their endorsements, and sitting down with officials at the Democratic Senatorial Campaign Committee -- he offered a compelling if not succinct explanation.
"I want to be our party's Scott Brown," he said, in a sit-down with the Huffington Post, one of several media interviews he did during his recent Washington swing. "The only thing we can do as a party to trump Republicans taking Ted Kennedy's seat is for us to take out John McCain."
It is an ambitious goal for the former Vice-Mayor of Tucson. Even he acknowledges the institutional deficits he's likely to encounter when running for office.
"There are two credibility gaps," he says. "The first is, I'm 32-years-old. I've been vice mayor of the state's second largest city and I have private business experience. But I'm also a young man beginning his family while trying to make it to the U.S. Senate."
"The second credibility gap," Glassman adds, deals with the state with Arizona itself. "We have had only two viable candidates in the past two decades against either U.S. Senator, McCain or Jon Kyl."
Convincing Arizonans that he's not too wet-behind-the-ears to take a seat in the Senate is something that Glassman can do primarily with extensive campaigning. The viability of his candidacy, however, depends in large part on the assistance of others. While in D.C. this past week both he and several aides began working the key institutional players in the Democratic Party to lend their credibility to his campaign. Meetings took place at the two major unions: AFL-CIO and SEIU. He held fundraising events around town. A sit-down was conducted with the powers that be at the Democratic Senatorial Campaign Committee. Glassman even roamed the halls of Congress, soliciting advise from lawmakers he hopes to call colleagues, including Sens. Sherrod Brown (D-Ohio) and Sheldon Whitehouse (D-RI).
Not everyone is ready to commit, let alone tout his capacity to pull off an upset. At a briefing on Thursday, DSCC chairman Robert Menendez was asked whether the Democrats had positioned themselves poorly to benefit from the bloody primary fight between McCain and former Congressman J.D. Hayworth. To which he responded with a demonstration of only tepid interest in the race.
"We have seen John McCain go from being someone who believed that comprehensive immigration was necessary fro the country's national security, to someone who has some of the ugliest videos and advertisement I've seen to do what is necessary to win," said the Senator. So I think that that's an ugly primary. We have two candidates on the Democratic side and we will see who gets elected there [Glassman remains the frontrunner in a primary against, among others, former New Times columnist John Dougherty]. And I don't underestimate that person's chances at the end of the day."
That said, Glassman has made some notable advances in a campaign that started on a shoestring budget just months prior. He has the endorsement of the AFL-CIO's state-branch, as well as other affiliates, like CWA, the Teamsters and AFSCME, which has 8,000 members in Arizona. He's also managed to parlay a personal down payment of $250,000 into the same amount in matching donations to his campaign over the course of just three weeks. Right now he has raised $750,000 in funds. And while a portion of that has been spent, there is an evident (indeed, proud) frugality to his operations. The team is moving through Arizona by bus. Glassman flew, after his trip to D.C., to New Jersey for a fundraiser hosted by family friends. And his aides have yet to be given business cards (the candidate is the only one dispensing contact info).
The idea is to wait for McCain and Hayworth to bloody each other up and pounce when that primary inevitably delivers a decidedly conservative candidate for the general election audience. Hayward, conventionally, would be the easier candidate for Glassman to face -- owing to his Tea Party leanings and dabbling in birther conspiracies. But Glassman says he wants and is preparing for the incumbent.
"I got in to run against John McCain," he said. "Senator McCain has not only ignored Arizona. He said [after health care reform] I'm not going to work with anybody anymore. It's one thing to not work with anyone for the rest of the year. But he is asking us to give him a contract renewal."
Calling all HuffPost superfans!
Sign up for membership to become a founding member and help shape HuffPost's next chapter