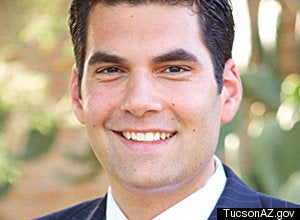 Hoping to benefit from a pitched battle on the Republican side of the aisle, an up-and-coming Democratic office holder in Arizona announced on Tuesday evening that he will formally run for the Senate seat held by John McCain.
Rodney Glassman, a one-time aide to Rep. Raul Grijalva (D-Ariz.), has formally dropped his elected position as Vice-Mayor of Tucson and is making a bid either to unseat McCain or defeat his Republican primary challenger, former Rep. J.D. Hayworth.
In making his bid, Glassman becomes the most serious entrant on the Democratic side of the aisle, and the first certifiable hope for the party to take the seat. But it remains a long shot. Strategists at the party committees have expressed mild interest in the Arizona race, and only because of the hot-tempered primary battle going on between the two Republican candidates.
Should Hayworth pull off the upset, it seems likely that more investments from the national infrastructure would come. McCain presents a more formidable challenge.
That said, Glassman has political appeal that has drawn attention and support in far-reaching circles. Former DNC Chair Howard Dean told the Huffington Post back in February that he was on his radar, mainly because Glassman had restricted donations to his exploratory committee to a scant $20.
"People should pay attention to him in this atmosphere," Dean said. "If someone is going to run and limit contributions to $20 now and [keep it that low] they can catch on even with the Tea Party crowd, which is big in Arizona."
Glassman's personal story, meanwhile, is an almost absurdly weaved-together set of impressive jobs and achievements that make him all the more compelling. In an interview several months ago with the Huffington Post, he promoted himself as having grown up as a "nice Jewish boy in a Scout troop chartered by the Mormon church."
He hails from California but came to Arizona in 1997. At the age of 23, Glassman started his own non-profit group called the Glassman Foundation, which did charitable work throughout southern Arizona. He volunteered for Grijalva's congressional campaign in 2002, after which he went to D.C. to be part of the congressman's legislative staff.
His time in D.C. was limited, as he went back to Arizona to get his PhD in Arid Land resources at the University of Arizona's college of agriculture. But he kept one foot in politics, holding on to his formal duties on the congressman's staff. As if that wasn't enough for his plate, Glassman than pursued a law degree at UofA, during which a spot on the Tucson City Council opened up. Persuaded to run for the post, he left Girjalva's office and announced his candidacy. That was 2006, his second year of law school.
The actual election took place in 2007 and his admission to the Arizona Bar took place in May 2008. Still, apparently, not internally satisfied, he decided to join the Air Force to become a JAG -- a challenge in its own right, but made even harder by the fact that officials told him he had to lose 60 pounds to qualify. He did it. In six months.
It was during JAG training, Glassman says, that he first was approached about the idea of running for the Senate in 2010. A listening tour followed, during which Glassman took only $20 donations for an exploratory committee. In between, he got married. And on Tuesday, he decided he would officially run for the seat held by an Arizona icon.
"What we found is that Arizona is very interested in a U.S. Senator that is focused on Arizona," the candidate told the Huffington Post a few months back, "We have a U.S. Senator that has spent the majority of his career running for president and who has spent his most recent time in the Senate stonewalling the president but never really focusing on us."

Calling all HuffPost superfans!
Sign up for membership to become a founding member and help shape HuffPost's next chapter