 Duke sophomore small forward Rodney Hood enters the NBA Draft with one of the most unique skill sets available. At 6-foot-8, he possesses a lethal jumper and impressive ball-handling skills, along with an attacking, slashing nature that GMs covet. Yet one of the keys to Hood's on-court success has actually come from his time off the court.
After transferring from Mississippi State following his freshman season, NCAA rules forced Hood to sit out a season before he could play again. Despite the frustrations of not playing, Hood embraced the wealth of knowledge that came from legendary Duke coach Mike Krzyzewski, who guided him as a basketball player and as a person during his two years at the school.
"He just taught me by being a captain that nobody cares about excuses," Hood told The Huffington Post. "This is what is going to happen in the NBA. Regardless of how you're feeling that night, everybody is going to expect you to produce, so whatever is happening off the court -- you might have a little injury -- you have to suck it up and be a man for your teammates. ... At first I didn't understand why, but after going through it I really started believing in myself, and I could take that into the NBA, or any profession."
Hood spent an entire year focused just on classes and practice, without the reward of playing in games. That meant a lot of downtime with his teammates and Coach K, as well as ample time for reflection.
"Off the court, the biggest thing I learned from him was just to have a presence, not to come in and be quiet," Hood said of Krzyzewski. "Have a presence, because it would benefit the people who were looking up to me."
This required the Mississippi native to push himself out of his comfort zone, facing new challenges in a new environment away from home.
"Leading by example has always been my staple, and that's why I was a captain in past years -- because I was able to lead by example," he says. "I'm more of a one-on-one type of guy rather than a vocal guy, but I understand I have to change. It's not a hard transition, but it's just different."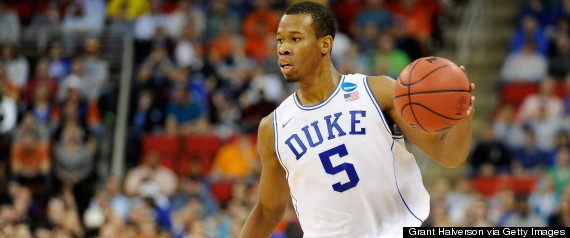 What is also different is Hood's game itself, a rare blend of athleticism, size and versatility. During his one season in Durham, he averaged more than 16 points per game, shooting a stellar 42 percent from 3-point range. In doing so, he gladly exchanged "go-to" roles with all-everything freshman and potential top pick Jabari Parker.
"Playing alongside Jabari was great," Hood said, calling himself and Parker the best duo in the country. "He could go off for four to five minutes at a time, and I could go off [when he] goes to the bench."
Having successfully played alongside a superstar should only help Hood at the next level, as should his ability to play both sides of the ball. While not a lock-down defender yet, he has spent the last several months in Florida improving his strength and overall fitness in the hopes of becoming one, while also honing his offensive interior game.
"I think I'm just rare," he said. "I think I'm different than any other guy in this draft. Being 6-foot-8 and able to play the two, just my size and my position. I think me being left-handed is also a strength of mine. ... I think you see some guys just come in and they're a two, they're a one, they're a two trying to play a one. I think I could play the two or the three without any hesitation. I think I could do that easily."
For the 21-year-old Hood, who says he models his game after two-way guys like Paul George, Manu Ginobili and Andre Iguodala, the past two years have been a learning experience both on and off the floor. One reason he wanted to attend Duke was to challenge himself academically while simulating NBA life by living away from his family. His mother, who works in the Mississippi education system, stressed the importance of education throughout his childhood. And Hood rewarded her by earning All-ACC academic honors at Duke.
"I learned that I can evolve in the best situations," he said. Hood said he took "great pride" in being able to do things people thought he couldn't do off the court, and that the academic honors were meaningful for him because of what they proved to his mother.
"I made her proud," he said.
The next steps for Hood are the same as those for other prospects: He soon will embark on a slew of daily workouts with individual teams potentially interested in drafting him. Given his rising status, he conceivably could be selected in the lottery (the top 14 picks), and likely won't last past the late teens. And as for that draft night suit?
"I haven't been really thinking about it," he said. "I've been trying to focus on getting there to New York, but I guess I'll start thinking about it now."

Email me at jordan.schultz@huffingtonpost.com or ask me questions about anything sports-related at @Schultz_Report and follow me on Instagram @Schultz_Report. Also, be sure and catch my NBC Sports Radio show, Kup and Schultz, which airs Sunday mornings from 9-12 ET, right here.
Calling all HuffPost superfans!
Sign up for membership to become a founding member and help shape HuffPost's next chapter