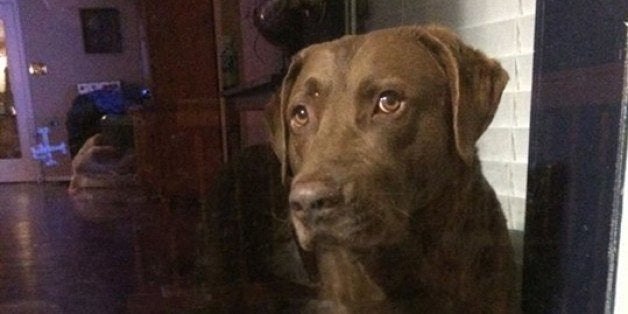 As Anne Arundel County's police chief pledged a thorough investigation Monday into the shooting death of a dog by a police officer, the pet's owners remained in mourning and the officer involved was placed on administrative duty.
"I'm devastated," said Tim Reeves, owner of Vern, a 4-year-old Chesapeake Bay retriever shot and killed Saturday afternoon by an officer as he went through the neighborhood in Glen Burnie. "That dog meant more to me than most people" do.
According to Chief Kevin Davis, Officer Rodney Price was canvassing the waterfront neighborhood during a robbery investigation when the shooting occurred. Price went to the Reeves' home in the 900 block of Lombardee Circle. No one answered the door, and as he turned to leave he encountered the dog in the driveway.
Vern "confronted and attacked" Price, who shot and killed the dog, Davis said. Police said two shots were fired.
Price notified the family, who were inside the home, Davis said. Reeves said the officer told him: "I unloaded on your dog. Your dog attacked me, and I killed it."
The Reeves family was not involved in the burglary investigation that brought the officer to their neighborhood.
Davis said the dog's body would be taken to the Virginia-Maryland Regional College of Veterinary Medicine at Virginia Tech for a necropsy, at the Police Department's expense. The chief said it's too early to conclude exactly what happened Saturday, but he expects the necropsy and an internal affairs investigation will help "get to the bottom" of the incident.
Davis said the necropsy could offer information such as the angle of the bullets that struck and killed Vern. The evidence is important, Davis said, because there is no video of the incident and the only eyewitness was the officer.
Davis said the investigation will be thorough. "We're going to leave no stone unturned," he said.
Vern had never been investigated by Animal Control, and police have not been called to the home in the past year.
Police officers are trained in how and when to use various weapons for protection, including pepper spray, batons, guns, and their own hands and feet, Davis said. He wouldn't judge whether Price made the right decision but noted it's a "split-second decision" and different officers have different "thresholds of fear and anxiety."
Price, a patrol officer in the Northern District with one year of experience, was placed on paid administrative duty during the investigation, which is being conducted by internal affairs officers. He is expected to be formally interviewed as part of the investigation, police said.
Davis said he met with the Reeves family after the incident. "I needed to personally talk to them and express my condolences," he said.
Reeves said he appreciated the chief's visit Sunday morning and his promise to investigate the shooting.
"It showed a lot of compassion," Reeves said. "He didn't have to do that."
Maryland has seen high-profile cases of law enforcement officers killing family pets in recent years.
In August 2010, a federal police officer shot and killed a Siberian husky named Bear-Bear that he said attacked his pet and was threatening him and his wife at a community dog park in Severn. Keith Elgin Shepherds was questioned by police, and after community protests he was charged with animal cruelty and a weapons violation. He was eventually fined and given probation before judgment.
In July 2008, a Prince George's County SWAT team shot and killed two Labrador retrievers during a search of the home of Berwyn Height's Mayor Cheye Calvo. Police mistakenly thought his wife was involved in drug trafficking. Calvo was cleared of any wrongdoing, and a lawsuit against Prince George's County was settled for an undisclosed amount.
The Reeves family has unanswered questions as they grieve the loss of their pet. Reeves said in addition to his concerns about an officer shooting a dog, he questions the safety of an officer firing a gun in a residential neighborhood.
"I'm just glad it wasn't a person," Reeves said.
Reeves had had Vern since 2009 and the two were inseparable, he said.
"It's tough. It really is. ... All I know is my buddy Vern is no longer here, for all the wrong reasons," he said.
The family has two other dogs, a French bulldog named Madeline and a Chesapeake Bay retriever named Jasmine that they hoped to mate with Vern. Reeves posted a photo to Facebook on Sunday night showing Madeline and Jasmine curled up on a dog bed with the caption, "Someone's missing."
Justin Scally, an official with the American Humane Association, appeared at the news conference with Davis at police headquarters in Millersville on Monday and praised Anne Arundel police for being forthcoming about the incident and subsequent investigation.
Scally, who at one time was an animal control officer in Anne Arundel County, said it's good that police are taking the time to investigate rather than treating Vern's death as an "open-and-closed" case. Scally's organization plans to review the investigation and has offered to help police with training for officers in dealing with dogs.
The Baltimore Sun's Tim Swift contributed to this article.
twitter.com/pwoodreporter ___
(c)2014 The Baltimore Sun
Distributed by MCT Information Services
Related
Popular in the Community