Rodney Smith is a man on a mission. The Bermuda native is in the midst of a trip that will take him to every state in the nation, mowing lawns for the elderly, disabled, single moms and veterans free of charge. Again.
Smith was pursuing an undergraduate degree in computer science at the historically black Alabama A&M University in 2016 when he came across a senior man mowing his lawn. After stopping to help the man finish the chore, Smith said his life took on a new path.
"When I came across the elderly man, my life changed," the 28-year-old told HuffPost. "I remember a few years before that, I had a one-on-one conversation with God. I asked him to use me as his vessel, and it didn't happen at that moment. I believe it happened when I came across the elderly man outside mowing his lawn."
After this chance encounter, Smith went on to create the Raising Men Lawn Care Service (RMLCS), based in Huntsville, Alabama. As part of providing free yard maintenance work, the organization mentors children, teaching them about serving their communities and lawn mower safety.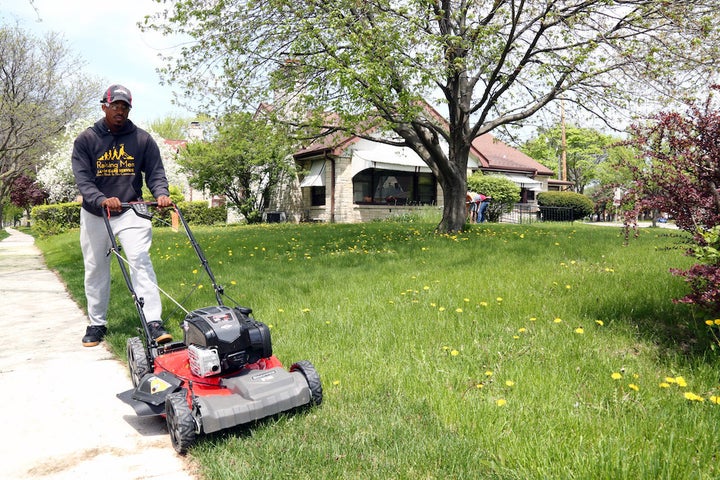 A key component of RMLCS is its 50-yard challenge, which sets a goal for children nationwide to mow 50 lawns for free in their community. When a kid signs up for the challenge, the group sends them a white shirt with the Raising Men logo, shades and ear protection. The participants receive a different colored shirt after every 10th lawn they mow. When they have completed the task for 50 yards, they receive a special visit from Smith or someone with RMLCS. They give the volunteer a new lawnmower, free of charge, and cut other lawns with them.
"Since this challenge started in 2016, 12 kids have already completed the challenge," Smith said, adding that both boys and girls are part of it. "And we currently have 130 kids nationwide taking part in this challenge, including 7 in Bermuda and the U.K. and one in Canada. So it's spreading worldwide."
Even the Queen of England took notice ― on behalf of Her Majesty, the governor of Bermuda presented Smith with an award late last year.
It was also last year that Smith was watching a video of a man traveling the world performing random acts of kindness. The video prompted him to come up with the 50 States 50 Lawns campaign, for which he traveled to all 50 states to mow lawns for free in May 2017. Now, in 2018, he's on the road again.
But Smith has even bigger plans.
"After I finish 50 States 50 Lawns this summer, I'll be starting to plan out 7 Continents 7 Lawns," he said. "I plan to, next summer, travel to all seven continents" providing, per usual, free yard work for the elderly, disabled, single moms and veterans."
He plans to spend a week on each continent, talking to kids about lawn mower safety and the importance of community service. He also wants to get more kids involved with the 50-yard challenge.
He acknowledges that on one of those continents, he may have to adjust his routine, saying maybe instead of mowing lawns, he'll shovel snow. "Maybe there are some elderly scientists there," he said, jokingly.
In carrying out his charitable endeavors, Smith has received help from Briggs & Stratton, a Milwaukee-based lawnmower engine company, which provided him the funds and equipment necessary for his 50 States 50 Lawns tours.
"Since 2016, Briggs & Stratton has been a proud supporter of Rodney and RMLCS when we met him through a You.Powered. social media campaign," Lauren Vagnini, a spokeswoman for Briggs & Stratton, told HuffPost. "His efforts are an embodiment of our company values around empowering people, making work easier and improving lives with outdoor power equipment, and we are excited to see his movement expanding into year two."
Smith also relies on donations from other contributors. RMLCS is a nonprofit organization and it does not offer services for anyone outside of the groups that are provided free lawn care.
Smith, who has been met with an outpouring of support on social media, said that he feels that he owes much of the success of his organization to God.
"I believe today He gave me what my purpose is, and that's giving back to the community. Raising men was all a part of His vision."