California police are searching for multiple suspects after an elderly Mexican man was allegedly battered with a brick in his Los Angeles neighborhood on Independence Day in what a witness described as a blatantly "racist" attack.
Rodolfo Rodriguez, who will turn 92 in September, had been taking his usual evening stroll last Wednesday when the alleged assault occurred. A neighbor, 35-year-old Misbel Borjas, said she saw Rodriguez attempt to pass a mother and her young daughter on a sidewalk when the nonagenarian accidentally bumped into the child.
Borjas, who'd been driving by in a car, told The Washington Post that the mother, a black woman, pushed Rodriguez to the ground before "repeatedly bash[ing] him in the face with a concrete brick while yelling, 'Go back to your country.'" It's unclear where the woman obtained the brick.
Borjas, who caught the incident on camera and called 911, said she tried to intervene but the woman threatened to attack her too.
"But that's not true," Rodriguez told CNN in Spanish this week. "In the years I have been alive, I have never offended anyone."
The men, whose relationship to the woman is unknown, kicked Rodriguez while he lay "crumpled on the ground and stomped on his head," Borjas told the Post. The group fled before police arrived.
Video filmed by Borjas in the immediate aftermath of the alleged attack shows Rodriguez sitting on the ground, his face covered with blood. He suffered a broken jaw and cheekbones, two broken ribs and bruises on his face and torso, his family said.
"I can't walk anymore," Rodriguez told CNN, tears streaming down his badly bruised cheeks. "I'm in so much pain."
Investigators said they are reviewing the video of the attack and looking for a woman and "possibly three to four men" involved in the alleged assault, the Los Angeles Times reported.
"We are concerned, especially with the type of crime they committed," Los Angeles Sheriff's Deputy D'Angelo Robinson told KTLA-TV of the suspects.
"There was what appears to be a 4-year-old child there who witnessed the entire thing," Robinson added. "We can't have these kinds of people like that out in the streets."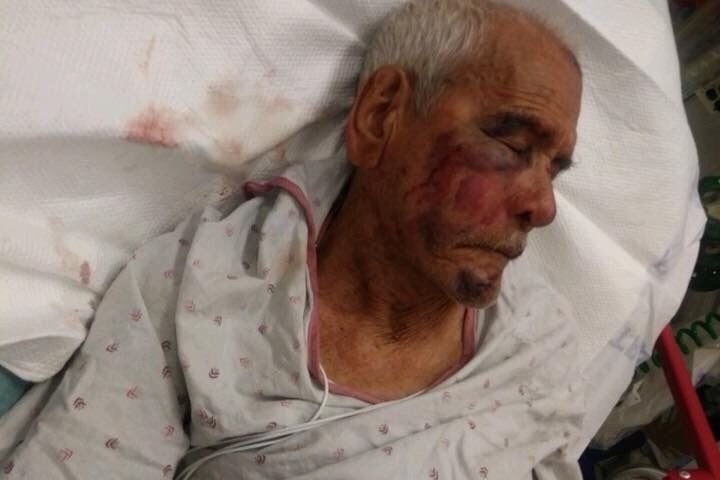 Rodriguez's family started a GoFundMe campaign to help pay for the elderly man's medical bills.
"I'm just overwhelmed how anybody can do this to a human being at all," Erik Mendoza, Rodriguez's grandson, told CBSLA.
In three days, more than 5,500 people have donated $160,000 — far surpassing the family's original $15,000 goal. The campaign's comments section was deluged with words of support and compassion from people across the country.
"The love and kindness of every true American is being sent to you," wrote one donor. "Whether it's through prayers, monetary gifts, or kind words, the message is clear: America wants you well and values you. What happened to you wasn't American, it was monstrous."
This story has been updated to include more details from witnesses.
CORRECTION: The video in a previous version of this story mistakenly indicated a photograph of the suspect was a photograph of a bystander who attempted to help the victim.
Related
Popular in the Community