Warning: This article contains graphic images of recent killings in the Philippines.
Police and vigilante groups have shot to death hundreds of people in the Philippines in recent months, as newly elected President Rodrigo Duterte's brutal drug war continues to escalate. The killings, which have targeted alleged drug dealers and users, have left bloodied bodies in city streets and instilled a climate of fear.
The rise in deadly shootings comes as Duterte follows up on his campaign promise to confront the nation's drug trade through extreme and violent measures, a platform that won him a landslide electoral victory in May. Many voters in the Philippines, where reported crimes have more than doubled since 2010, viewed Duterte's brand of brash populism and harsh justice as a quick solution to the country's societal and political problems.
Rights groups, however, have for years condemned Duterte for backing death squads during his former role as mayor of the city of Davao and opposed his flagrant disregard for human rights. Critics' fears that Duterte would make good on his campaign rhetoric and launch a violent crackdown now appear validated, as vigilantes and police are essentially being given a free rein to carry out extrajudicial killings.
"We have an extremely alarming situation in the Philippines right now," Phelim Kine, deputy director of Human Rights Watch's Asia division, told The WorldPost.
"There has been an extremely worrying surge in police killings of suspected drug dealers and users, and along with that we've seen a very sinister uptick in killings of alleged criminal suspects by shadowy vigilante killers."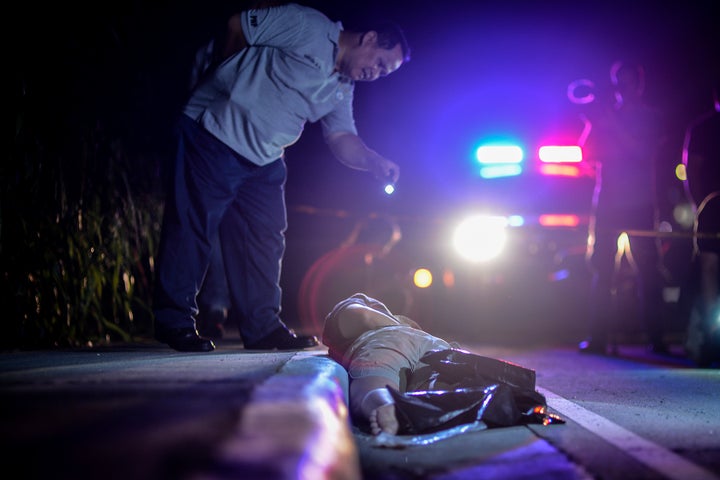 Police And Vigilante Killings Skyrocket
Between the start of the year and the nation's elections on May 9, police killed 39 people in anti-drug operations. Since the vote, however, unidentified vigilante groups and police have killed at least 693 people, according to The Philippine Daily Inquirer's ongoing count.
Many of those killed in the Philippines are left on sidewalks and in gutters with cardboard placards near their bodies that claim they are involved in the drug trade. Images in local media of citizens shot to death in the street next to such signs, sometimes with their hands bound or heads wrapped in tape, have become a fixture of the current drug war.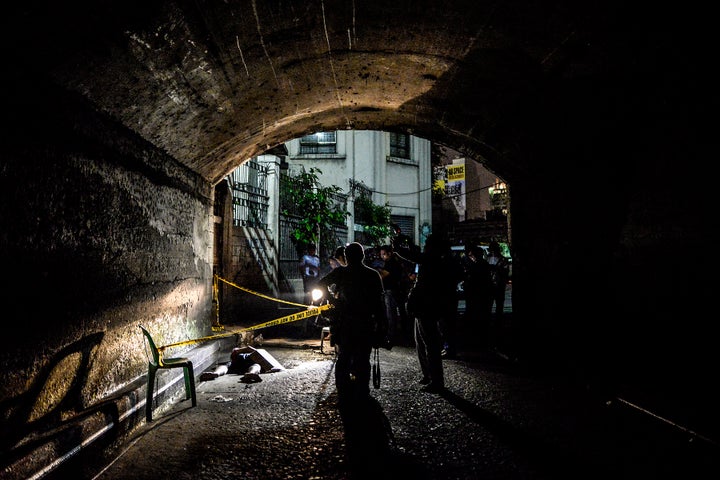 One series of photos from Manila, showing Jennilyn Olayres cradling the dead body of her husband Michael Siaron, gained significant attention in the country's national media. Olayres vocally criticized the government's actions following her husband's death, and defended Siaron as a non-violent man who drove a pedicab.
Duterte hit back at the photo controversy in a speech to congress, and mocked the media for portraying Olayres "like Mother Mary cradling the dead cadaver of Jesus Christ."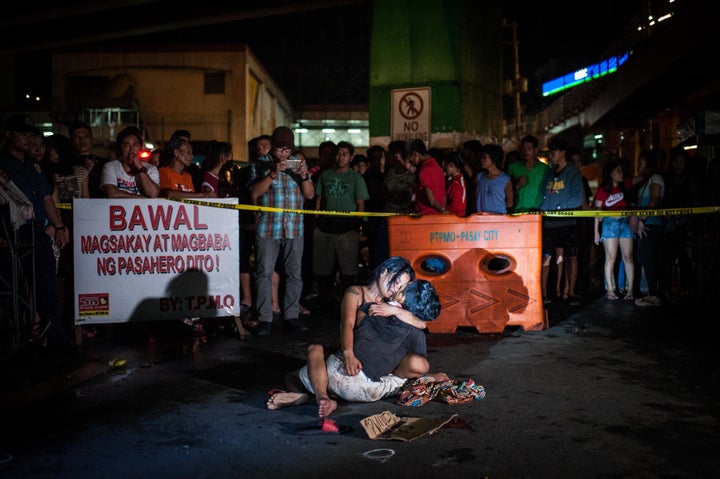 Criticism Mounts Against The Drug War
As the death toll has risen, both domestic and international rights organizations have increasingly voiced their opposition to Duterte's methods. In early August, hundreds of civil society groups wrote a letter to the United Nations Office on Drugs and Crime calling for action, spurring the UNODC to issue a statement criticizing the crackdown.
A Philippine senate committee is set to launch an inquiry into the killings later this month.
The United States, a longtime ally of the Philippines, expressed concern over the killings as well. Duterte has further drawn ire from the U.S. after calling the country's ambassador to the Philippines, Philip Goldberg, "gay" and a "son of a whore," earlier this month.
But despite the mounting criticism against him, Duterte has repeatedly encouraged the killings. Shortly before taking office in June he even incited citizens to carry out executions of people involved in the drug trade themselves if they have the means.
"Please feel free to call us, the police, or do it yourself if you have the gun — you have my support," Duterte said at a rally on June 5. He added those who carried out killings would receive a medal for their efforts.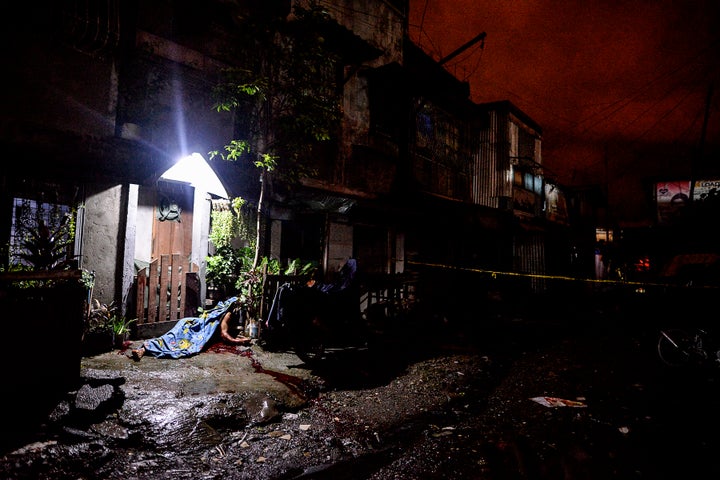 Duterte is not alone among Philippine officials in backing drug war. Last month, the country's solicitor-general stated that "not enough" criminals had been killed in the anti-drug operations.
"Instead of expressing alarm and calling for urgent investigations into why these things are happening, the president and senior representatives of government are cheerleaders for this type of behavior by the police and these shadow vigilante assassins," Kine says.
Those targeted by the killings, according to Kine, are also people who are on the margins of society, poor and easy to target.
"These are alleged street-side drug dealers or drug users. They are not the kingpin, drug exporter-importers, the people who really make a difference in terms of the supply of the drugs on the streets of Philippine cities," Kine says.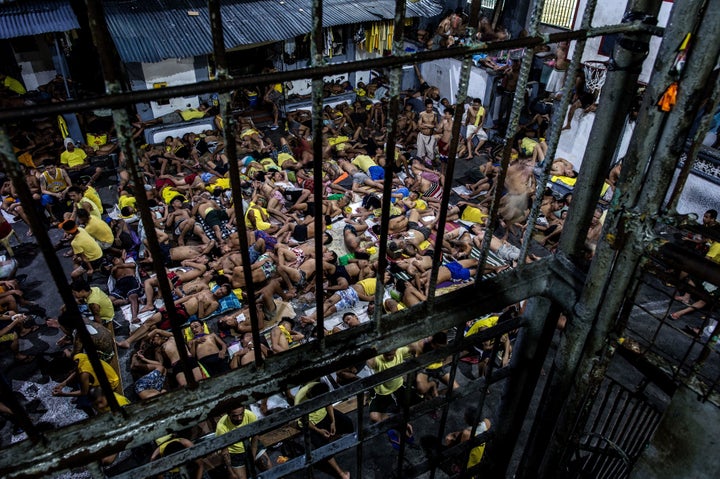 Overcrowded Jails Packed With Prisoners
In addition to the rise in extrajudicial killings, thousands of people have surrendered themselves to authorities out of fear of being targeted in the drug crackdown. As many as 600,000 people have turned themselves in, according to Philippine officials, but the majority of those have not been imprisoned.
Nevertheless, an increase in arrests during Duterte's presidency has caused already overcrowded Philippine jails to further overflow with prisoners. Images from Quezon City Jail in Manila show tightly packed rows of inmates lining the floors of the facility, which was built to house 800 people but now holds 3,800. Prisoners reportedly take turns sleeping on the ground.
Conditions within the prisons are often abhorrent: Rights groups allege many jails fail to provide adequate care for inmates and are often the site of contagious diseases.
Popular in the Community