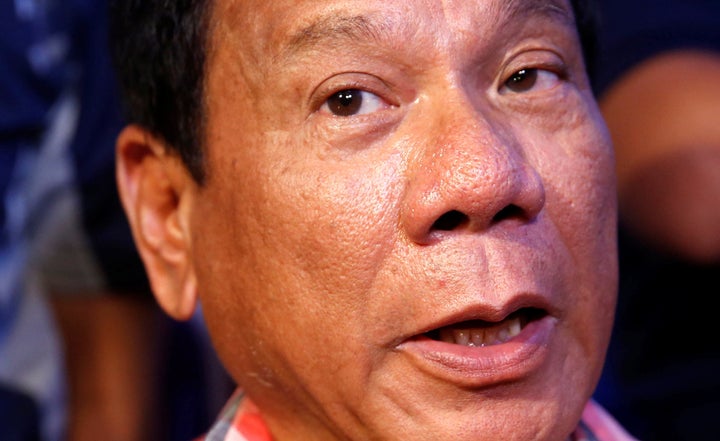 The new president of the Philippines is a man who has openly advocated for death squads, made horrific remarks about rape and threatened to dump the bodies of 100,000 criminals in Manila Bay.
Rodrigo Duterte, who earned the nickname "the Punisher" while mayor of the Philippines' southern city of Davao, claimed around 39 percent of the vote on Monday to win the country's election. The president-elect's campaign was filled with fiery populist rhetoric and vows to brutally crack down on crime, finding support among the many Filipinos fed up with the ruling political establishment.
Duterte's brash speaking style, propensity for hateful remarks and outsider status have also routinely earned him comparisons to presumptive U.S. Republican presidential nominee Donald Trump. 
"Obviously the comparisons to Trump are tempting, and getting a little bit tired, but they're very appropriate in that he tapped into popular anger and frustration among a cross-section of Philippine society," Human Rights Watch Deputy Asia Director Phelim Kine told The WorldPost. 
Even Trump, however, would likely balk at some of Duterte's campaign promises and controversial remarks.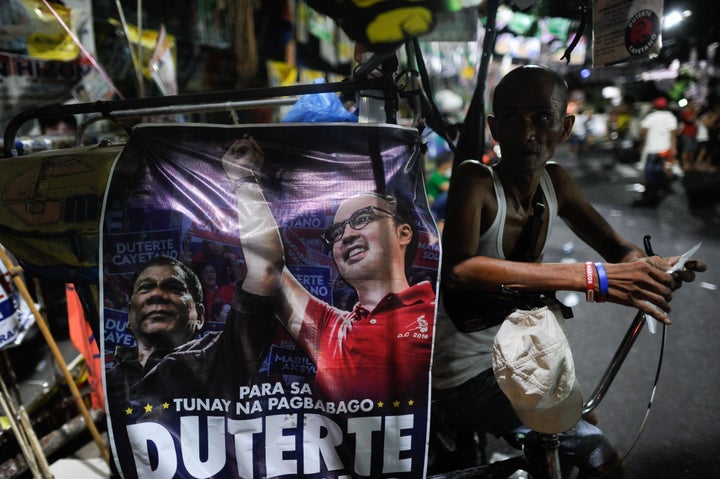 Duterte Openly Supports Extrajudicial Killings
First elected mayor of Davao in 1988, Duterte oversaw a brutal crackdown on crime that he touts as one of his signature achievements. His anti-crime policies gave free rein to death squads that targeted suspected criminals in the city, although rights groups contend that many of the extrajudicial killings were of street children and low-level drug dealers.
Death squads killed over a thousand people in Davao under Duterte's mayorship, according to Human Rights Watch, often in drive-by motorcycle shootings and stabbings. 
"Rodrigo Duterte, as mayor, praised these killings, encouraged the killers and over a period of time would go on the air at a local radio station and would read the names of criminals, who in many cases wound up dead," Kine said.
Duterte himself alluded to killing at least three suspected criminals in his first years as mayor, in yet another projection of his strongman persona. He has used this ultra-tough-on-crime attitude as a platform to the presidency, and promised to wipe out criminality in the Philippines within the first three to six months of his term. 
In response to Human Rights Watch's allegations that death squads extrajudicially killed over 1,000 people while Duterte was mayor, local media reported he doubled down by saying that if he was president, that number would rise to 100,000.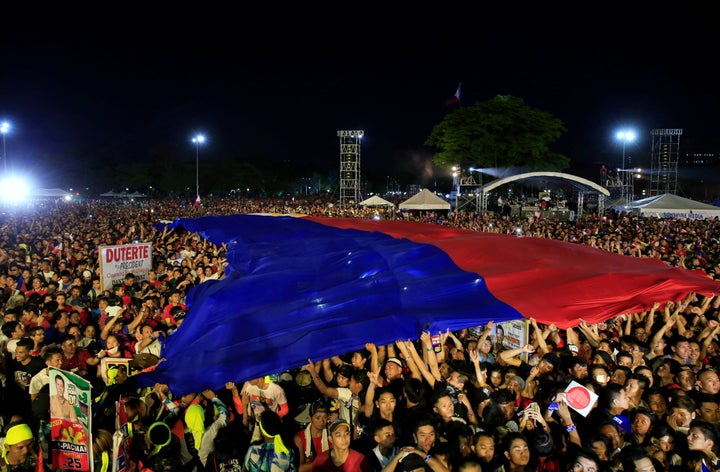 He Talked About Joining In On The Rape And Murder Of A 'Beautiful' Woman
Duterte caused controversy while on the campaign trail in April, when he joked to a crowd of supporters about the gang rape and murder of an Australian missionary who was killed during a 1989 prison riot in the Philippines. 
In front of thousands at a rally, Duterte told the story of how he saw Jacqueline Hamill's face and thought "what a pity … they raped her, they all lined up. I was mad she was raped but she was so beautiful. I thought, the mayor should have been first."
Opposition politicians accused Duterte of being unfit for the presidency following his speech, which he initially brushed off as "how men talk." He also noted that the comment was "not a joke, I said it in a narrative. I was not smiling." As backlash grew, Duterte apologized days later in a rare retraction of his remarks.
Much like Trump, Duterte's campaign had a Teflon sheen that allowed the 71-year-old to get away with a number of controversial statements. In January, voters looked the other way as Duterte referred to Pope Francis as "a son of a whore" because the pontiff's visit to the country caused traffic.
Rights Groups Worry About Duterte As President
It remains to be seen whether Duterte will follow up on his many extreme campaign promises to wipe out crime.  
Days before the election, however, Duterte made no effort to tamp down the rhetoric that made him so popular. "All of you who are into drugs, you sons of bitches, I will really kill you," Duterte told a rally last Saturday. 
Rights groups say that while it's unclear how much of Duterte's aggressive posturing and rhetoric was merely a campaign tactic, his history as mayor of Davao is an ominous indicator of what is in store for human rights in the Philippines.
"Rodrigo Duterte's election is a symbolic victory for this notion that's already spreading in the Philippines that the answer to crime ... is vigilante killings of suspected criminals," Kine says. "That, in itself, is very dangerous." 
CORRECTION: This article previously referred to Jacqueline Hamill, a woman who was raped and murdered in the Philippines, as Jacqueline Hall. The article also suggested that President Duterte was joking when he said he wanted to join in on her assault. He later clarified that he was not joking.
Calling all HuffPost superfans!
Sign up for membership to become a founding member and help shape HuffPost's next chapter
BEFORE YOU GO
PHOTO GALLERY
Typhoon Melor Strikes The Philippines