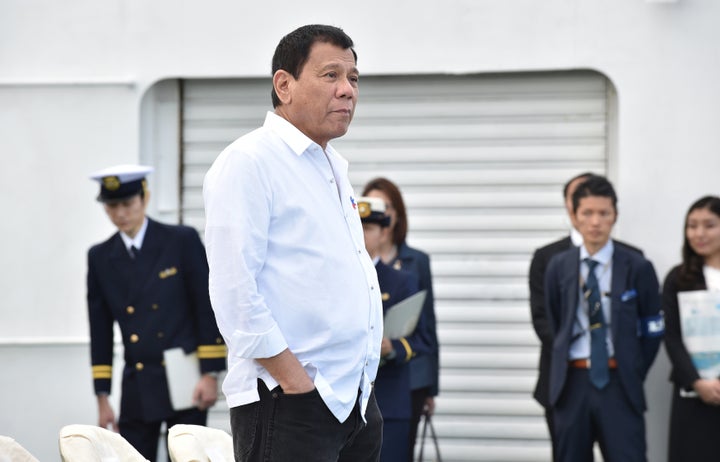 In the five months since Philippine President Rodrigo Duterte took office, he has seemingly done all he can to dismantle the 70-year alliance between his country and the United States. From declaring he wants all U.S. troops out of the Philippines within two years to calling President Barack Obama a "son of a whore," Duterte is a persistent headache for Washington.
The Philippine president's anti-U.S. rhetoric has become even more pronounced in recent weeks. During two trips abroad last month, Duterte denounced America's political influence and vowed a pivot toward China. In Beijing on Oct. 20, he stated, "I announce my separation from the United States." 
But although Duterte routinely states his dislike of the United States' presence in the Philippines, it's not yet clear that his bluster will lead to any drastic changes in the alliance. Philippine officials often walk back their president's drastic announcements, and many of Duterte's long-standing disagreements with the U.S. have little to do with politics.
"Duterte's own personal interactions with Americans and U.S. officials in the Philippines have given him a personal set of grievances toward the United States that mixes with the intellectual," Malcolm Cook, a senior fellow at ISEAS-Yusof Ishak Institute, told The WorldPost.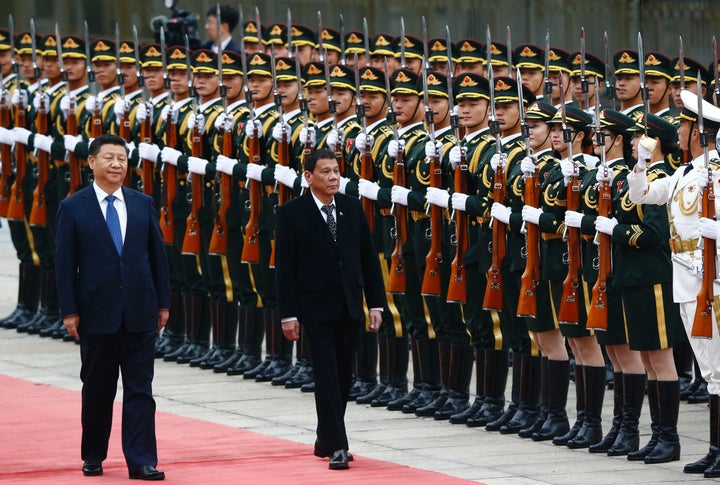 Duterte's animosity toward the U.S. extends back before he was elected president in May. He has spoken publicly about previously being denied a visa to travel to the U.S. to visit a girlfriend, and described his personal hatred of America in interviews during his campaign. 
One prominent source of Duterte's dislike of U.S. influence in the Philippines is an incident that occurred while he was mayor of Davao City. In 2003, an explosion at the Evergreen Hotel in Davao and the mysterious set of events that followed angered Duterte.
The blast happened in the room of an American man, Michael Terrence Meiring, who escaped prosecution and fled the country shortly after. Philippine officials claimed FBI agents aided in his escape, and conspiracy theories of Meiring being linked to the CIA flourished. Duterte viewed the case as symptomatic of the United States' negative influence in the country.  
In addition to the events that Duterte takes as personal affronts, Cook said, the president comes from an ideological background that views American colonialism and influence in the Philippines as the root cause of many of the problems facing the country today. 
Duterte's dislike of the U.S. is an anomaly in the Philippines, however, where the vast majority of the population holds a favorable view of America. A 2012 Pew Research Center survey puts Philippine support for the U.S. at 92 percent ― almost 10 points higher than the U.S. views itself.
Duterte enjoys similar levels of support, but his presidency is still in its early stages and a major shift away from the U.S. could affect his popularity. Previous administrations, most recently President Gloria Macapagal Arroyo, also attempted to gain more foreign policy autonomy. These attempts largely failed to break the Philippine-U.S. interdependence, according to Cook. 
So far, most of Duterte's tangible changes in policy have been minor or disadvantaged the Philippines more than the United States. On Monday, he canceled an order to buy 26,000 police rifles from the U.S. ― a sale that Washington had already halted over concerns about the rise in extrajudicial killings. 
Duterte's announcements that would mark a major shift, such as removing all troops from the country or calling for a separation from the U.S., are often framed as personal statements about what he advocates, but not necessarily what he plans for the Philippines. 
"The assumption that whatever the president says ... is government policy, doesn't apply here," Cook said. 
But even as experts are skeptical that Duterte would actually make any long-term, drastic changes to the alliance between the U.S. and the Philippines, it is clear that some of his existing policies present challenges to the relationship.
Duterte's brutal drug war, which has killed at least 2,300 people since he took office, has made him a target of international criticism and strained diplomatic ties. On Saturday, police shot to death an imprisoned mayor who Duterte had claimed was involved in the drug trade. He was killed in his jail cell, with authorities saying he had resisted during a search.
The U.S. has criticized the killings, but officials are still painting a relatively rosy picture of the ties between the two countries. In late October, U.S. Secretary of State John Kerry visited the Philippines and vowed that both sides were committed to good relations and would be able to "work through" Duterte's rhetoric. 
Calling all HuffPost superfans!
Sign up for membership to become a founding member and help shape HuffPost's next chapter