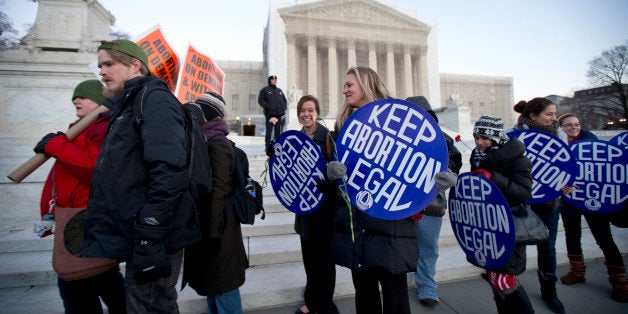 On this 43rd anniversary of Roe v. Wade, the landmark Supreme Court decision protecting a woman's right to decide whether, or when, to become a parent, I am also reminded that it is the 40th anniversary of the passage of the Hyde Amendment. Since 1976, this amendment has severely restricted federal funding for abortion services and deprived low-income women of the means and dignity to make personal decisions about childbearing. These restrictions on public funding essentially take away the "right" from low-income women who rely on federally funded health programs like Medicaid for their health coverage.
 
The passage of the Affordable Care Act (ACA) in 2010 represents the greatest Medicaid expansion in the history of the program. The law, however, also incorporated the Hyde Amendment and more, adding the largest expansion of abortion funding restrictions and absolute bans into private health plans, further eroding the "right" promised by Roe. According to the Guttmacher Institute, 25 states now have laws that ban abortion coverage in plans offered in health insurance exchanges. Ten states have opted to ban abortion coverage in all state-regulated private plans. Additionally, there are provisions restricting abortion for women with federal health coverage, including federal employees, our military, residents of the District of Columbia, and Native American women.
 
Abortion is part of the full range of reproductive health care that must be available to all women, not just the ones that can afford it. The average cost of a first-trimester abortion is $451. The median weekly earnings for women in 2015 was $721. Low-income women who rely on Medicaid for health care may earn far below poverty wages, and they experience the highest rates of unintended pregnancy -- as much as five times that of higher earners. Women of color are particularly vulnerable to challenges affecting reproductive health. For example, African American women are three times more likely than white women to die from pregnancy-related complications.
 
Women might seek an abortion for a number of personal, socio-economic, or health reasons. Perhaps she may not be ready to start a family, or cannot offer the best care for another child, or the pregnancy may compromise her health. No one can put themselves in the shoes of an individual woman faced with the very personal decision about childbearing, yet the Hyde Amendment deprives low-income women of the means and dignity to make these decisions for themselves.
 
While states are curtailing the "right" promised by Roe, a recent survey by the National Institute for Reproductive Health found a large majority of voters are surprised by and disapprove of laws against abortion, and instead support affirmative approaches that make abortion more supportive, respectful, affordable, and able to be accessed without embarrassment, pressure, or shame.
Late last year, in response to the renewed attention on federal funding for Planned Parenthood, an organization that provides critical health services to millions of low-income individuals, Reps. Barbara Lee (D-Calif.), Jan Schakowsky (D-Ill.), and Diana DeGette (D-Colo.) introduced the EACH Woman Act. If enacted, the bill -- currently with 109 co-sponsors -- would restore federal funding for abortion for millions of women covered by public and private health insurance.
 
For 40 years, the Hyde Amendment has curtailed the rights of low-income women and created a system where only the privileged can have reproductive health care that is needed by all women. As we celebrate another anniversary of Roe, we must remember that our work is not done.
Calling all HuffPost superfans!
Sign up for membership to become a founding member and help shape HuffPost's next chapter