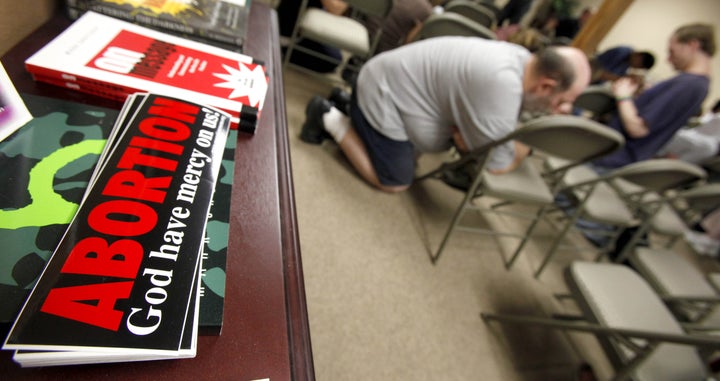 On January 22, 1973, the Supreme Court handed down its decision in Roe v. Wade, ruling that the right to privacy in the U.S. Constitution protects the right of a woman to choose whether to continue a pregnancy to term or to have an abortion. That decision ended the long nightmare of women dying in America from unsafe and illegal abortions.
Despite efforts to overturn and undermine Roe for the past 38 years, Americans still strongly support this landmark ruling. In fact, according to a recent Hart Research poll, 62 percent of voters oppose overturning Roe. And in cases involving rape or incest, 77 percent of voters disagree with making abortion illegal, including 68 percent of voters who voted for a Republican candidate for Congress in 2010.
That should be good news for all of us who believe a woman is entitled to make her own most private and personal decisions.
But tell that to the newly elected opponents of women's health and rights in Congress, the state legislatures, and the governor's mansions of America. Swept into power on a wave of discontent over joblessness and an anemic economy, these officials have wasted no time in launching an all-out attack on women's rights to reproductive health care and abortion.
It's bait and switch, plain and simple. And American women are on notice: their rights are under attack like no time before.
Just yesterday, Rep. Chris Smith (R-NJ), the dean of anti-choice extremists, introduced a bill that goes far beyond any other proposal ever introduced in Congress to take private health care coverage for abortion away from women. This bill would put the lives of women with life-threatening pregnancies in danger, and would not even provide abortion coverage to many women who are raped and become pregnant. The true intent of the bill is to end insurance coverage for virtually all abortions, including private insurance coverage that Americans pay for with their own money, even in cases involving the most severe dangers to a woman's health. It would even force Americans to pay higher taxes if abortion is a part of their health care or health care coverage.
Another bill introduced by Rep. Mike Pence (R-IN) would strip Planned Parenthood of all Title X family planning funding, which has provided family planning and other preventive services to millions of low-income women since 1970. If that happens, millions of women who rely on Planned Parenthood for their primary and preventive health care -- including annual exams, lifesaving cancer screenings, contraception visits, and testing and treatment for STDs -- would lose access to their main source of basic preventive health care and their connection to a high-quality health care provider.
At the state level, get ready for a range of anti-choice, anti-women's health legislation, including: abortion coverage bans, which could end most if not all private health insurance coverage of abortions; measures that mandate a woman to view her own ultrasound image; and state attempts to defund family planning programs, which provide women with contraception and family planning visits.
If you're outraged, you should be.
Thirty-eight years after Roe gave America's women the right and the opportunity to plan for their families and control their reproductive health, this tenet of modern American rights is under assault.
Now is the time for the American people to stand up and make it clear that they oppose the unacceptable restrictions on women's health being promoted by these dangerous and extreme politicians, who are acting contrary to the will of the public. As we shine the spotlight on Roe at 38, we must make it crystal clear that the women of America will not go back.
Popular in the Community