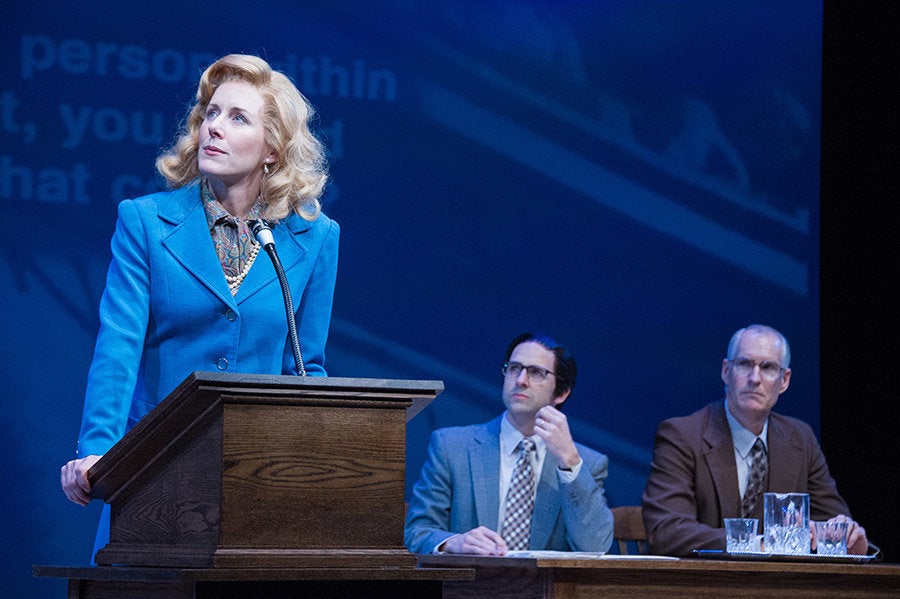 In 1970, 26-year-old lawyer Sarah Weddington tried her first-ever contested case before the United States District Court for the Northern District of Texas. It was Roe v. Wade. Most Americans alre aware of the Supreme Court's 1973 verdict in the watershed case, but fewer know the women who got us there. 
Lisa Loomer's play "Roe," running now at Washington, D.C.'s Arena Stage, tells the story of the case that established a woman's right to choose to have an abortion through the lens of two people: the young and ambitious lawyer Weddington and the case's plaintiff Norma McCorvey, a 20-something bartender and lesbian who, in court, was known by the legal pseudonym "Jane Roe." 
In 2013, Loomer was approached by a friend about the possibility of writing a play about the case as part of a cycle of performances called "American Revolutions," each recreating a moment of change in American history, commissioned by the Oregon Shakespeare Festival. Given Loomer's previous work with narratives centered around women's struggles, Roe v. Wade was of obvious interest. 
"I was interested in the case, yes, but I was also interested in why this case is still being argued 44 years later," Loomer explained in an interview with The Huffington Post. "I wanted to understand why we, as Americans, cannot even talk to each other about this issue. In other words, I was interested in the divide in this country, and I thought that by looking at the divide over Roe, I might begin to look at the larger cultural divide, as well. Which is, ironically, what we are looking at right now, post-election."
After an initial run in Oregon, the play premiered in D.C., just days before Donald Trump's inauguration. Before the election, Loomer imagined the production existing in a different context. "We imagined it happening during the inauguration of our first woman president," she said.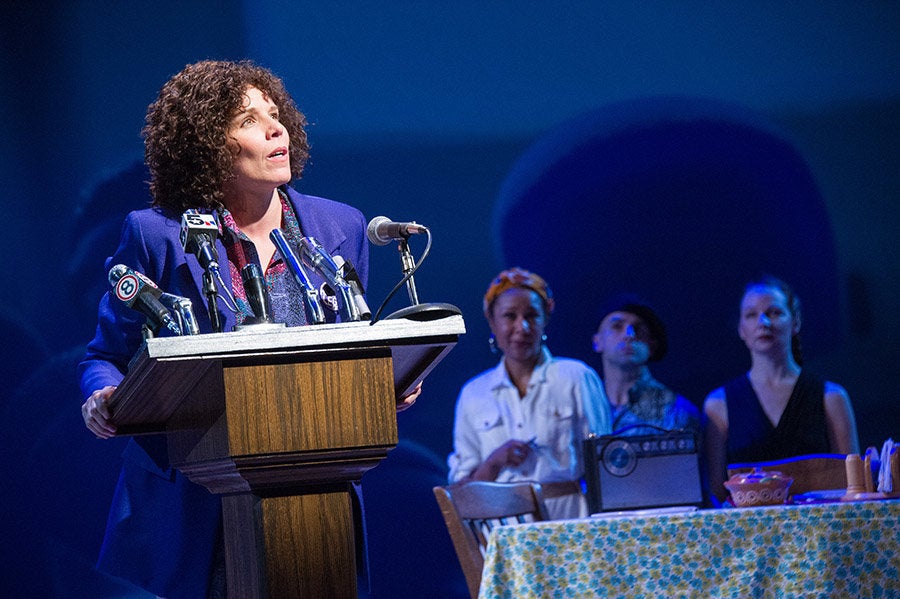 "We thought it would be a cautionary tale, as history should be, but also a celebration of how far women's rights and human rights have come," she added. "Clearly, we were surprised. The play is happening now in a totally different political climate." 
The unexpected turn of events made "Roe" and its implications even more urgent, as Roe v. Wade's ruling is now under unprecedented threat. One of Trump's first actions as president was reinstating Ronald Reagan's abortion "global gag rule," which bans health organizations around the world receiving U.S. funding from mentioning abortion as a family planning option. And last week, Trump met with Judge William Pryor as a potential Supreme Court Justice, a man who called Roe v. Wade the "worst abomination in the history of constitutional law." 
In writing "Roe," however, Loomer's mission was never to convince her audience of the importance of abortion to women's liberation. Rather, she wanted to tell the complex story of the iconic court case with tolerance and compassion, giving voice and credence to both parties. 
"I did not want it to be a polemic," Loomer said. "I did not want to further the divide. I feel that theater is a place where people — all kinds of people — can come together in the dark to look at an issue from a human point of view.  Theater is a place to feel. To laugh, cry, be surprised, and to live in another's shoes for a while."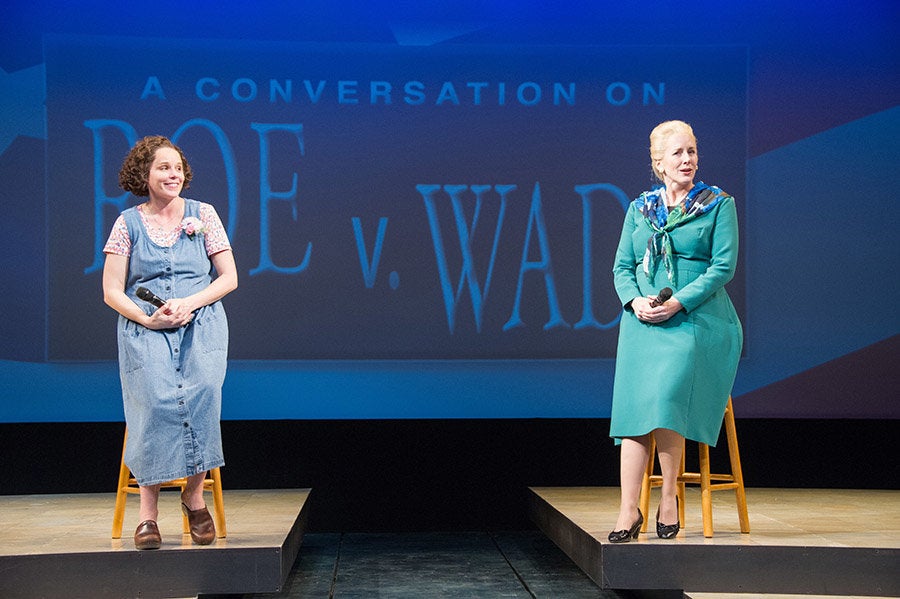 Loomer tells her story through two protagonists: Weddington and McCorvey. At first, the women worked together on the case as allies. Yet, after the verdict, McCorvey became a born-again Christian and an anti-abortion activist. Weddington continued to champion women's right to choose.
"Their divergent journeys," Loomer said, are representative of a broader picture. "Once I saw that odd turn of events, I thought it was a chance to tell the story of the cultural divide and look at why we can't talk to each other as Americans."
In "Roe," Loomer depicts the complex web of biases, fears and personal motivations that all humans grapple with regardless of their political affiliations. She also seamlessly highlights the effects that race, class and sexual orientation have on one's opportunities and worldview. As a result, no minister, activist or millennial is stereotyped. There are no clear heroes or villains, just people ― messy, dedicated, and trying to do what's right.
During the play's Washington run, Loomer speculates that most, but not all, of her audience leans liberal. Yet she's received feedback from viewers on both sides of the political spectrum who appreciated seeing a nuanced and respectful picture of the other point of view.
"Most people say that they went in very firmly sure of their stance, and they left sure of their stance, as well," Loomer said of audience members who identified as both pro-choice and anti-abortion. "It didn't change their mind, but it gave them an appreciation of the other side. For the first time, there was another side."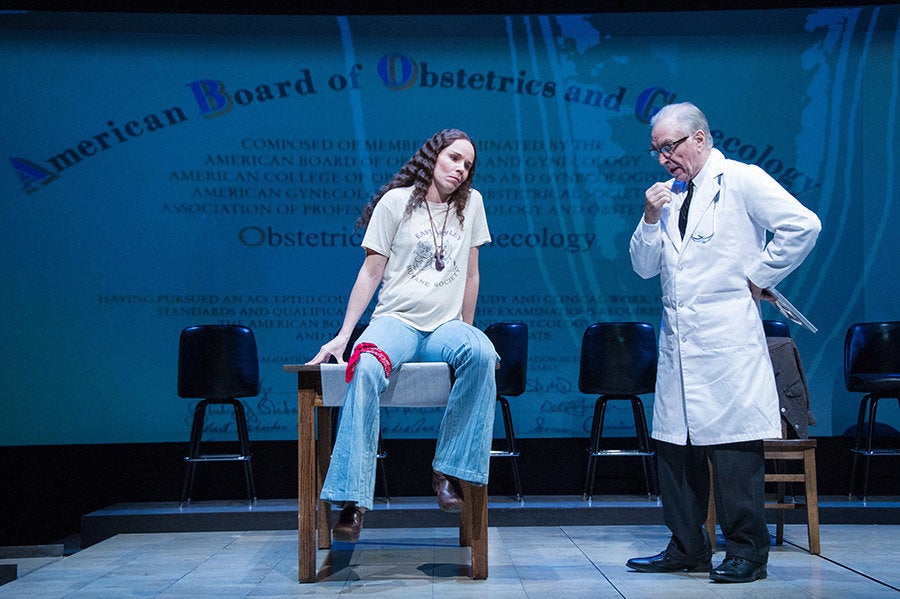 In the future, Loomer hopes to take "Roe" to a theater in the southern United States, where the audience's political breakdown would likely shift. The goal, again, isn't to change minds, but to raise the possibility of open dialogue. 
"My best hope is always compassion, a reverence for the complexity of human beings," she said. "I think we can use that compassion now. I know it's a time when people are extremely angry, and the last thing they want is to be asked to show compassion. Unfortunately, I just don't know another way of even beginning to bridge this terrible divide in our country except for just listening to the other side. Just hearing it."
She also hopes to reach the young people in the audience, those who thought Roe v. Wade was another generation's story. As Loomer said: "I think that people come away from the play with a deeper understanding of what is at stake, right now, in terms of choice."
"Roe," a co-production with Oregon Shakespeare Festival and Berkeley Repertory Theatre, is written by Lisa Loomer and directed by Bill Rauch. It is on view until February 19, 2017 at Arena Stage in Washington, D.C. 
Correction: An earlier edition of this article misspelled the playright's name as Loomey. We regret the error. 
REAL LIFE. REAL NEWS. REAL VOICES.
Help us tell more of the stories that matter from voices that too often remain unheard.