Roesie Percy sees the world differently than most photographers.
The 16-year-old from Bristol in southwest England is registered as blind. She has no central vision, limited peripheral vision and limited depth perception.
"I can see at 3 meters what an average person can see at 60 meters with my left eye, and at one meter with my right eye," she told HuffPost this week.
But her visual impairment hasn't stopped her from creating stunning images which she shares via the @a_blind_photographer Instagram account.
"I think other photographers use the detail as the central part of their picture," she said. "As I can't see much detail at all, I tend to go for bright colors and blocks of color."
The Bristol Cathedral Choir School student snaps most of her shots on her iPhone 7 while walking to and from class and training at the City of Bristol Rowing Club, where she's been a member for almost five years.
The bold scenes and shapes created by sunsets and reflections in her home city are a particular delight to photograph, she said. But it was during an October trip to New York City that Percy took one of her most memorable images to date:
"I love this one because it is typical New York and the reflection in the window is pretty cool," she said of the above shot. "I also find it funny that two of the people saw that I was taking a picture and pulled funny faces."
Percy acknowledged receiving "a lot more support in some aspects" of her life due to her condition, but refused to let it "hinder" her. "I've been visually impaired since I was born so I don't know what life would be like if my sight was any different," she added.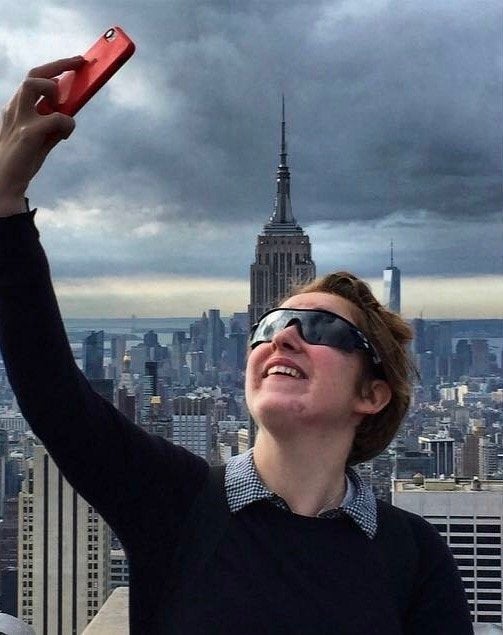 Unsure about what career she wants to pursue, Percy said photography would undoubtedly form a key part of her future.
"I'm learning different techniques, both with the camera and editing, all the time," she said. "I'm hoping this will push my photography to new levels."
Check out more of Percy's work here: