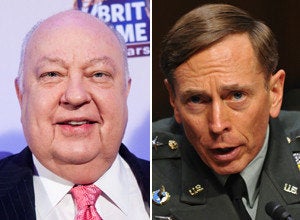 Fox News chief Roger Ailes tried to get David Petraeus to run for president against President Obama in 2012, the Washington Post's Bob Woodward reported on Monday night.
Woodward released a 13-minute audio recording of Petraeus speaking to Fox News national security analyst KT McFarland in 2011. In the recording, McFarland told Petraeus that she had a message for him from Ailes: accept no government position other than chairman of the Joint Chiefs of Staff, and if he was refused, run for president.
Petraeus laughed at the idea, but indicated that he had had other conversations with Ailes about it. "He said he would quit Fox ... and bankroll it," he said, adding that Rupert Murdoch was "after me as well" about a run.
"No, I think the one who's bankrolling it is the big boss," McFarland said, referring to Murdoch.
New York magazine first reported in 2011 that Ailes was hankering for Pretraeus to toss his hat into the ring. That story portrayed Ailes as eagerly casting around for a Republican standard bearer to take on Obama. Ailes frequently has private conversations with top GOP figures.
Of course, Petraeus' own reticence -- and, later, a certain extramarital mistake -- torpedoed any presidential dreams Ailes may have had for him.
Speaking to Woodward, Ailes said he was mostly making a "joke" in his efforts to get Petraeus to run.
Intriguingly, McFarland also said that Ailes wanted to know if Petraeus thought there was anything "that Fox is doing right or wrong that you want to tell us to do differently." Petraeus immediately said he thought the network's coverage of the wars he was commanding had grown too harsh in the years since Obama was elected. (McFarland mentioned Shepard Smith as an example of increased skepticism, though Smith arguably attacked Obama from the left, not the right, in his criticisms of American foreign policy.) Petraeus added that Bret Baier and Bill O'Reilly had been striking the right tone.
REAL LIFE. REAL NEWS. REAL VOICES.
Help us tell more of the stories that matter from voices that too often remain unheard.
BEFORE YOU GO
PHOTO GALLERY
The David Petraeus Scandal