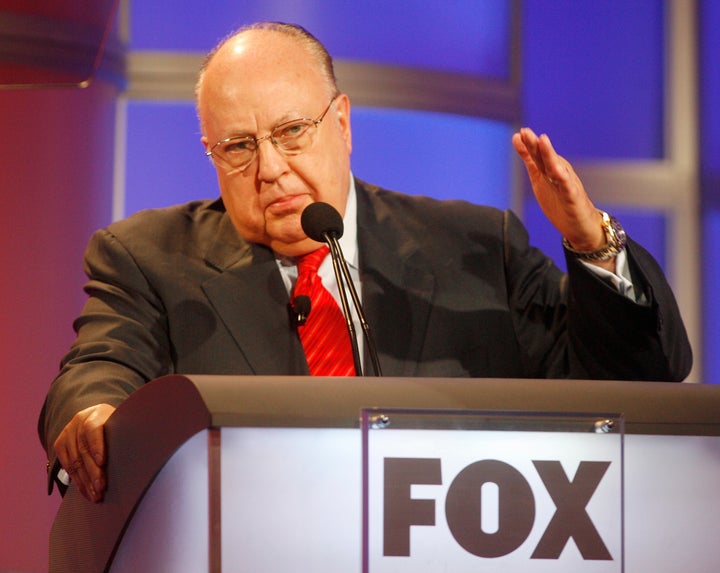 A television reporter for a New York TV station leveled new sexual harassment allegations against former Fox News Chairman Roger Ailes, according to a lawsuit filed against the cable network's parent company. 
Journalist Lidia Curanaj, who currently appears on air for Fox 5 in New York City, says that Ailes sexually harassed her during a job interview in 2011 and refused to hire her at Fox News after she rebuffed his unwelcome advances.
The lawsuit, filed in federal court in Manhattan, claimed that the chauvinistic culture led by Ailes trickled down to WNYW, the local Fox station whose news director allegedly denigrated Curanaj's looks and ethnic background. 
The New York Times first reported on Tuesday about Curanaj's lawsuit alleging she encountered discrimination and a hostile work environment at 21st Century Fox. Multiple women at Fox News, including former host Gretchen Carlson and current star anchor Megyn Kelly, have accused Ailes of workplace harassment.
During a private job interview in May 2011, Ailes instructed Curanaj to stand up and turn around so he could "see [her] from behind," according to the complaint. Though she felt uncomfortable, Curanaj said she twirled for Ailes. 
The two had first met at a February 2011 dinner that Curanaj attended with former New York state Sen. Gregory Ball, whom she had dated, according to the lawsuit.
Sometime after Ailes had commented on Curanaj's body during the interview, he contacted Ball and asked sexual questions about her, the lawsuit said. Ball indirectly told Ailes that Curanaj would not have sex with him.
Soon after, Curanaj alleged that Ailes told her in a phone call that she wouldn't be hired at the conservative cable news network, but suggested that she look for employment at one of Fox's local stations.
"Ms. Curanaj did not receive the position at [Fox News] because Ailes determined that she would not submit to him sexually," the lawsuit contends.
In November 2011, Curanaj accepted a freelance position as a reporter with Fox 5. A pattern of discrimination against her started soon after Byron Harmon became news director in 2012, the suit contends. 
Harmon allegedly told Curanaj that she was passed over for a full-time position because she was "not attractive enough to be an anchor," according to the lawsuit. 
Curanaj, whose legal name is Lidija Ujkic, accused Harmon of making disparaging comments about her ethnic background too. He had referred to her as "Ms. Albania" repeatedly, for instance. She's been treated worse at the station since announcing her pregnancy in July, the suit says.
"We do not think the plaintiff's claims have merit, and we intend to defend vigorously," a Fox Television Stations spokeswoman said in an emailed statement. 
Curanaj's description of Ailes' comments is similar to those of several accusers who've said he openly assessed their physiques.
Amid the growing accusations against him, Ailes resigned in July as part of a $40 million settlement and became an adviser to Donald Trump's campaign. He's denied seeking sexual favors from female employees and other allegations of inappropriate behavior.  
Calling all HuffPost superfans!
Sign up for membership to become a founding member and help shape HuffPost's next chapter