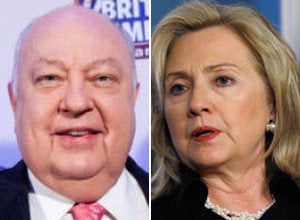 Roger Ailes responded to several recent articles about him in an interview with Newsweek's Howard Kurtz which was published Monday.
Ailes has been the subject of two profiles--one in New York, and one in Rolling Stone--in the past few weeks. They have alleged, among other things, that he thinks Sarah Palin is an "idiot," that he despairs of the current crop of GOP presidential candidate, that he is paranoid and security-obsessed and that his boss, Rupert Murdoch, thinks he believes "crazy" things. Ailes refused to speak to both magazines for the profiles.
Ailes has previously turned to Kurtz to speak out about Fox News, though in the past, he has said quite controversial things to the longtime media reporter. For instance, he called NPR executives "Nazis" in a November interview.
In Monday's interview, Ailes struck a more congenial tone, but he pushed back against some of the claims in the recent articles. He denied that he thought Palin was stupid, saying, "she's so smart she's got the press corps running up the whole East Coast behind her bus." And he called the reports of his heavy security detail "fantasy."
Ailes also said he'd like to hire Hillary Clinton as a Fox News contributor.
"She looks unhappy at the State Department," he said. "She'd get ratings."
Read the full interview, including Ailes' thoughts on Glenn Beck, here.
Related
Popular in the Community