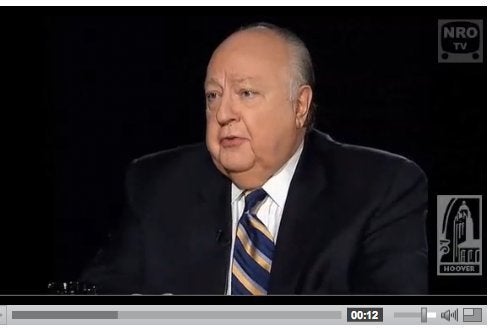 A lawsuit alleged that Fox News CEO Roger Ailes pressured former publisher Judith Regan to lie to federal investigators during their investigation of former New York City police commissioner Bernard Kerik—and that Regan recorded the conversation, the New York Times reported Thursday.
The charges actually stem from an affidavit filed in a lawsuit against Regan by her lawyers—an affidavit which was only made public because of a court oversight. Regan had made similar allegations in a separate wrongful termination suit she filed against News Corp.--the parent company of both Fox News and Harper Collins, where she was fired in 2006 after a scandal surrounding a book by O.J. Simpson--but the identity of the person she said told her to lie about an affair she'd had with Kerik had not been revealed until now.
According to the Times, Regan alleged that she recorded a telephone call between her and Ailes, where he told her to keep her affair quiet from federal investigators, lest the resultant publicity hurt the presidential bid of Rudy Guiliani, Kerik's close ally. Guiliani is also very close to Ailes--among other things, he officiated at Ailes' wedding.
In one part of the affidavit, one of Regan's lawyers, Seth Redniss, talks about "a recorded telephone call between Roger Ailes, the chairman of Fox News (a News Corp. company) and Regan, in which Mr. Ailes discussed with Regan her responses to questions regarding her personal relationship with Bernard Kerik."
In a statement to the Times, News Corp. did not deny that Ailes was on the recording, but said that the company had a letter from Regan "stating that Mr. Ailes did not intend to influence her with respect to a government investigation."
The Times speculates that the existence of the recording may be one reason that News Corp. settled very quickly with Regan in early 2008, giving her a $10.75 million payout.
For the full New York Times story, click here.