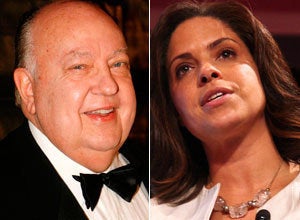 Roger Ailes made a jaw-dropping comment about CNN's Soledad O'Brien during a college lecture on Thursday night.
Ailes was referring to the Soledad Correctional Facility in Monterey County, California. CNN responded to the remark on Friday. An insider told The Huffington Post, "Roger is wrong. Soledad is named after the Virgin Mary, 'Maria de la Soledad.' It's a name her parents gave her in part because they met at Daily Mass."
Ailes made the comment while speaking about the latest developments at the network for a lecture at the university's journalism school. On Thursday, he also responded to Newt Gingrich's recent criticism of Fox News.
The GOP candidate had accused the network of favoring Romney, and said that CNN was "less biased." Ailes said that Gingrich was "trying to get a job at CNN because he knows he isn't going to get to come back to Fox News."
He condemned the Fox News mole, the former employee who was fired after writing anonymous posts about the network. "The mole shows a culture that believes in theft, a lack of loyalty, turning on his colleagues, lying to management, and there are some real, ethical, serious questions about it," Ailes said.
He defended Fox News against criticism that the network's coverage is biased, as well. "What you're really telling me is that there's a little cable channel over here that's driving you nuts because it won't line up with your worldview," Ailes said. "If there's an alternative point of view, don't wet your pants."
REAL LIFE. REAL NEWS. REAL VOICES.
Help us tell more of the stories that matter from voices that too often remain unheard.
BEFORE YOU GO
PHOTO GALLERY
Fox News Lineup