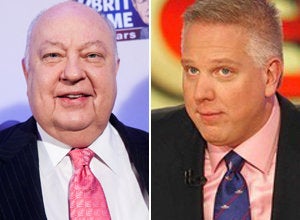 Fox News chief Roger Ailes visited the Washington bureau Wednesday and issued a stern message to its employees: do not trash-talk your Fox News colleagues.
TVNewser reports that Ailes delivered the message in light of Monday's Washington Post article, in which Howard Kurtz cited anonymous Fox News staffers in claiming that the network is "divided" over Beck, with "many journalists...worried about the prospect that Beck is becoming the face of the network." Staffers also claimed that Beck rehearses trademark crying segments, tears and all.
Kurtz pointed out in his article that Ailes is firmly in Beck's corner, a sentiment Ailes doubled-down on Wednesday afternoon.
"For the first time in our 14 years we've had people apparently shooting in the tent, from within the tent," TVNewser quotes Ailes as saying to the Washington bureau. "Glenn Beck does his show and that's his opinion. It's not the opinion of FOX News and he has a right to say it. We prefer people in the tent not dumping on other people in the tent."
According to TVNewser, Ailes — a former Republican operative and the architect of what has become the dominant player in cable news — added, "I was brought up to defend the family. If I couldn't defend the family I'd leave. I'd go to another family."
In January, MSNBC President Phil Griffin issued a similar message, alerting his network's talent and producers that he would not tolerate public in-fighting between network employees.
Popular in the Community