 I distinctly remember the moment Roger Ebert became much more than just "my favorite movie reviewer."
I was listening to the radio when the reporter announced that Roger had agreed to grace the cover of the March 2010 Esquire magazine. But this would be no ordinary photo. It would be a full-on shot of his face -- without his lower jaw, which had been removed as a result of numerous cancers and surgeries.
No touch ups, no cover ups, no hiding... just as he was. Roger was comfortable with his decision. He wanted folks to know, This is how I look; this is who I am.
I was moved to tears, not because of what I might see of "my favorite movie reviewer" but because of what I was beginning to see in my own heart.
His decision to show his unusual face spoke loudly to me, the mother of a son with a disability.
This bold sharing was about self-acceptance, dignity and self-respect. There was no shame or embarrassment, and he invited no pity. Although the cancer had also taken his voice he explained in his stunning 2011 memoir, Life: Itself, that he was "remaking his voice" and would continue to communicate, just in a different way.
Roger's clarity and courage bolstered my own quest to re-define disability. Since our son Micah's birth 28 years ago, our family has been dealing with society's -- and our own -- biases and misconceptions.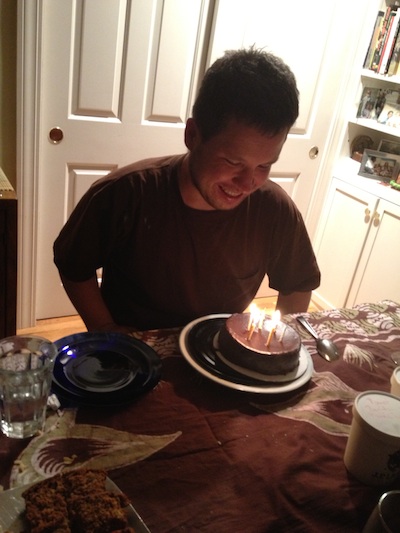 Gradually, though, Micah has taught us to understand disability not as a misfortune but as a natural part of the human condition. Not as a flaw to be fixed but rather as a call to respect, celebrate, and support differences.
Because of Micah -- and with reminders from that famous movie reviewer -- I'm learning to place the words "disability" and "pride" right next to each other.
Roger Ebert understood the necessity of breaking the silence about disability and differences. His memoir and the Esquire cover convey his determination to communicate openly about sometimes-challenging realities. He also understood the necessity of community.
Roger valued how his community expanded as he connected to the disability world. He shared about all the people he was meeting via the Internet, including a man who typed his responses to Roger's blogs using one toe and another of his favorite bloggers whose name was "Smart Ass Cripple."
Roger adored his wife, Chaz, and acknowledged how important she and her large family were to him. He also valued the transformative power of technology, which allowed him to speak again -- in a new way.
Like Roger Ebert, we too are learning the power of breaking the silence, of building community, of asking for help, and using technology. Because Micah does not read or write in a typical sense, technology keeps him connected. (If you need evidence of his strong voice and large network, FB him now!... or visit www.throughthesamedoor.com that follows his journey of full inclusion.)
I will never forget the first email I received from Micah about 10 years ago. Since he had never before shared his ideas in writing, his email composed by using his voice-to-text program caught me totally off guard. I sat reading the six words on my computer screen over and over. As far as I was concerned, he had written an award-winning essay. It simply read, "Hi mom. This is from Micah."
So in 2010, when I heard that Roger Ebert was proudly putting his face on the cover of Esquire, he became more than my favorite movie reviewer -- he was now my teacher, my encourager, my guide and friend in spirit -- and why I refer to him simply as Roger. His voice came through loud and clear to me, and hopefully to many others who followed his reviews and writings about life, in and out of the movies.
He said he loved film because it encouraged understanding and empathy for those different from ourselves. By sharing his unusual face, Roger himself demonstrated pride and encouraged empathy and acceptance for all who might act or appear outside the norm.
He didn't start out knowing what he knew when he put his face on the cover of Esquire. That kind of wisdom takes time, soul searching, and lots of support. Eventually, though, he arrived at a deep understanding of what was most important in life, and it had nothing to do with the shape of his face or the sound of his voice. As he said in his memoir:
I believe that if, at the end of it all, according to our abilities, we have done something to make others a little happier, and something to make ourselves a little happier, that is about the best we can do. To make others less happy is a crime. To make ourselves unhappy is where all crime starts. We must try to contribute joy to the world. That is true no matter what our problems, our health, our circumstances. We must try. I didn't always know this, and am happy I lived long enough to find it out.

Roger Ebert loved Leonard Cohen's song, "I'm Your Man." He said it often 'saved his life."
So to you, Roger Ebert, I sing out in voice, in whispers, in shouts, in grunts, in American Sign Language, in voice technology... "You ARE my man, and my teacher too."
Related
Popular in the Community