Although Roger Federer sailed through his first-round match at the French Open on Sunday, the tennis champion encountered a scary incident after a fan rushed the court to take a selfie with him.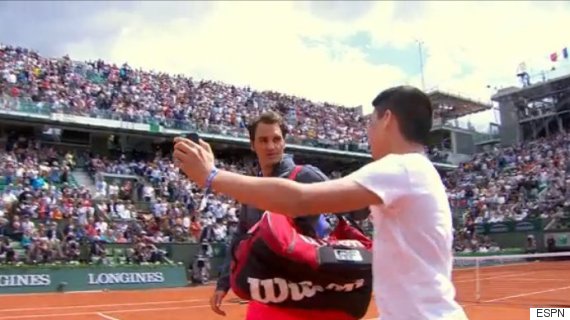 Not cool. (Source: ESPN)

Federer, who was rightfully pissed, addressed the situation during his post-match press conference:
I'm not happy about it. Obviously, not one second I'm happy about it. It happened yesterday in the practice, too. Just a kid, but then three more kids came. And today on center court, where you would think this is a place where nobody can come on, [he] just wanders on and nothing happens. [It] happened during the finals in 2009 as well for me. So I definitely think this is something that -- something that happened quickly.

[...]

It's where you do your job, it's where you want to feel safe, and so clearly I'm not happy about it. But nothing happened, so I'm relieved, but it wasn't a nice situation.

As the 17-time Grand Slam winner mentioned, this isn't the first time he's experienced lax security while on the court. Someone managed to get close enough to place a hat on Federer's head during the 2009 French Open final.
The world of tennis has seen other examples of people accessing the court while major players are there. Perhaps one of the most alarming incidents in sports came on the tennis court when player Monica Seles was stabbed during a 1993 match in Hamburg, Germany.
And for players like Federer, the fact security remains poor is not something they take lightly.
The Swiss tennis legend, who last won Roland Garros in 2009 and is seeded two this year, said he usually only speaks for himself. However, he noted that his view on the mishandling of fans on court is an issue he can address on "behalf of all the players."
Federer said that he spoke to the tournament's director about the incident, Sports Illustrated reported.
"I just told him what I think needs to happen. I told him about yesterday, as well, which he didn't know about. I'm sure they will take the necessary steps now," Federer said, but added security needs to be ensured for all tournaments.
"We need to make sure that it's safe out there and people don't just wander on the court like a free pass," he said.
Calling all HuffPost superfans!
Sign up for membership to become a founding member and help shape HuffPost's next chapter