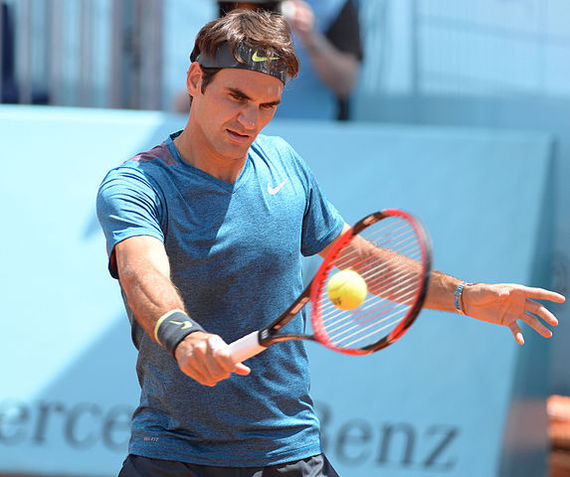 Image: Tatiana from Moscow, Russia - Roger Federer, CC BY-SA 2.0
Roger Federer's stunning performance in the Australian Open final was, above all, an awesome display of mental toughness and determination in the face of huge psychological pressure.
The Swiss came into the match not having beaten his arch rival Rafael Nadal at a Grand Slam since the 2007 Wimbledon final. Over the years, Nadal's relentless topspin forehands had worn down Federer's single-handed backhand in match after match. Roger often looked dejected in big matches against Rafa, as if he had lost hope of ever finding a way to overcome his greatest adversary. Rafa won all five Slam encounters with Roger from the classic 2008 Wimbledon final to the 2014 Australian Open semi.
All of this history would have been in Federer's mind before and during the final on Rod Laver Arena. A break down in the fifth set, it looked like Roger would once again be defeated by Nadal. And yet this time he turned it around. It was the Spaniard who lapsed mentally, while Federer stepped up his game to secure a crucial break of serve and ultimately the match.
In a post-match interview, the 18-time Grand Slam champion explained that he 'was trying to play the ball and not the opponent. I just told myself I have to really, really fight'. This approach worked. He stayed present and focused, and didn't engage with the inevitable doubts and memories he would have experienced.
Roger's mental struggle with Nadal has been an exception in an otherwise mentally very strong career. Federer has combined a high level of self-belief with an ability to recover swiftly from defeat. His 2008 US Open triumph, for example, came just a few months after the toughest loss of his career against Rafa at Wimbledon. He's also displayed formidable grit and stamina in tough matches - take his epic 2009 win over Andy Roddick at Wimbledon as a case in point.
Roger's mental strength is not a natural gift, but a learned skill. In his early career, Federer struggled with anger on court and often lacked concentration. Temper tantrums and racket throwing were commonplace for the future great, from boyhood right up to his breakthrough year of 2001. At the Hamburg Masters event that year, Federer smashed his racket shortly after losing to Italian journeyman Franco Squillari. That loss proved a psychological turning point.
Federer realized after that match that his struggle with difficult emotions was holding him back from reaching his potential. He resolved to change. The cool, calm and collected Federer that we know today was born here.
Better results followed that year. He reached the quarter final at Roland Garros, and then at Wimbledon scored a famous victory over Pete Sampras to reach the last eight. Federer's mental improvement laid the foundation for his golden era of Grand Slam dominance that began at Wimbledon in 2003.
Federer has acknowledged that his mental progress did not come easy. After winning the Australian Open in 2010, he explained 'I always knew I had it in my hand. The question is do I have it in my mind and in my legs? That's something I had to work extremely hard at.'
While Roger has never spoken in detail about this mental work, we know that he consulted a psychologist to address his anger issues in 1998 and 1999. Perhaps this helped him make the mental breakthrough in 2001, or perhaps, as Roger himself suggested in a 2009 interview, he simply realized that he had to take responsibility for his own behavior and attitude on court.
Whatever learning process Federer went through, it was the catalyst that enabled him to become the truly great player he is today.
What's impressed me most about Roger's mental approach has been his ability to maintain a positive attitude despite a nearly five-year Grand Slam drought and the heartache of losing to Djokovic in three consecutive Slam finals.
Why does Federer keep playing after everything he's achieved? In part it's because he's never lost the belief that he can win majors, a belief vindicated in Melbourne against Nadal.
More importantly, he continues playing because he has a deep love for the game. After all these years, he still plays for the joy of it. John McEnroe has commended Federer's 'joie de vivre', saying that he's 'never seen someone love playing as much as Roger'.
I won't be alone in hoping that Roger's love for tennis endures and that he plays on for as long as he's able to.
Popular in the Community