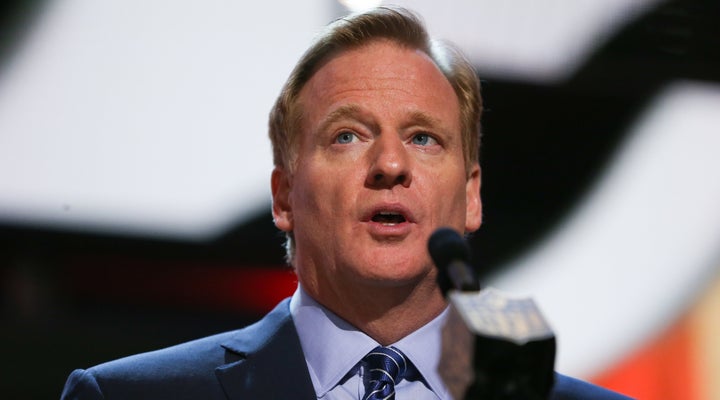 NFL Commissioner Roger Goodell has faced widespread criticism for his handling of the "Deflategate" scandal since a federal judge vacated his decision to suspend New England Patriots quarterback Tom Brady last week.
Now, Goodell says he is open to a re-evaluation of his role in the league's disciplinary proceedings, even as the league continues its appeal of U.S. District Judge Richard Berman's ruling.
"Yes, I'm very open to changing my role on [discipline]," Goodell said on ESPN Radio's "Mike and Mike" Tuesday morning.
Listen to Goodell's comments on ESPN Radio's "Mike and Mike."
Goodell did not say he was open to changes because of the Deflategate ruling. Instead, he said, his role in disciplinary proceedings "has become extremely time-consuming."
Goodell has attempted to wield a powerful disciplinary hammer during his time as commissioner -- a position that gives him the authority, under the NFL's collective bargaining agreement, to mete out punishment and sit as the final decision-maker in the appeals processes.
But his authority has increasingly been questioned -- by both NFL owners and players -- since Deflategate morphed from a scandal about allegations that the Patriots used deflated footballs into the latest battle over players' rights. That reached a possible tipping point Thursday, when Berman overturned Brady's suspension in a pointed decision that found Goodell had overstepped his bounds under the bargaining agreement by issuing an arbitrary punishment and failing to provide Brady a fair appeals hearing.
The NFL Players Association has in the past called for neutral arbitration in disciplinary cases, but Goodell said Tuesday that he is hesitant to embrace that idea.
"We believe the standards of the NFL are important to uphold," he said. "We don't believe you delegate that responsibility or those standards."
Instead, he said the NFL could be open to changes that include a "discipline officer" or "some type of panel" that could make initial decisions, while a "designee" from the commissioner's office would hear appeals.
The NFLPA has said changes to the disciplinary process, or Goodell's role in it, should be the subject of bargaining.
"There are only two options moving forward," George Atallah, the union's assistant executive director for external affairs, told The Huffington Post last week. "Either the commissioner and league office respect the parameters of our CBA, or we work together to improve the system."
Calling all HuffPost superfans!
Sign up for membership to become a founding member and help shape HuffPost's next chapter