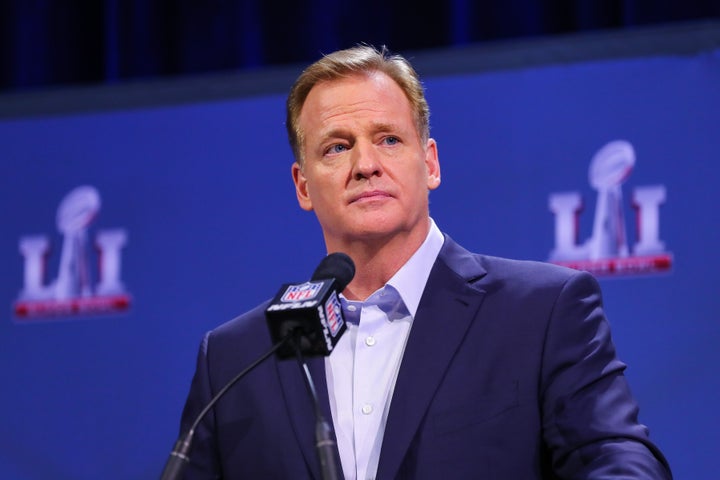 The 2016-2017 season was perhaps among the most openly political years in NFL history, as Colin Kaepernick's protest of the national anthem, Tom Brady's tacit support for Donald Trump, players' reactions to Trump's victory, and even the election's potential effects on the NFL ratings dominated headlines.
But during the final week of such a tumultuous season, NFL commissioner Roger Goodell chose to say nothing when politics came up at his annual pre-Super Bowl news conference on Wednesday.
"As commissioner of the NFL, I'm singularly focused on the Super Bowl right now," Goodell told a reporter when asked for his thoughts on the executive order President Donald Trump signed Friday to temporarily ban refugees and travelers from seven predominantly Muslim countries. "We have a unique position to have an event on Sunday that will bring the world together."
When Goodell announced that next season the NFL would once again play a game in Mexico City, a Hispanic reporter asked what the NFL could do "to help build a better relationship between Mexico and the U.S., and not necessarily build other things" ― a not-so-subtle reference to Trump's plans to erect a wall along the southern border. Goodell chuckled, but avoided any comment on the wall.
"One of the things that we truly believe in our hearts is that the NFL really does bond communities together and can be a bridge in that way," Goodell said. "It unites people. We're going to see it this weekend with the Super Bowl, where millions of people are going to tune in and they're going to celebrate and they're going to all forget about other things for at least a short period of time and really focus on having fun and being entertained by the Super Bowl."
Given the year the NFL has had and everything going on around him, Goodell's unwillingness to even remotely address the issues at the forefront of seemingly everyone's minds was striking — and possibly revealing.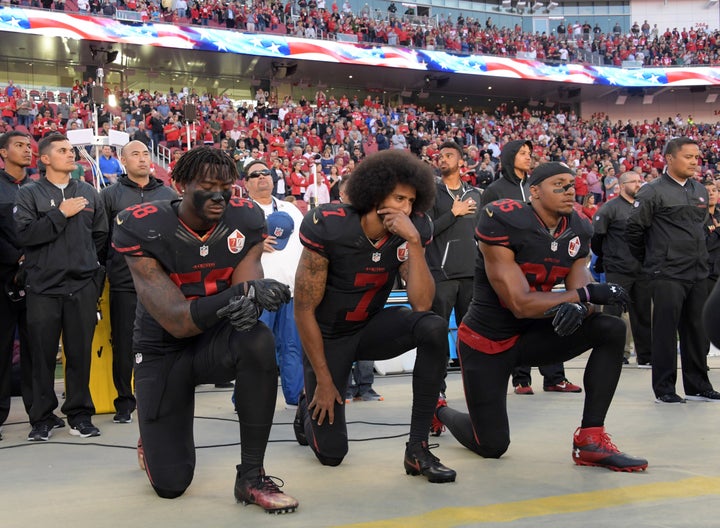 Patriots quarterback Tom Brady made his own statement when reporters noticed a "Make America Great Again" hat in his locker. Though Brady shied away from talking about politics after that, Trump, who has referred to him as a "friend," didn't: At a late campaign rally in New Hampshire, Trump touted Brady's support and read a letter he received from Patriots coach Bill Belichick (Patriots owner Bob Kraft, too, is a friend and possible supporter of Trump). And New York Jets owner Woody Johnson served on Jeb Bush's presidential campaign, before last month accepting an ambassadorship representing the Trump administration.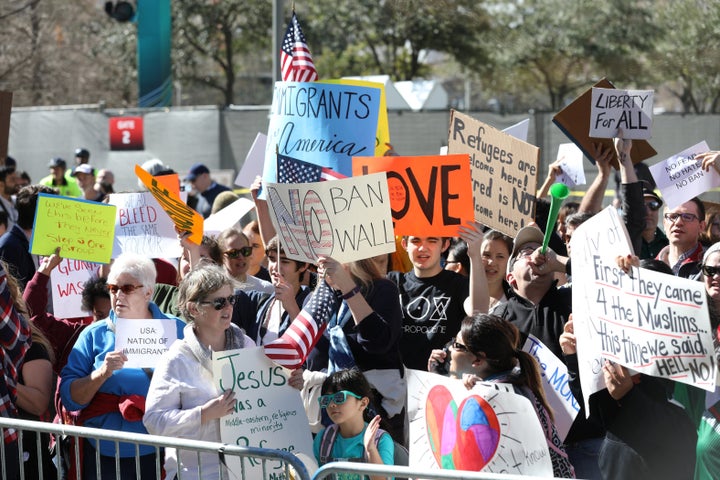 This season and the actions players took during it should finally bury the idea that the NFL is disconnected from politics. "Political issues" such as police brutality and refugee bans and even the outcomes of elections affect its players and teams and the communities they are a part of. Goodell seems to believe he can only achieve his goals — $25 billion in annual revenue by 2027, and further growth internationally — by staying mum on divisive political issues and uniting people in their desire to consume more football (NFL regular season ratings, likely affected by an all-consuming presidential election, dropped 8 percent from a year ago). But in an era of newfound athlete activism, it was unrealistic to think NFL players, coaches and teams (and the media that covers them) wouldn't eventually begin to speak out.
The NFL, and Goodell, love to talk about how "football is family" — presumably for everyone. But sitting atop a league that has become more outspoken, in a city home to so many people who now feel more vulnerable than ever, Roger Goodell used his platform to stick to sports. The refugees and immigrants in the city hosting his Super Bowl don't have that privilege.
Sign up for the HuffPost Must Reads newsletter. Each Sunday, we will bring you the best original reporting, long form writing and breaking news from The Huffington Post and around the web, plus behind-the-scenes looks at how it's all made. Click here to sign up!
Related
Popular in the Community