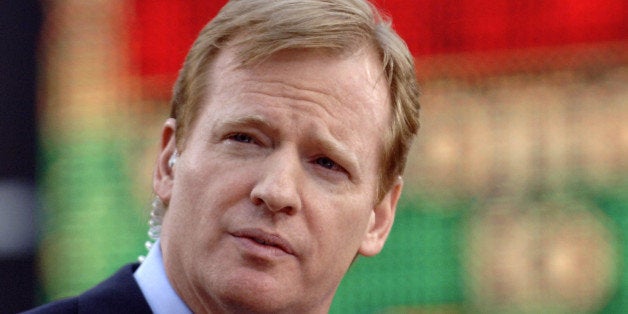 "If we are offending one person, we need to be listening and making sure that we're doing the right things to try to address that," Goodell said during an interview with LaVar Arrington and Chad Dukes on 106.7 The Fan in Washington on Wednesday.
Dukes raised the polarizing subject of the Redskins' name with Goodell, asking if the power to alter it rested solely with team owner Daniel Snyder, who has previously insisted that he will "never" agree to a change.
"Well, as you guys know, I grew up in Washington. So, the Colts were my team early on, and then I became a Redskins fan," Goodell responded. "I know the team name is part of their history and tradition -- and that's something that's important to the Redskins' fans -- and I think what we have to do though is we have to listen. If one person's offended, we have to listen. And, ultimately, it is Dan's decision. But it is something that I want all of us to go out and make sure we're listening to our fans, listening to people who have a different view, and making sure that we continue to do what's right to make sure that team represents the strong tradition and history that it has for so many years."
"We do not deserve to be called redskins," Halbritter said in a radio ad that the Oneida Nation ran in Washington ahead of the team's season-opening appearance on "Monday Night Football" earlier this week, according to The Associated Press. "We deserve to be treated as what we are – Americans."
The announcement of the Oneida Nation radio ad ahead of the first "Monday Night Football" game of 2013 at FedEx Field capped an offseason filled with discussion of the organization's handle.
In May, 10 members of congress sent letters to Snyder and Goodell saying that "Native Americans throughout the country consider the 'R-word' a racial, derogatory slur akin to the 'N-word' among African Americans or the 'W-word' among Latinos."
"The Washington Redskins name has thus from its origin represented a positive meaning distinct from any disparagement that could be viewed in some other context," Goodell wrote in a June letter that was posted online by Indian Country Today Media Network. "For the team's millions of fans and customers, who represent one of America's most ethnically and geographically diverse fan bases, the name is a unifying force that stands for strength, courage, pride and respect."
At that time, Goodell stood solidly with Snyder, only going as far as to concede that it was a "complex" issue upon which "reasonable people" could disagree.
"As you correctly recognize, the issues raised with respect to the Washington Redskins name are complex, and we respect that reasonable people may view it differently," Goodell also wrote in his reply to those members of Congress. "The National Football League takes seriously its responsibility to exemplify the values of diversity and inclusion that make our country great."

Asked by Arrington on Wednesday if the NFL would ever push Snyder for a change if the negative attention that his team's name accrued began "hurting the brand of the shield," Goodell didn't rule out such a move.
"We're always sensitive to what impacts on the league in general, and that includes our 32 teams, and making sure that we're doing what's right here," Goodell responded.
Calling all HuffPost superfans!
Sign up for membership to become a founding member and help shape HuffPost's next chapter
BEFORE YOU GO
PHOTO GALLERY
Best 2013 Sports Photos