NFL Commissioner Roger Goodell continues to walk a fine line on players kneeling during the national anthem, saying on Wednesday that he and team owners believe "everyone should stand" for it, but that the league is not adopting an ironclad rule on the issue.
"We want to make sure we are understanding what the players are talking about" through the protest movement, Goodell told reporters after a two-day owners meeting in New York. "And that's complex."
"It's important for us to honor our flag and our country and we think our fans expect us to do that," Goodell said.
But he also said that this week's discussions among the owners and league officials did not include whether the language in the NFL's policy would be changed from "should stand" to "must stand."
The "take a knee" movement ― which protests racial injustices, especially police brutality against people of color ― was started last year by Colin Kaepernick, then a quarterback with the San Francisco 49ers. Kaepernick is currently not on a team, and he is accusing owners of colluding to keep him from playing.
Goodell said the NFL has "about a half dozen players that are protesting," and that "we're going to continue to work to try to put that at zero."
The protests, though, have often involved far more than six players. WNBA players also have knelt during the anthem, and members of a German soccer team did so last weekend.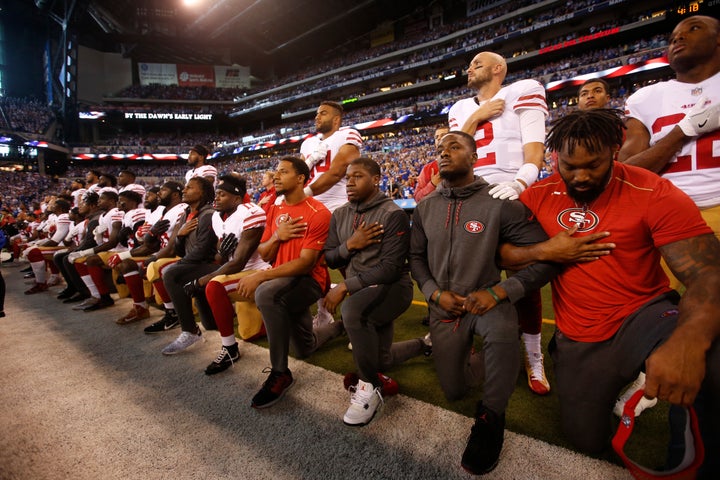 Goodell's comments came only a few hours after President Donald Trump tweeted that the NFL had shown "total disrespect" with its decision to "not force players to stand for the playing of our National Anthem."
Goodell said the players who have been protesting were "not doing this to be disrespectful to the flag, but they understand how it's being interpreted."
He said he hadn't talked to Trump about the matter, and does not plan to.
He also said the league will "continue to encourage" players to stand during the anthem, but that he and other NFL executives are working with players to see what changes can be made in their communities.
"I personally have taken the time to go ... and figure out what are the things in our communities that our players are expressing," Goodell said.
"Our clubs have a much better understanding of that from the meetings over the last several weeks," he added. 
REAL LIFE. REAL NEWS. REAL VOICES.
Help us tell more of the stories that matter from voices that too often remain unheard.
BEFORE YOU GO
PHOTO GALLERY
Patriotism At NFL Games