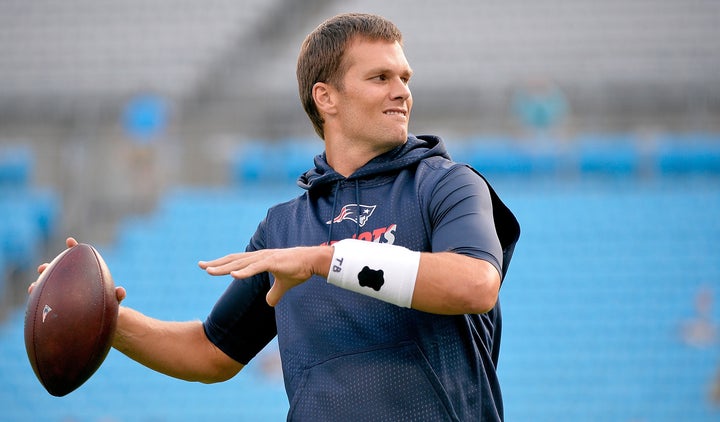 Football players aren't the only ones who disagree with how NFL Commissioner Roger Goodell has handled the Tom Brady situation. Two polls released Thursday found that more Americans than not disapprove of Goodell's "Deflategate" decisions and think the NFL investigation was unfair.
In the Emerson College poll, 41 percent of those surveyed disapprove of how Goodell has dealt with Deflategate. Just 22 percent approve.  
In May, Goodell issued a four-game suspension for the New England Patriots quarterback after an independent investigation found that it was "more probable than not" that Brady was "generally aware" that footballs were being deflated before games. Brady appealed the suspension to Goodell, who upheld his own decision. Brady and the NFL Players Association then went to federal court, arguing that the league's internal appeals process lacked due process. 
Last week, U.S. District Judge Richard M. Berman also critiqued Goodell's work, throwing out Brady's suspension because it was "premised on several significant legal deficiencies" and did not adhere to the league's collective bargaining agreement.
Americans are more torn on whether Brady should actually miss some games. Forty-seven percent think he should be suspended, while 53 percent say he should not. 
As for whether the Patriots are cheaters or not, the public is just as divided: 48 percent think they are; 52 percent say otherwise.  
The Emerson poll also found that Donald Trump's supporters are more likely than supporters of any other presidential candidate to believe that the Patriots aren't cheaters and that Brady should not be suspended. Earlier this week, Brady confirmed that he has a Trump "Make America Great Again" hat and that the two are friends. 
A separate YouGov poll similarly found that Americans are more likely to think the NFL's Deflategate investigation was not fair and impartial. Forty-one percent say it was unfair, while 38 percent say it was. Twenty percent don't care.
Majorities of the YouGov respondents still believe that the Patriots are cheaters (58 percent to 21 percent) and that Brady was aware of the ball deflation (54 percent to 13 percent)  and should be suspended (55 percent to 26 percent). The rest don't care. 
Brady is set to play in New England's season opener on Thursday night.
Emerson College surveyed 995 likely U.S. voters using automated calls to landlines from Sept. 5 to 8. YouGov surveyed 1,000 U.S. adults from Sept. 4 to 7, using a sample selected from its opt-in online panel to match the demographics and other characteristics of the adult U.S. population.
Calling all HuffPost superfans!
Sign up for membership to become a founding member and help shape HuffPost's next chapter