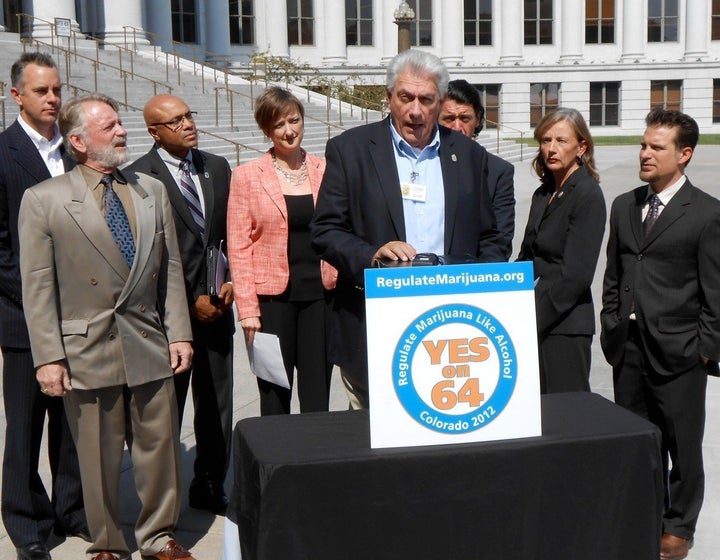 On Thursday, the Campaign to Regulate Marijuana Like Alcohol held a press conference to announce the endorsement of Amendment 64 by various law-enforcement community members -- one of which was retired Lt. Tony Ryan, a 36-year veteran of the Denver Police Department. After the press conference, Roger Sherman, the campaign director of "No on 64" an anti-marijuana legalization group called Ryan a "pro-pot rent-a-cop" for his support of Colorado's pot legalization measure.
The Amendment 64 camp says Sherman's statement is a "smear" of a highly decorated officer and is now calling for Sherman to issue a public apology for his disrespectful description of Ryan.
"While this smear is not surprising, given the No on 64 campaign's attempts to mislead the media and the public on every aspect of our initiative and our efforts, we cannot sit by quietly as an honorable and courageous member of law enforcement is treated with such disdain," Mason Tvert, co-director of the Campaign to Regulate Marijuana Like Alcohol, said in a statement.
Ryan was one of the first DPD Medal of Honor recipients, a recipient of the DPD Purple Heart after being shot while on duty, the Merit Award for his immediate response to the Columbine High School shooting, the Footprinter's Award for his outstanding performance as a Denver police officer, and DPD's Community Service Award.
Hardly the resume of a so-called "rent-a-cop."
Tvert added: "Lt. Ryan should be credited, not discredited, for the fearlessness he has shown in speaking out against the policy of marijuana prohibition. As the No on 64 campaign has unwittingly demonstrated, the larger law enforcement apparatus is not open to a rational discussion about the merits of dedicating massive resources to enforcing marijuana laws. From their perspective, marijuana prohibition is an employment improvement program. As long as they keep arresting people, federal funds keep flowing to their departments. And by spending their limited time going after non-threatening marijuana users, they do not have to spend as much time preventing and investigating more dangerous crimes."
Westword spoke with Ryan who assumed Sherman was implying not that he's some sort of mall security guard, but that he gets paid to stand up against marijuana prohibition, which Ryan says he does not. "I get nothing for doing this. I just believe we need a change in policy, and since marijuana is the drug that seems to be the most enforced, changing how we deal with that would make a huge difference."
At Thursday's press conference at the Denver City-County Building, Ryan was joined by Lauren Davis, former deputy district attorney in Denver, Neill Franklin, the executive director of the Law Enforcement Against Prohibition (LEAP) as well as other former cops, prosecutors and judges who support Amendment 64 who stood with Ryan and the A64 campaign as well as many others who signed off on a letter in support of the initiative.
"Law enforcement officers know better than anyone that keeping marijuana illegal and unregulated means the gangs and cartels that control the illegal trade win, and the rest of us lose," Ryan said about Amendment 64. "This November, Coloradans have the opportunity to take millions of dollars away from the gangs and cartels that currently control the illegal marijuana trade and put that money into our tax coffers, where it will be used to improve schools, pay police officers and protect our environment."
The letter signees outlined their reasons for supporting Amendment 64, saying that legalizing and regulating marijuana will:
Put our police priorities where they belong, by ending the arrests of non-violent marijuana users and enabling police to focus instead on preventing violent crime
Cut off funding to violent gangs and drug cartels, who generate the majority of their revenue from illegal marijuana sales
Protect the lives of police officers now in the line of fire in the "drug war"
Reduce marijuana access to children by instituting strict age-limits and public safety controls
Restore mutual respect and good relations between law enforcement and communities bearing the brunt of the current marijuana laws
The letter opens with strong sentiments from the law enforcement signees who say that marijuana prohibition has failed and Colorado's Amendment 64 presents a sensible alternative. Read the entire letter of support here at RegulateMarijuana.org.
Tvert also added that Sherman's disrespectful comments about Ryan echo the pressures to remain silent on marijuana that many working in law enforcement feel.
"The pressure to remain silent was evident last year, when Dan Hartman was removed as the head of Colorado's Medical Marijuana Enforcement Division after penning a column describing the benefits of a regulated medical marijuana market over an unregulated, underground market in the context of a local ballot initiative," Tvert said. "Attorney General John Suthers, the state's chief law enforcement official, referred to this expression of an opinion as 'unethical.' Yet, we have heard nothing from Mr. Suthers over the past few months as sheriffs, drug task force members have proactively voiced their opposition to Amendment 64, despite the fact that their departments financially benefit from maintaining marijuana prohibition."
Tvert added: "Current and former members of law enforcement who have the courage to stand up to a powerful bureaucracy should be praised for advancing the public dialogue, not fired, intimidated or insulted. We hope that Roger Sherman will help move us toward a more tolerant and respectful society by publicly apologizing to Lt. Ryan today."
If pot is legalized in Colorado it would be taxed and regulated similar to alcohol and tobacco. It maintains strict criminal penalties for driving under the influence, allows employers to maintain their current employment policies, and would give state and local governments the ability to control and tax the sale of small amounts of marijuana to adults age 21 and older. According to the Associated Press, analysts project that that tax revenue could generate somewhere between $5 million and $22 million a year in the state. An economist whose study was funded by a pro-pot group projects as much as a $60 million boost by 2017.
However, the big unknown still is if the federal government would allow a regulated marijuana market to take shape. Attorney General Eric Holder, who was a vocal opponent of California's legalization initiative in 2010 saying he would "vigorously enforce" federal marijuana prohibition, was urged by nine former heads of the U.S. Drug Enforcement Administration to take a stand against marijuana legalization again earlier this month.
So far, Holder has remained quiet on the issue.
Tvert told The Huffington Post that these ex-drug warriors' position to keep the war on marijuana alive and well should come as no surprise, but that Holder should be wary of such requests.
"It is not surprising that these men, who have made a living off of marijuana prohibition, want their successors to continue profiting from the existence of the underground marijuana market, "Tvert said. "They just want to keep billions of taxpayer dollars flowing to their buddies. They know that marijuana prohibition isn't really improving public safety; just as our nation's streets weren't safer when Al Capone and his cohorts controlled the alcohol trade."
Below, where you can find legalized medical marijuana in the United States:
Calling all HuffPost superfans!
Sign up for membership to become a founding member and help shape HuffPost's next chapter
BEFORE YOU GO
PHOTO GALLERY
Legal Marijuana Across The U.S.