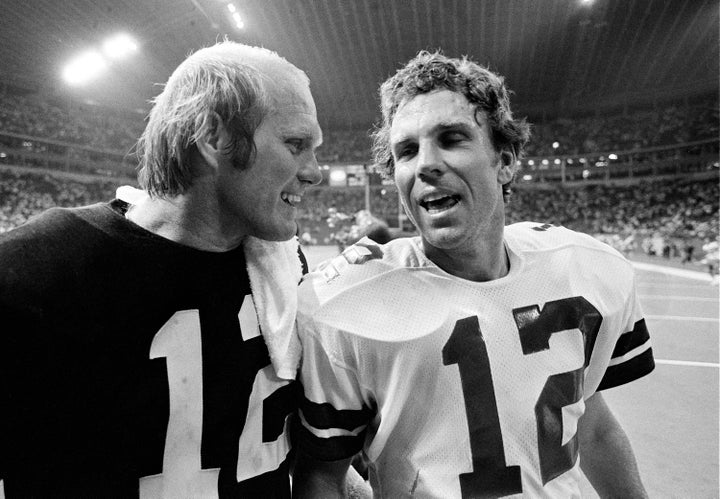 The NFL has long been a league about quarterbacks and offensive play. Fans want high octane offenses and as many points as possible. As much as we talk about the dazzling play of Aaron Rodgers and perfect throwing motion of Tom Brady, there are actually three other quarterbacks that we just cannot seem to get enough of: Tony Romo, Tim Tebow and, of course, Andrew Luck.
Roger Staubach, who was just recently honored by the Pro Football Hall of Game at his Cincinnati high school, led the Cowboys to two Super Bowl titles and is considered one of the greatest quarterbacks of all time. After being selected in the 1964 American Football League Draft, Staubach could have requested an assignment in the United States. But he instead chose to volunteer for a one-year tour of duty in Vietnam. As a result, he didn't make his pro football debut until 1969. Still, the former Heisman Trophy winner managed to become a six-time Pro Bowler in Dallas. The Navy product was known for clutch play, great leadership and remarkable scrambling abilities, attributes that make him a fine candidate to discuss Romo and Tebow. The 1985 Pro Football Hall of Fame inductee recently caught up with The Huffington Post.
Why do you think Tony Romo has so often struggled late in games?
Tony is a great athlete, and he's made a lot of big plays. [He's made] more than some he hasn't made. I think getting Jason Garret as the head coach, he's really working with Tony as far as the whole team concept. They've stumbled a little bit this year. They believe a whole lot in Tony. If we had this conversation at the end of the year -- I'm going to predict that this team is going to end up as a playoff team. Right now, they've had maybe everything go wrong, and the second half it will go right. But I'm a Romo fan. I think Tony is part of the solution and not the problem.
Tim Tebow has been faulted for poor mechanics and bad play. Is his future in the NFL as a quarterback or, perhaps an H-back role?
Well, not knowing him personally or having had a chance to work out with him as opposed to Tony, you have to pull for him. He had a tremendous college career; he's a great kid. The NFL -- you don't have to change everybody's motion -- people throw the ball differently, but you do have to throw the ball accurately. You do need velocity and there's not a weak player over there, so you're really working against really good athletes in the passing game. I think Tim's got the instincts; he's a winner. He's got that leadership that a quarterback has to have. Everyone questions his accuracy, but I've seen him make some throws. It seems like he's got good velocity on the ball. But at the NFL level, You have to have the talent at quarterback. I'm hoping he does. He was a No.1 draft choice; he definitely must have a good arm. When they were trying to work with his motion, I didn't understand that. The quicker you get rid of the ball the better, but passers are all different types.
From a quarterbacking standpoint, do you put more stock in talent or leadership?
You have to put stock into both areas, but there are players with less talent as quarterbacks that are better than players with more talent. If those players with less talent have total team confidence, they're leaders and make things happen. Quarterbacking is a mental deal. You've got to be able to transfer your confidence to your teammates. That gives you the consistency -- the Peyton Mannings and the Bradys and the Rodgers, and I personally think Tony Romo is up there with the top quarterbacks -- those kind of quarterbacks have total control of their team.
Who do you have going to the Super Bowl?
I would say Green Bay probably would be playing either New England or Pittsburgh. Dallas is still there, but right now I can't say that. I'm just a Cowboy fan.
What are your impressions of Stanford's Andrew Luck, because he is a guy that reminds many people of Peyton Manning when he was at Tennessee?
I've seen him on TV and talked to a few people about him -- and it's all good. He reminds me of Peyton Manning and Troy Aikman. Aikman was fantastic. Without him, I'm not sure the Cowboys would have won any Super Bowls in the 90s. If Luck could become a Troy Aikman, than that's all you could want, because I think Aikman is one of the truly great quarterbacks that ever played.
With the Peyton Manning's neck injury, how difficult potentially could it be for Indianapolis if they were to have the first overall pick in the draft?
There's a lot into it. There's the financial part of it, because Peyton is the best and if he comes back healthy again, he's still got some years left. But there's that unknown right now and if there's still that unknown, you don't pass up Luck; you're not going to do it. If there's absolutely no unknown that Peyton is healthy, you would be looking to trade that No. 1 for about eight No 1's. Luck is going to be the jewel in the draft, but he's not better than Peyton Manning, so it's just a matter of what are the circumstances with Manning.
Email me at jordan.schultz@huffingtonpost.com or ask me questions about anything sports-related @206Child for my upcoming mailbag.
Plus, check out my new HuffPost sports blog, The Schultz Report, for a fresh and daily outlook on all things sports and listen to our brand new radio show, Sports Blitz Now .
Popular in the Community