Republican operative Roger Stone wants President Donald Trump's chief of staff, Reince Priebus, ousted from the White House immediately, claiming he is responsible for the extraordinary number of leaks plaguing the Trump administration.
Stone, a former adviser and longtime friend to Trump, suggested Priebus also played a role in Lt. Gen. Michael Flynn's recent split from the administration. Flynn resigned as Trump's national security adviser on Monday, following reports that he had discussed easing U.S. sanctions against Russia with the Russian ambassador just days after former President Barack Obama imposed the penalties.
"It's time for the little man to go," Stone said on Thursday, referring to Priebus during an interview on "The Joe Piscopo Show" in which he predicted a massive shake-up in the White House.
"At the end of the day, you have leaks ... about the president wearing a tattered bathrobe and watching television," he said, referring to a New York Times report describing Trump's White House rituals. "Those kinds of leaks are not coming from loyalists. They're coming from Reince Priebus' people, and he must bear the responsibility for them."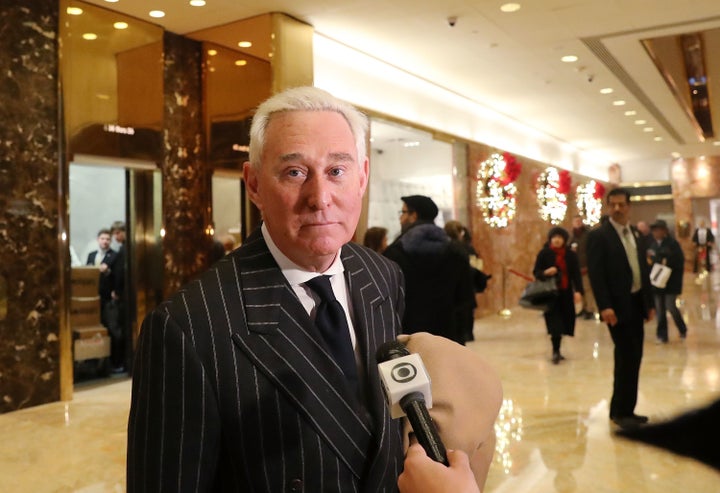 Stone is one of at least four Trump associates facing an investigation by law enforcement and intelligence agencies after Flynn's resignation and a New York Times report alleging "repeated contacts" between Trump's campaign and the Kremlin. Stone has repeatedly denied the accusations.
Meanwhile, the Republican strategist ― who appeared to take no issue with WikiLeaks' release of Democratic presidential nominee Hillary Clinton's private emails ahead of the 2016 election ― now wants leakers to be punished. And he's branded Priebus a leaker, though it's unclear that there is any evidence to support his claim.
Stone also predicted things would end badly for the "establishment wing" of the White House.
"I have no doubt that the pragmatists, the establishment wing of the White House staff, played a role in the downfall of General Flynn, and now they think they can do the same thing to [Trump advisers] Stephen Miller ... and Stephen Bannon," Stone said. "But I don't think that's going to happen."
"This is going to be like the French Revolution," he added. "In the beginning, the guys who get their heads chopped off, some people were cheering. By the end, everybody's getting their head chopped off."
"I think Reince Priebus ― good guy, well-intentioned, but he clearly doesn't know how the federal agencies work," said Ruddy. "I think the president is not getting the backup he needs in the operation of the White House ... that you would have with a stronger White House chief of staff."
The White House did not immediately reply to a request for comment.
How will Trump's first 100 days impact you? Sign up for our weekly newsletter and get breaking updates on Trump's presidency by messaging us here.
Calling all HuffPost superfans!
Sign up for membership to become a founding member and help shape HuffPost's next chapter
BEFORE YOU GO