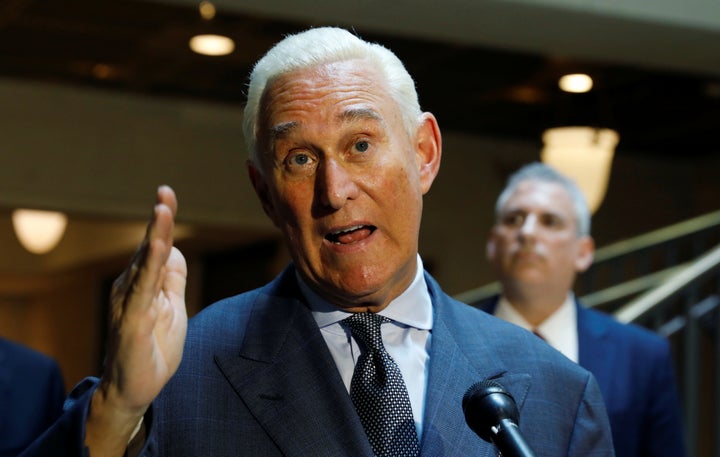 Stone has long denied any involvement with the trove of hacked Democratic National Committee emails that WikiLeaks published during the 2016 campaign. He also testified before the House Intelligence Committee last year that he only "wanted confirmation" that Assange had information about Trump's opponent.
But according to a series of emails The Wall Street Journal reviewed for its Thursday article, Stone did more than ask for confirmation. In September 2016, he apparently badgered radio personality Randy Credico to press Assange for emails related to Clinton's alleged role in disrupting a purported Libyan peace deal while she was secretary of state.
Credico reportedly emailed back that Stone should check the WikiLeaks website for the information he wanted, since WikiLeaks had already posted the hacked DNC emails that July. According to the Journal, Stone responded: "Why do we assume WikiLeaks has released everything they have???"
Credico reportedly wrote to Stone that the Libya information would likely be in a "batch probably coming out in the next drop," presumably meaning in the next set of hacked emails WikiLeaks published.
"I can't ask them favors every other day," Credico complained, according to the Journal. "I asked one of his lawyers ... they have major legal headaches ... relax."
Stone became so insistent that Credico told the Journal that he "got tired" of Stone "bothering" him. Credico said he didn't even pass along Stone's message to Assange, whom he had interviewed for his radio program, but still told Stone that he had.
Stone tweeted during the election that he had a "back channel" to Assange, which could have meant Credico. He soon deleted the tweet.
In response to the Journal's story, Stone sent a text message claiming that Credico and WikiLeaks had "provided nothing" to him and that his testimony before the House intelligence committee was "complete and accurate."
Investigators have scrutinized Stone for his claims that he communicated with both Assange and Guccifer 2.0, the Kremlin operative identified by U.S. officials as responsible for the DNC hack.
Stone said Sunday on NBC's "Meet The Press" that he was prepared for an indictment as special counsel Robert Mueller investigates the Trump campaign's possible collusion with the Russian government. The Mueller team may "conjure up some extraneous crime pertaining to my business," Stone said. But he insisted he would not be charged with Russian collusion.
Mueller's team has not yet talked to Stone. But Stone told "Meet The Press" that eight of his former colleagues had been "terrorized" by investigators.
Popular in the Community