"I'm 66 years old. I do not own a gun. I do not have a valid passport. I have no prior criminal record. I'm charged with nonviolent process crimes," Stone said outside his home Monday.
"To storm my house with greater force than was used to take down bin Laden or El Chapo or Pablo Escobar, to terrorize my wife and my dogs ... It's unconscionable."
Stone's arrest has little in common with the capture of the men he cited. He was woken up by an FBI SWAT team and escorted outside his home by agents, who later brought him before a judge.
Bin Laden was shot to death by Navy SEALS. The most recent arrest of El Chapo, the notorious drug lord Joaquín Guzmán Loera, involved a raid by 17 Mexico Special Forces marines with support from the Mexican Army and the Federal Police. Escobar, aka the King of Cocaine, was killed in a shootout after he escaped from prison.
Stone said that he would have surrendered and worn a suit and tie for his mugshot if his attorneys had been contacted.
"It would've looked a lot better," he said, calling his arrest a "raw abuse of power."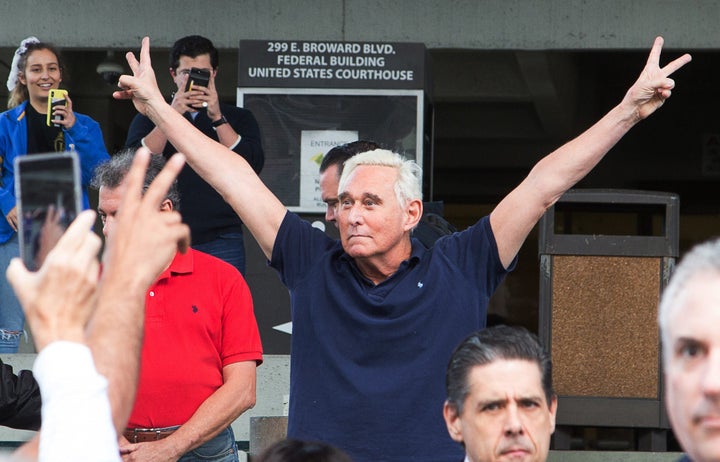 Stone had similar complaints on Sunday, when he griped that law enforcement was using "Gestapo tactics" to demonize him to potential jurors. His arrest, captured by CNN and shown across the country, "was an expensive show of force to try to depict me as public enemy number one," he said on ABC News' "This Week."
The indictment accuses Stone of talking "to senior Trump Campaign officials" about WikiLeaks and providing "information it might have had that would be damaging" to Trump's Democratic rival Hillary Clinton's campaign before the election. The indictment also says Stone was "contacted by senior Trump Campaign officials to inquire about future releases" of information by WikiLeaks.
Grant Smith, Stone's attorney, said a statement there was no collusion with Russia and the charges are "a clear attempt at silencing" Stone.
Stone said on Friday that he was "falsely accused" and thinks the investigation is "politically motivated." He's scheduled to appear in federal court in Washington D.C. on Tuesday.
Popular in the Community