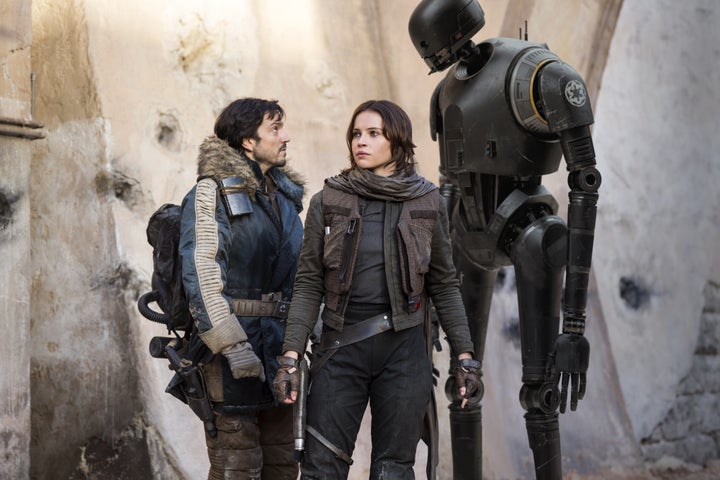 As 2016 came to a close, the year's box office statistics were cemented: Disney reigned supreme. 
"Rogue One: A Star Wars Story" maintained the No. 1 spot. Its estimated $50 million New Year's weekend intake brings the movie's total domestic grosses to about $439 million, making it the second-highest-grossing release of 2016. The inaugural stand-alone "Star Wars" installment is second in yearly receipts only to the summer sequel "Finding Dory," another Disney offering.
It's largely thanks to the Mouse House that 2016's overall grosses topped 2015's by 2 percent. The record-setting $11.37 billion in North American ticket sales defies the many Hollywood sequels that underperformed. Disney boasts seven of the year's 15 highest-grossing films. (The others are "Captain America: Civil War," "The Jungle Book," "Zootopia," "Doctor Strange" and "Moana.") Collectively, Disney made a whopping $1 billion more than the second-most-lucrative studio, Warner Bros., which released "Batman v. Superman: Dawn of Justice," "Suicide Squad" and "Fantastic Beasts and Where to Find Them."
Despite an impressive year on paper, the number of people going to high-profile franchise installments compared to the lower-budgeted films that once drove the box office has grown even more divided. Of 2016's 30 highest-grossing movies, only four are live-action originals: "Central Intelligence," "Sully," "Bad Moms" and "Arrival." But this weekend offered a couple of exceptions, most notably "Fences" (which came in No. 5) and "La La Land" (No. 7). The former, directed by and starring Denzel Washington, collected $10.1 million in 2,301 theaters. "La La Land," an Oscar front-runner starring Emma Stone and Ryan Gosling, accumulated about $9.5 million in 750 locations, making it the year's most successful limited release. The Damien Chazelle-directed musical is on track to have pocketed a dazzling $37 million in total by the end of Monday. 
Also hitting the Top 10 as 2016 turned into 2017: the animated jukebox musical "Sing" (No. 2), the underperforming Jennifer Lawrence and Chris Pratt vehicle "Passengers" (No. 3), Disney's "Moana" (No. 4), the comedy "Why Him?" (No. 6) and the video-game adaptation "Assassin's Creed" (No. 8). As of Sunday's estimates, "Manchester by the Sea," "Collateral Beauty" and "Fantastic Beasts and Where to Find Them" are competing for the final two spots.
As is the tendency during the holidays, when Oscar season is in full force, the specialty box office lit up. "Hidden Figures" made a splash on 25 screens, bringing its cumulative grosses to roughly $2.5 million, ahead of the race dramedy's Jan. 6 wide release. The other big winner was "20th Century Women," the Annette Bening vehicle that enjoyed a $29,000-per-screen average in four theaters. 
Calling all HuffPost superfans!
Sign up for membership to become a founding member and help shape HuffPost's next chapter
BEFORE YOU GO
PHOTO GALLERY
The 21 Best Movies Of 2016